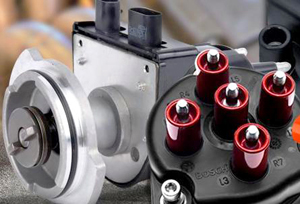 A distributor is a component used on vehicles through the mid-1990s to route electricity collected by a vehicle's ignition coil down to each spark plug.  Inside the housing of a distributor is a fast-spinning shaft with an arm (known as a "rotor") mounted at the top of it.  A protective cover known as a "distributor cap" fits over this area, and contains a spring-loaded carbon brush which makes contact with a cable from the ignition coil.
Google Ads
The distributor shaft is driven directly by the camshaft on overhead cam engines, or by a gear spun by the camshaft in older engines with an overhead valve design.  An exposed metal section of the rotor arm passes close to (but does not touch) contact leads for the all the spark plugs.  As the rotor arm spins, electricity jumps these tight gaps and literally passes electricity to the spark plug leads that are set up in sequence to match the firing order of the engine.
Older vehicles without a computer to advance spark plug timing as engine speed increases rely on a vacuum advance unit (which draws from intake manifold vacuum pressure) and centrifugal force (from weights on the distributor shaft) to do so – both of which require periodic adjustment.  Older distributor designs also feature "breaker points" – these are mechanical contact switches with two metal contact points that open and close to pass electricity.
In the mid-1970s, high energy ignition systems were developed that integrated the ignition coil into the distributor, and used hall-effect optical triggers instead of breaker points. More advanced ones uses capacitors and computer modules in what's known as a "capacitor discharge ignition" system.  In this setup, a charging circuit charges a high voltage capacitor.  An instant before ignition is due to occur, the system briefly halts charging the capacitor so that it can discharge its electrical output to the ignition coil and the spark plug.
Most distributors used on electronic fuel injection engines do not have vacuum and centrifugal advance mechanisms.  On such distributors, the timing advance is controlled electronically by an engine computer.  Timing can be adjusted more accurately based on a wider variety of factors – not just rpms and intake manifold vacuum.  Eliminating hardware for centrifugal advance and vacuum pressure creates a more reliable distributor with fewer moving parts to wear out.  Whether they are equipped with points or not, all distributors are subject to wear of the bushing(s) that surrounds the main shaft.
When this happens, the rotating shaft can wobble to the point where spark doesn't flow properly – causing inconsistent engine performance as rpms change.  If the wobble becomes bad enough, the reluctor wheel can collide with the coil – causing total failure and a stranded vehicle.  Oil can squeeze up the shaft where it doesn't belong and cause problems.  Even if vibrations on the shaft are only minor, eventually they'll cause mechanical and vacuum advance counterweights to stick, pivots to wear, and springs to lose tension.  The inconsistent spark that results is weaker, and the incomplete combustion generated because of it will cause poor performance, hard starting, reduced fuel economy, rough running, and excessive emissions.
Because distributors do wear and need replacement eventually, we've created this article to discuss replacement distributors – for classic vehicles as well as newer ones.  In many cases, these distributors enhance performance and reliability compared to original designs.  Professional engine builders agree there's a huge advantage in upgrading an older car with a points type distributor to one with an electronic setup.  Ask one, and they'll tell you it really wakes an engine up, helps achieve better mileage, and allows smoother running at all rpms.  They'll also tell you to look for a high-quality HEI type distributor that has a good housing, gearing that's been machined (not cast), and a strong cap with a good diameter to prevent cross-firing.  We agree, and we feel these types of products are worth a look if you own a vehicle built before the turn of the millennium.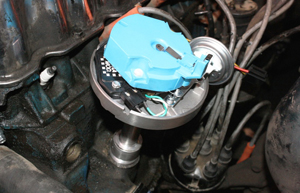 For vehicles up to the mid-1970s with older style distributors equipped with points and condensers, consider upgrading to a replacement distributor with two sets of points instead of a single, OEM-style set.  Because the current is split between twice as many points, normal wear is cut in half – sometimes more.  Under hard driving or extreme climate conditions that can cause points to burn away in a few thousand miles, dual point distributors have a higher rate of survival.  Because if you're running higher-voltage spark plugs for more power, a dual point setup is the only way to get a larger amount of current through the ignition coil without frying the points.  That said, you don't need to race your vehicle to enjoy the longer life and reliability dual point distributors offer.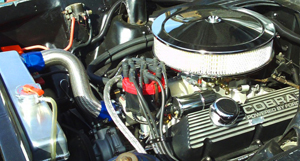 Look for a distributor that allows individual points to be manually adjusted so you can overlap dwell intervals and increase electrical charge in the coil.  A distributor that also offers adjustable mechanical advance lets you tailor the timing to match the power curve you seek for how you'll be using your engine the most.  A good example of a distributor that offers all these advantages for street driving is the Mallory Dual Point Distributor.  If you've got a classic muscle car that you use for serious drag racing, Mallory offers a dual point setup designed for heavy-duty use in their 95 Series Distributor.  Quality distributors for older vehicles will often offer upgrades in the form of self-lubricating bushings, heavier-duty points, and brass condenser casings that resist corrosion.
If you've got a later-year vehicle (1980s-1990s) equipped with a distributor, fuel injection, and overhead camshafts with hydraulic roller camshafts, Accel's Billetech Distributor is an example of one designed with capacitors and electronics that make it compatible with such vehicles.  Similar to many replacement upgrade distributors, it offers enhancements over original equipment.  For example, a billet aluminum housing saves weight without giving up strength.  The distributor shaft is centerless ground, which creates tighter tolerances and smoother surfaces (less wobble and shaft bushing wear).  Brass cap contacts conduct better and last longer.  And shaft bushings are designed to hold together during sustained high rpm operation.
If you've got a late-1970s to early-1980s midsize GM car, Accel offers the simpler Blueprint Distributor that's constructed similarly to offer some of the same benefits.  And if you're seeking a street performance distributor for older 1970s GM cars built with the first generation high energy ignition systems without computer controls, Mallory's 85 Series Distributor is a drop-in replacement with adjustable vacuum advance.
If you've got a General Motors vehicle with a high energy ignition system and electronic spark timing (referred to as "EST"), Mallory's 80 Series Distributor is a direct plug-in replacement for street driving that features desirable upgrades such as machined billet aluminum housings and larger, centerless ground center shafts.  And for those that wish to bring this type of GM style engineering to an older Ford, Chrysler, or AMC vehicle, the 75 Series Distributor will provide it for you.
If you've got a front-wheel-drive vehicle with a transverse-mounted engine, you may find that the factory distributor and spark plug wiring are located in a spot that gets in the way of installing a larger intake manifold.  For such situations, a Front Drive Distributor bolts to the factory location and uses a toothed belt and pulley wheels to reposition and power a new distributor.  This way, any intake configuration can be used without worry of clearance issues.  Performance can be enhanced because the relocated position provides more under hood space for a larger diameter distributor cap.  If you're relocating your distributor this way and have a dry-sump engine, it's also recommended to buy a distributor plug to cover the hole where the original distributor was located.
Should you decide to upgrade your older Ford or Chevrolet/GM vehicle from a factory carburetor setup to aftermarket fuel injection, you may run into problems when the add-on computer for the fuel injection can't determine which cylinder is #1, and when it's at top dead center during the compression cycle.  You'll need a distributor that's built to fit your older car and equipped with a hall effect sensor that tracks this necessary information – take a look at the purpose-built Mallory 61 Series distributor.  After bolting in place, it's designed to work after plugging in the connector and setting the timing.
If your distributor-equipped Jeep needs a replacement, you'll be interested in OEM-spec distributors made by Jeep specialist Omix-Ada.  If you've got a Ford with a fuel-injected V8 engine built between the mid-1980s and mid-1990s, your factory distributor is equipped with Ford's EEC-IV electronic engine control module that's gray in color and mounted directly to the distributor.  These are known as "thick film ignition" (or TFI) modules, and they use the distributor to trigger the ignition and distribute spark. Because of the integrated module's close proximity to heat and vibration, it (and the entire distributor) is prone to failure.  Replacement distributors for these Ford TFI setups offer a far less troublesome arrangement, clear most aftermarket performance fuel rails, and feature upgrades such as a billet aluminum housing that's lighter in weight without loss of strength.
If your vehicle was built with a capacitor discharge / high energy ignition setup and you want to use it for high-rpm extended track racing, look for a distributor with a magnetic pickup and module to trigger the timing.  A magnetic pickup consists of a permanently fixed magnet that creates a magnetic field.  Rotating reductors disturb the field, and the changing magnetic flux induces voltage.  There's no need to adjust dwell, and you'll only need to set timing once because it won't change.
A good example of such a distributor is the Mallory Comp S/S 32 Series that comes with a built-in advance mechanism oriented for racing that can be adjusted manually.  Hardware upgrades such as heavy-duty, sealed upper and lower distributor shaft bearings can handle heat generated by lengthy high revs.  For street performance or strip use, the Comp S/S 42 Series is designed the same way but adds adjustable vacuum advance that leads to smoother idle during everyday driving.
Google Ads