Supermotos are probably one of the greatest things the human race ever invented. Take an incredibly fun-to-ride motocross bike and put some road tires on it, so you can ride it on the street. Even better, put some slick racing tires on it and race these pieces of motorcycle art around a small track. Since 2003, and AMA's first-ever Supermoto Championship, their popularity only grew. So if you are looking for your next bike, besides buying a superbike or a supernaked, why not give a supermoto a chance? And when it comes to supermoto bikes, one name sure stands out, those three magical letters… KTM!
Google Ads
Related: Husqvarna And KTM All Set To Dominate The Dual Sport Segment
The KTM 450 SMR – Built To Dominate The Race-Track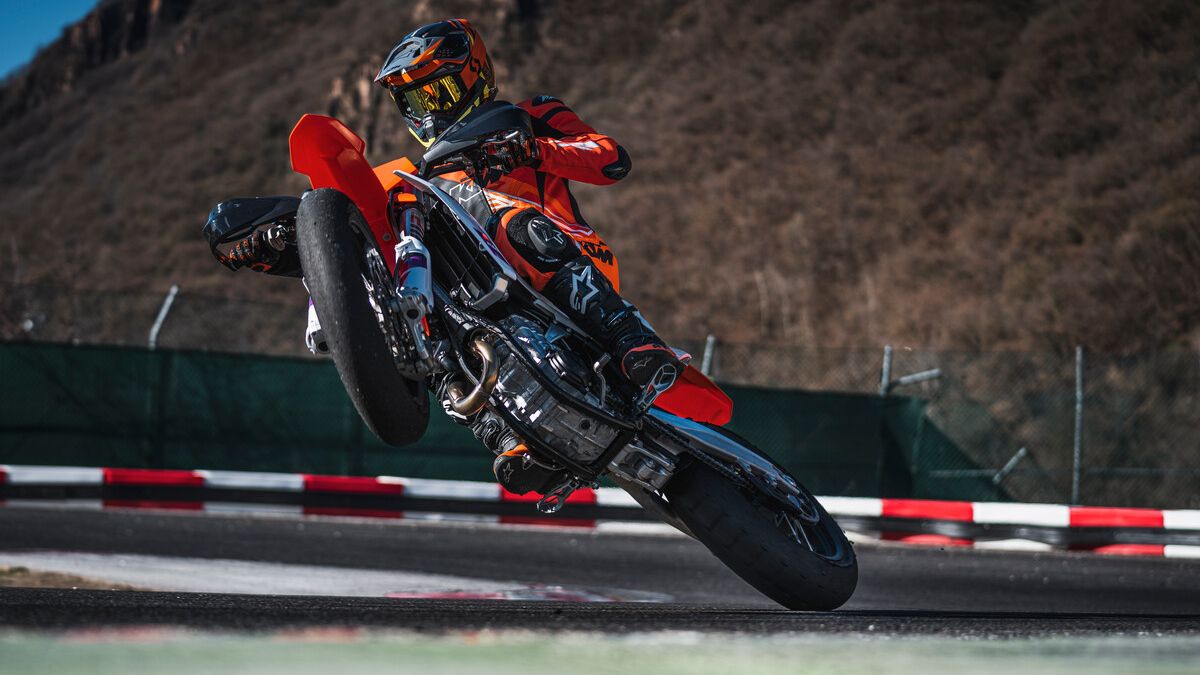 Photo of a KTM 450 SMR doing a wheelie on a race-track
One of the best things, besides Arnold of course, that has ever come out of Austria. The KTM's supermoto line, and the 450 SMR that was imagined as the ultimate track-day weapon. Without a doubt, this machine is just way too tempting to be overlooked, and for 2024, it's getting even more addictive.
There are plenty of upgrades for the new 450 SMR, so let's start with everyone's favorite part. The engine. It is a one-cylinder four-stroke 449.9 cc engine that makes an impressive 63 horsepower. KTM swears that its new single-overhead-camshaft engine continues to be one of the most insane and perfectly executed mechanical gems. Going down the same line as their motocross and hard-enduro/dual-sport line-up, the 450 SMR's engine was lightened (now weighs only 59 lbs) and pushed towards the center of the bike for better handling and anti-squat behavior.
Google Ads
How did they get a lightweight engine capable of pushing 63 horsepower? With the new cylinder head. Shorter and lighter with a more compact profile. Next was the new ultra-light crankshaft to offer more performance, better response when you twist the throttle, and to keep any pesky vibrations to a minimum. The housing for the crankshaft was made through a high-pressure die-cast process to get thinner and more durable walls. The slipper clutch is from Suter Racing and offers rear stability when you slam on the brakes in the middle of an apex.
Related: Here's Why Supermotos Are So Much Fun
Making The 450 SMR Ultra-Light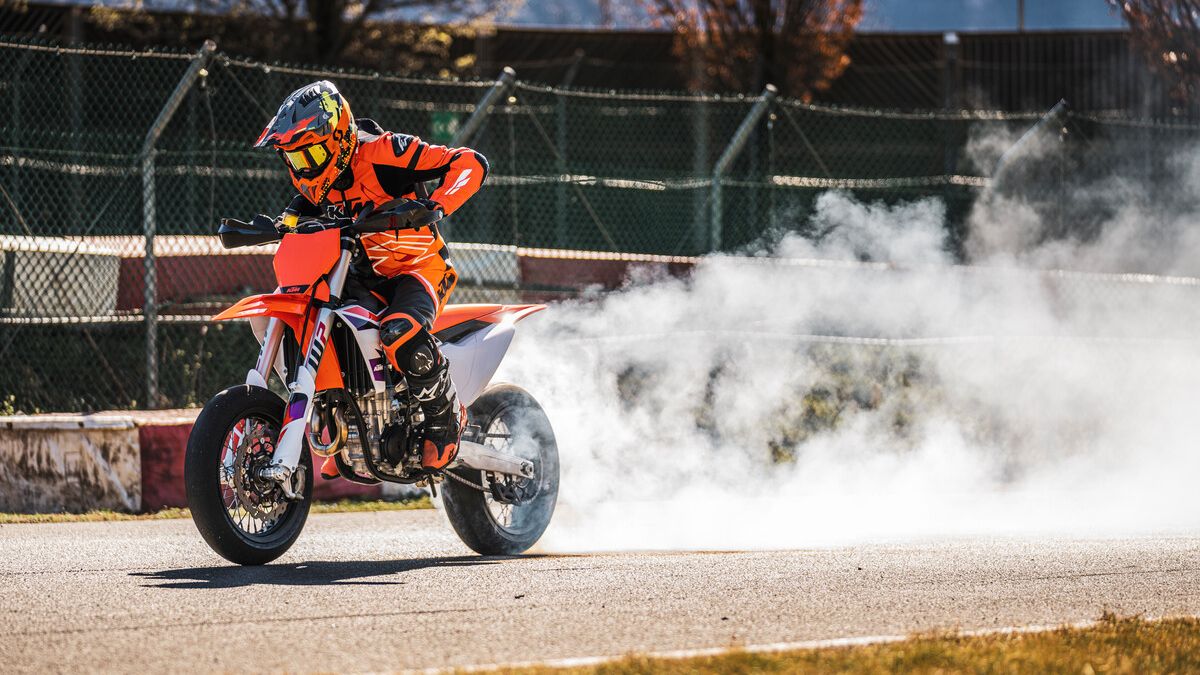 KTM 450 SMR 2024 doing a burnout
The light-weight exhaust is a compact two-piece header that can easily be removed without messing around with the rear shocks. But, things get even better at the exhaust department. You can also order, from the KTM's power parts list, an Akrapovič 'Evolution Line' exhaust. Made from light-weight, high-grade titanium, and 1,9lbs lighter than the stock one.
The frame was made to provide flexibility while keeping it solid length-wise. The sub-frame was made from reinforced aluminum and polyamide for increased durability and flexibility. The swing-arm was also made to be as light as possible, therefore aluminum was used to make it.
The suspension on the 450 SMR is top-of-the-line, specifically made for supermoto bikes. The front fork is a 48 mm air-sprung WP XACT that uses AER technology (basically a capsuled air spring and a pressurized oil chamber). It is easily adjustable through a single air-pressure valve. The rear shock is also WP XACT, and can be easily tuned without the need for tools. Wheels are light-weight Alpina, 16.5 at the front and 17 inches at the rear, and they come dressed in Metzeler's Racetec K1 supermoto tires. To stop this bad boy is a job for Brembo brakes. A four-piston radially mounted caliper with a 310 mm disc at the front and a one-piston caliper with a 220 mm disc at the rear.
The high-tech stuff is also quite interesting. You get to choose between two engine maps. The first map gives you easily controllable, tamed power delivery. The second map will give you more of a no-holds-barred, anything-goes approach to power output (you were warned). Another cool feature is the easily de/activated quick-shifter that allows you to shift into higher gears without squeezing the clutch, but only from second to fifth gear. To keep you safe when things get slippery is what the traction control is for. If the revs jump too fast, the onboard computer sees that as a loss of grip and cuts down the power to the rear wheel. What kind of street rocket would the 450 SMR be without the launch control? Just press the traction control and quick-shifter button together for this to activate. All of these nice-to-have gadgets come with a base price of $11,999.
The Blue And White Option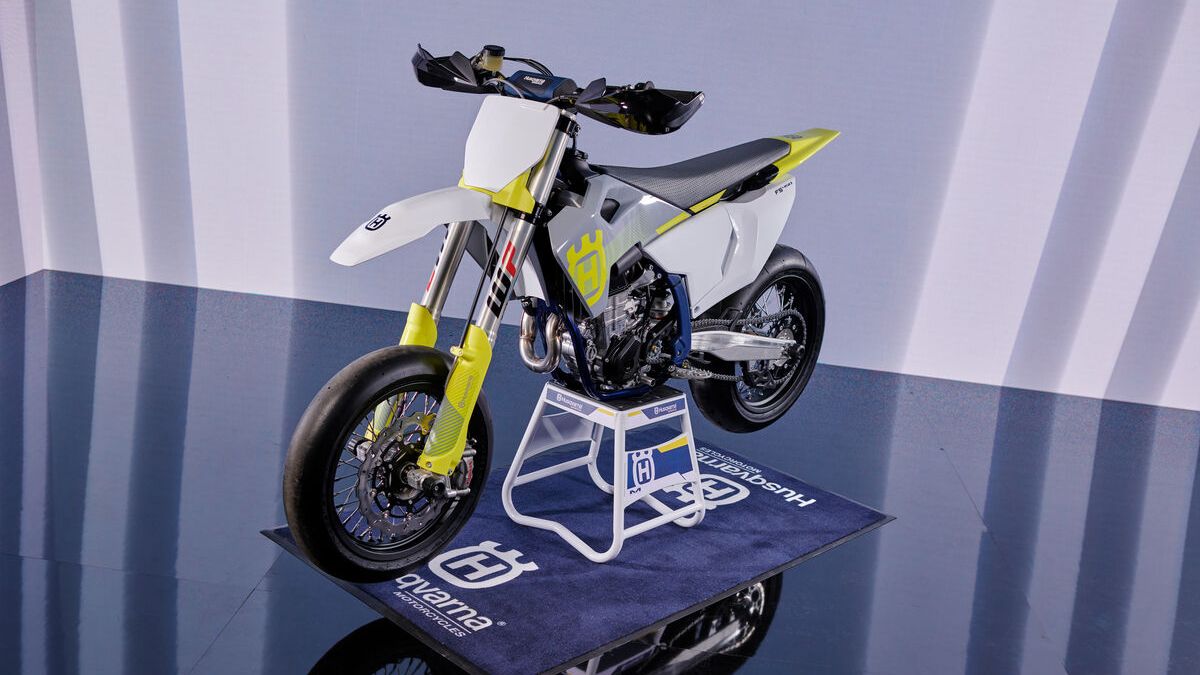 A studio photo of a Husqvarna FS 450 for 2024 
The biggest competitor to KTM for the wildest bike is, who else but the KTM-owned Husqvarna. Both of their line-ups for 2024 seem to be aiming at each other's throats. In the world of off-road bikes, this is the best news someone can hope for. Husqvarna's FS 450 for 2024 seems more than upgraded and ready to take on the KTM's 450 SMR.
Although the spec sheet reads the same, a keen motorcycle fan knows that the bike, and the company that makes it, is more than just a list of parts. Husqvarna and KTM do not make the same motorcycles. They are however, in this case, equally priced.
Google Ads