The Mazda 3 has been a familiar name when talking about entry-level compact sedans or hatchbacks but is often outshone by its competitors like the Honda Civic or Toyota Corolla in regard to economy and cargo capacity. The Mazda 3 still struggles to keep up with the top dogs of the compact arena. To address this, Mazda introduced a slew of new tech and driver assist features, as well as premium interior upgrades that could increase the Mazda 3's popularity, but will it be enough to compete with the Corolla, Civic or Elantra? We explore why this entry-level model is a highly underrated model in Mazda's portfolio.
Google Ads
RELATED: Why The Mazda 3 Is Leagues Ahead Of The VW Golf GTi
Mazda 3 Features A More Powerful Engine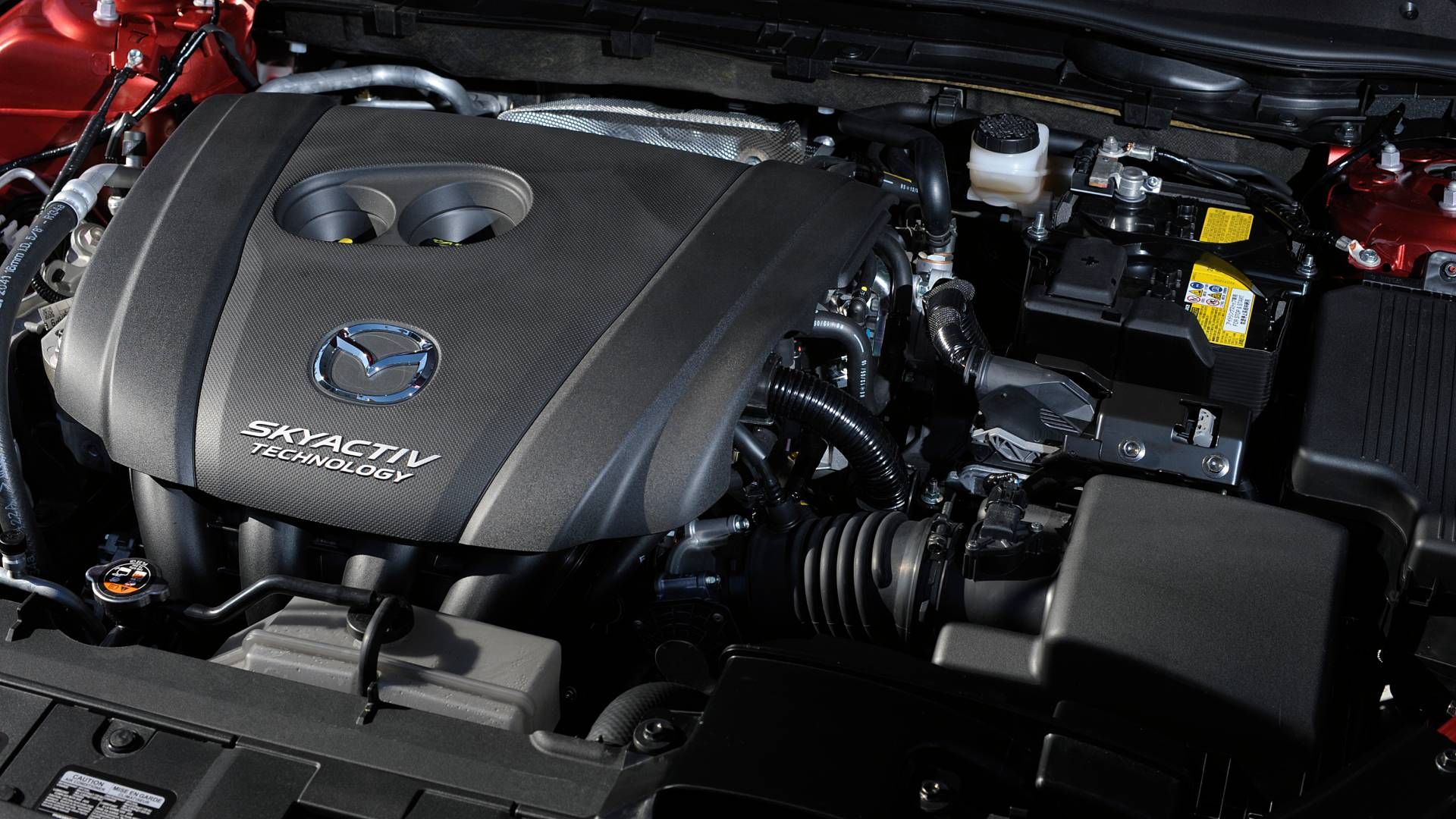 Mazda CX-50 2.5-liter Inline-four Turbocharged Engine
2021 saw many firsts for the Mazda 3, namely the much-needed turbocharged engine option and available all-wheel drivetrain. The Japanese automaker also gave the Mazda 3 a nice power bump when they dropped the previous base model 2.0-liter four-cylinder for a juicier 2.5-liter four-cylinder, which put the base model Mazda 3 at 191 horsepower from the previous 186-horsepower in the last generation Mazda 3.
The 2023 Mazda 3 offers a choice of the following trim levels:
Google Ads
Base model
Select model
Preferred Model
Carbon Edition
Premium Model
Turbo Model
Turbo Premium Plus.
Price-wise, the Mazda 3 falls between the 2023 Toyota Corolla, which starts at $22,654, and the 2023 Honda Civic, which starts at $24,545.
2023 Compact Sedan Pricing
| | | |
| --- | --- | --- |
| Make/Model | Avg. Used Market Range | Original MSRP |
| Mazda 3 | $23,550-$35,300 | $22,645 |
| Honda Civic | $23,450-$30,050 | $24,545 |
| Toyota Corolla | $21,550-$25,700 | $22,645 |
| Hyundai Elantra | $20,950-$34,400 | $22,065 |
The 2023 Toyota Corolla, while easier on the checkbook, falls short in the performance department. Unlike the Mazda 3, the Corolla isn't as sporty and lacks cargo space in comparison to its competitors.
While it should be noted that the Mazda 3's main complaints are cargo and rear passenger space, it does top the Corolla with a total of 91 cubic feet of interior volume, while the Corolla totals 89 cubic-feet of interior volume. Both the Mazda 3 and Corolla a total capacity of 13 cubic feet in the trunk.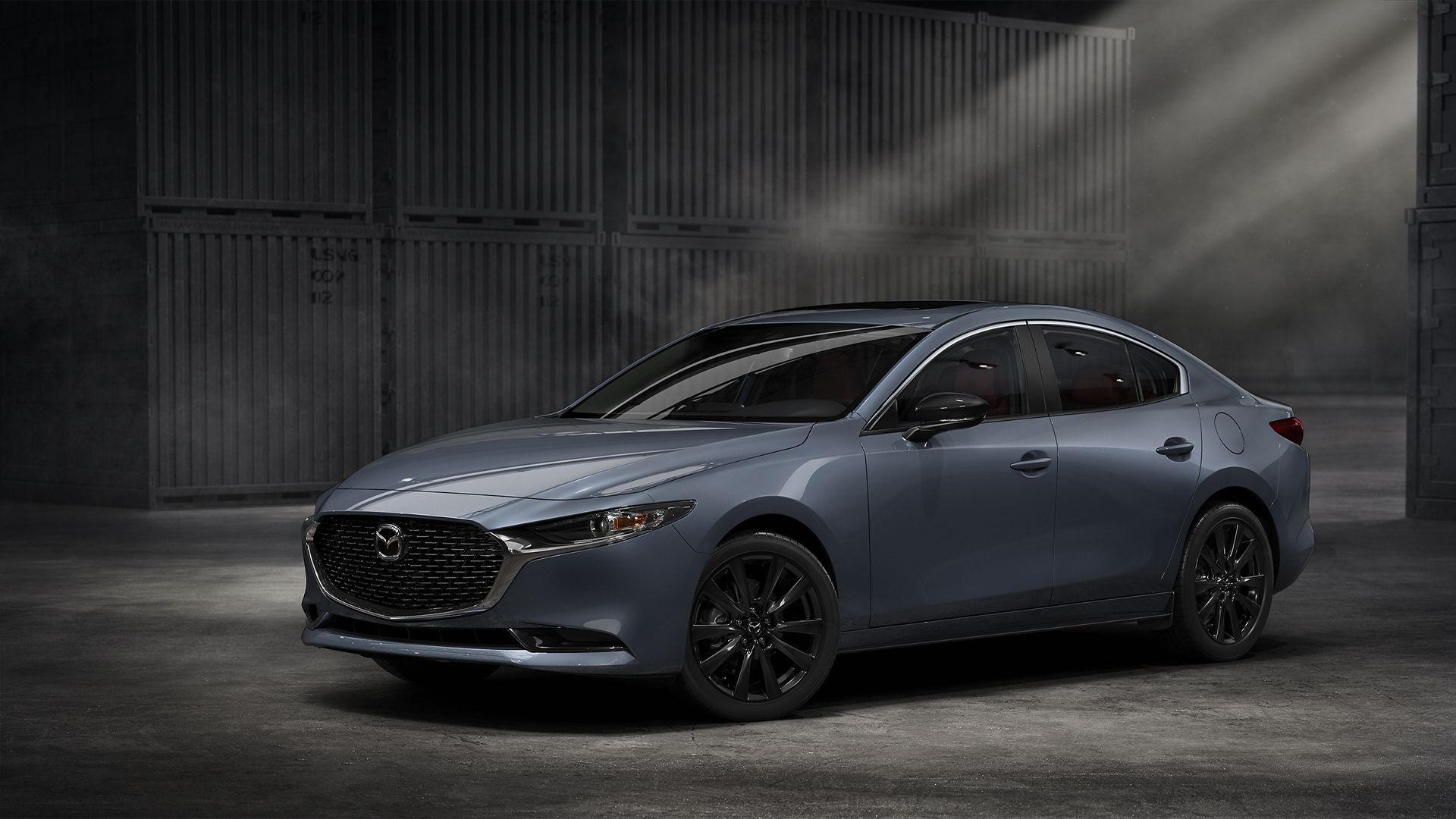 2023 Mazda 3 side view
The 2023 Mazda 3 offers the choice between a 2.5-liter four-cylinder engine and the Turbocharged 2.5-liter Skyactive GI-4 engine. The base four-cylinder makes 191-horsepower, while the Turbocharged 2.5-liter makes 250-horsepower and produces 320 pound-feet of torque, making it quite a punchy four-cylinder. The Mazda 3 was able to reach 60 MPH in 5.9-seconds, much quicker than the Civic's recorded 0-60 MPH time of 7.9 seconds.
The 2023 Mazda 3 offers its I-Active all-wheel drive, a newer feature added in 2021, as well as front-wheel drive for the base model. The Mazda 3 also offers the choice between a six-speed automatic transmission and a six-speed manual transmission, the only catch being that you can only opt for a manual transmission if you choose a front-wheel drivetrain, as the all-wheel drivetrains only offer an automatic transmission.
2023 Mazda 3 Performance Specs
| | |
| --- | --- |
| 0-60 | 5.9-seconds |
| Top Speed | 134 MPH |
| Torque | 320 pound-feet |
| Horsepower | 191-250 (turbocharged) |
| Curb Weight | 3.393-pounds |
| Layout | 2.5-liter four-cylinder, six-speed automatic/manual transmission, front-wheel drive/all-wheel drive |
The EPA estimates 31 combined MPG, with the 2023 Mazda 3 getting 28 city and 36 highway MPG. Though not the top of its segment with regard to fuel economy, it is on par with the competition, and the interior features, as well as software upgrades, make the 2023 Mazda 3 a gem.
RELATED: 2023 Mazda 3: Performance, Price, And Photos
Mazda 3's Premium Upgrades
The interior of the 2023 Mazda 3 stands out due to its premium styling and updated features. Premium leather is available on top trim levels, otherwise, the sleek black soft-touch molded dash along with cushioned armrests on the doors and console adorn the cabin. The Mazda 3 features an 8.8-inch display which displays the infotainment interface, and while not a touchscreen, the Mazda 3's screen measures larger than other compact sedans, with the 2023 Honda Civic's screen measuring 7.0 inches.
All trim levels feature standard Apple CarPlay and Android Auto, while only higher trim levels feature heated front seats, a head-up display, and an upgraded 12-speaker Bose stereo system. Though it is possible to have it installed, wireless charging station features are dealer-specific upgrades and are not offered by Mazda.
The Mazda 3 comes standard with driver assist features, including lane keep and lane departure, automatic emergency braking, automatic high beams, and pedestrian detection, but the most impressive driver assist feature is the adaptive cruise control with stop-and-go capabilities. Most newer vehicles offer adaptive cruise control, but stop-and-go capabilities are often offered as an upgrade, the Mazda 3 offers this feature as standard on all trim levels of the 2023 model, setting a bold precedent for future compact sedan's driver assist features.
RELATED: Thanks To The Mazda3 Hatchback Turbo, I Finally Understand Car Mods And Tuning
Why The 2023 Mazda 3 Is A Strong Choice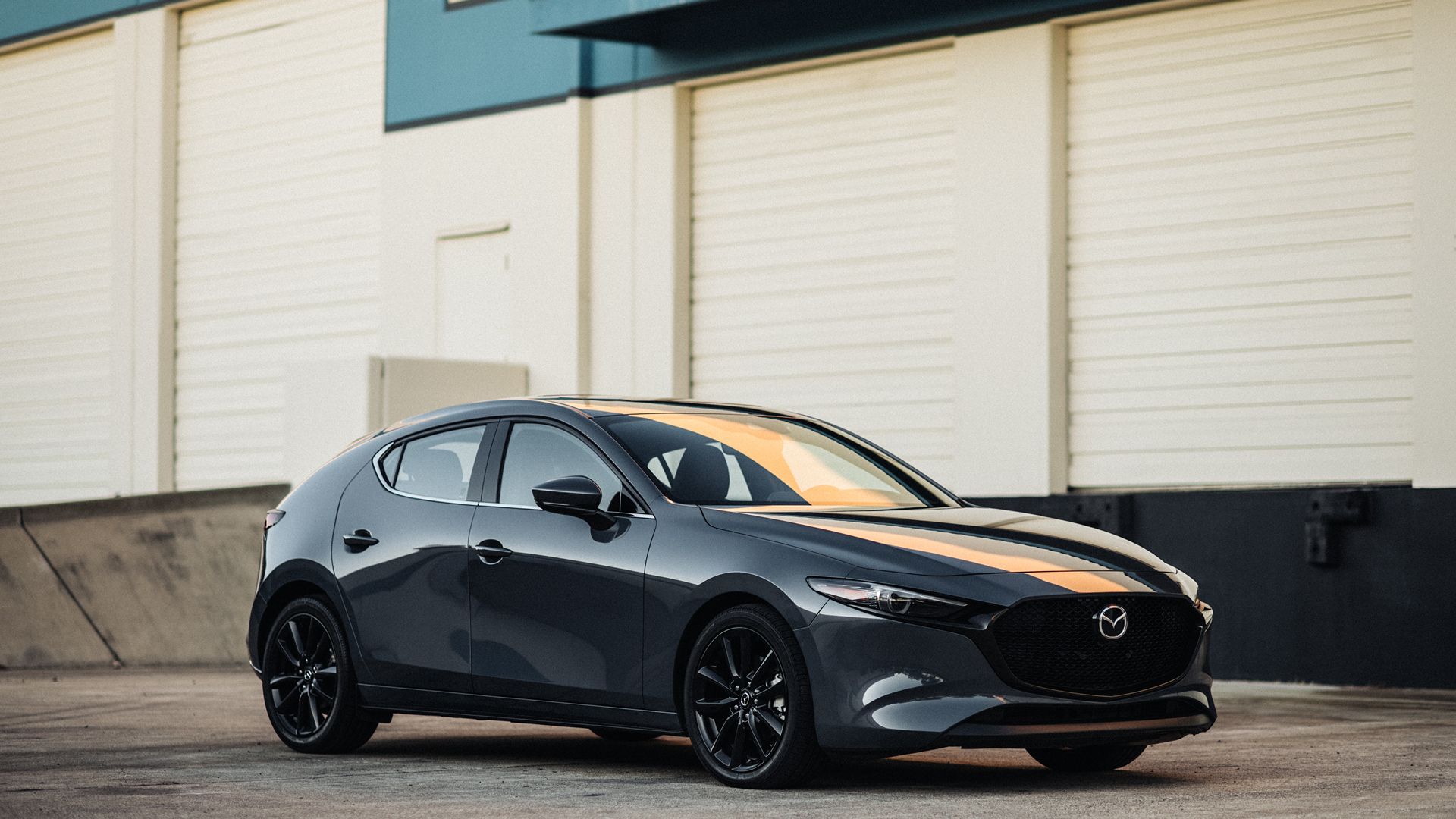 A front 3/4 shot of a 2023 Mazda 3 Turbo
The Mazda 3's turbocharged 2.5-liter four-cylinder engine produces 17.5 PSI of boost pressure, allowing it to reach a top speed of 134 MPH, which is on par with competition such as the Volkswagen Golf and GTI, while the handling is described as being very responsive and sticky while tackling curves at 60+ MPH.
The Mazda 3 weighs 3,393 pounds, which is heavier than other compact sedans in its segment, mainly due to the bigger engine and all-wheel drivetrain option, but while the bigger engine and I-Active drivetrain do add weight, it's no secret that the Mazda 3's body is quite curvaceous and not only adds to the total weight, but poses visibility issues.
Mazda 3's blind spot visibility suffers due to the large rear and trunk section of the hatchback, luckily the Mazda 3 offers a front camera, reverse camera, and 360-degree visuals of the vehicle, as well as the aforementioned driver assist features, to combat this issue.
But despite it's shortcomings, the 2023 Mazda 3 is a sleeper in the compact sedan arena, its performance, as well as price range and fuel economy, place it between Toyota Corolla and Honda Civic. And though its premium interior and updated features make it a top choice, the Mazda 3 takes a hit in terms of cargo space.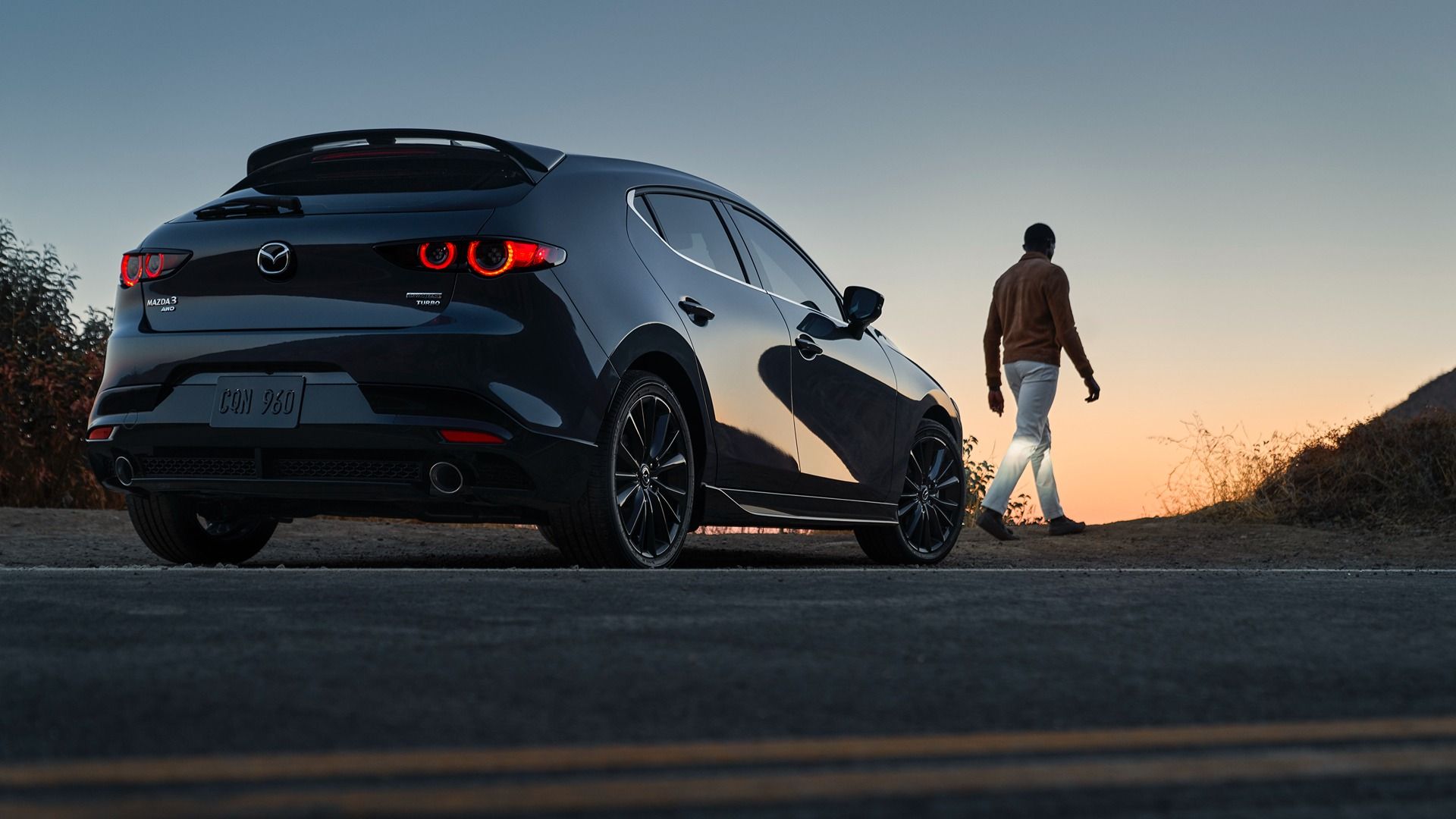 A rear 3/4 shot of a 2023 Mazda 3 Turbo
Mazda isn't always as in-touch with its consumers as Honda, with the turbocharged engine only recently becoming available, and the 8.8-inch screen not being a touchscreen, Mazda seems to be reserving certain features for its more popular crossovers. That being said, Mazda has taken the necessary steps to ensure the 2023 Mazda 3 isn't overlooked in the compact segment.
Regardless, the 2023 Mazda 3 starts at $23,715, which is a very competitive price, and the performance is no doubt top-tier. Mazda 3 offers a choice between a manual and automatic transmission, as well as an optional all-wheel drivetrain, one of the few compact sedans to do so. What makes the Mazda 3 so special is the reawakening of that classic Mazdaspeed 3 feel and energy, along with the updated features and mechanical options to choose from. The Mazda 3 allows you to build your ideal compact sedan with the most in-demand functions.
Google Ads