The $420,000 Rolls-Royce Spectre isn't beholden to traditional electric car standards. Who cares how fast the battery pack charges? That's a problem for your assistant, or your assistant's assistant. Need to travel farther than the Spectre's 300-ish-mile driving range? No big deal. Just take one of your gas-powered Rolls-Royces. Or your plane. Surely you have a plane.
Google Ads
None of this is hyperbole, by the way; have you ever actually met a Rolls-Royce owner? These people are not going to put themselves through the unfathomable hardship of compromising just so they can park an EV in one of the many garages of their many homes. Because of this, the Spectre is a Rolls-Royce first and an electric car second – and all the better for it.
(Full disclosure: Rolls-Royce flew me to Napa Valley and put me up at the Four Seasons so I could drive the new Spectre. Weirdly, I only had two glasses of champagne.)
Electric power totally suits a Rolls-Royce. Remember, this is a company that builds one hell of a twin-turbo V12 but then deliberately does everything humanly possible to mute the engine from the experience of driving – or being driven. Quiet, effortless power is what a Rolls-Royce is all about.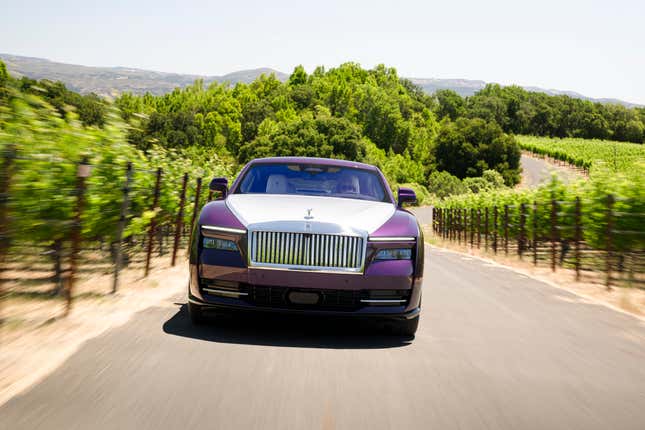 Poll a future Spectre owner and they probably won't know that their car is powered by a 102-kilowatt-hour lithium-ion battery. They likely won't realize that a pair of electric motors gives the enormous coupe all-wheel drive, nor will they be able to rattle off the headline specs: 577 hp, 664 lb-ft of torque, 0 to 60 mph in 4.4 seconds.
Instead, they'll tell you this car just goes, and that it feels like their other Rolls-Royces – a characteristic that's absolutely intentional. Rather than immediate torque delivery that smacks you in the ass on takeoff, Rolls-Royce built in a delay, mimicking the turbo lag of the gasoline V12. Even at speed, rolling onto the throttle isn't met with stab-and-grab acceleration; the Spectre would much rather perform its own crescendo.
That music pun reminds me: Rolls-Royce engineered a symphony of futuristic fake electric noises to accompany the powertrain's acceleration, but they just end up feeling kitschy. With a car this focused on quiet, keep-the-world-and-its-poor-people-out isolation above all, why pipe in some extra spaceship sounds? Even Rolls-Royce's executives candidly admit they prefer to drive the Spectre with the woo-wee sounds off. Because they have class.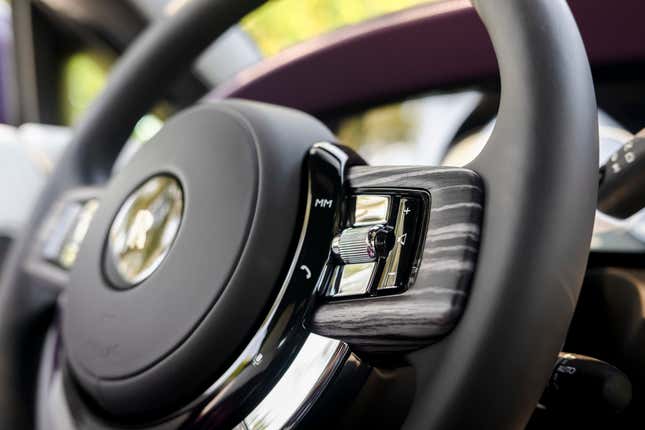 Electronic anti-roll tech is a godsend for keeping this 6,372-pound porker planted while cornering, never letting any pavement undulation or uncouth steering movement upset the Spectre's wafty ride, even on mega 23-inch wheels. However, the steering is actually surprisingly darty at times, feeling a little more overboosted than you might expect. At least the Spectre has a slightly different steering wheel than other Rolls-Royces, with a thicker rim that feels more satisfying to grip.
Planning to be chauffeured in your Spectre? Then disregard that last paragraph. Instead, you'll be happy to know that Rolls-Royce decided against using any electronic brake regen in the coupe's standard driving mode so the Spectre can still deliver the smooth-and-steady stopping characteristics that'll keep you from spilling any champagne. (For real, Rolls-Royce actually calls this the "champagne stop" and teaches it to chauffeurs.) You'll also love the extra 375 pounds of sound deadening Rolls-Royce shoved into the Spectre, as well as the 0.26 drag coefficient, making wind noise damn near nonexistent.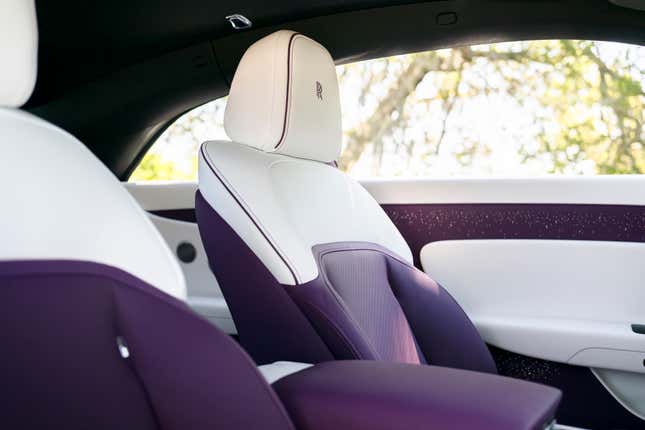 The Spectre isn't totally without regen, however. Use the dainty column-mounted gear selector – which is plastic for some dumb reason – and you can put the Spectre in "B" mode, which gives it as close to one-pedal driving as Rolls-Royce allows. Lifting off the throttle won't make the coupe's nose dive like in a lot of EVs with strong energy recuperation – champagne stop, remember – and you can't regen your way to a complete halt. But this also means the transition between electronic and mechanical braking is seriously smooth.
I genuinely cannot complain about the way the Spectre drives. Is it exciting? Not even a little. But does it feel like a proper Rolls-Royce? Heavens, yes. It's bliss. Truly.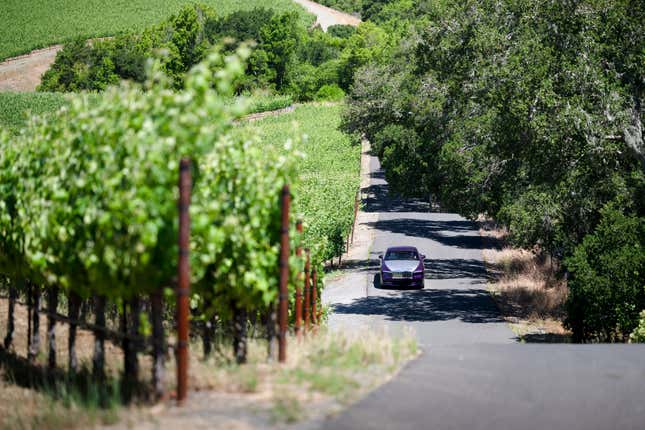 My actual gripes about the Spectre are pretty pedantic in the grand scheme of things. Nevertheless, I hate that the beltline is so high because it makes it harder for shorter-torsoed people like me to get a good view of the road ahead. The massaging seats are also kind of slow and weak, which I wouldn't normally take to task, but come on, this is a Rolls-freaking-Royce. Also, the entire center console and central dash design are ripped from the company's existing cars, and while everything feels great, I was really hoping for something fresher. Love those weighty metal air vent plungers, though.
Let me be clear: As a whole, the Spectre's interior is fantastic. You won't find this level of quality fit and finish in any other car on sale today, and I love the endlessly customizable color and trim options. Rolls' starlight headliner is here, as it should be, and this opulent illumination tech is newly available on the Spectre's massive rear-hinged coach doors.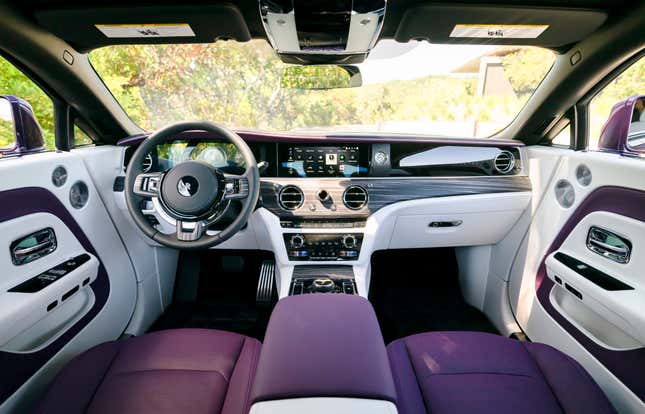 The cabin tech is a lot better now, too, with a fully digital instrument panel and an updated infotainment system that relies on BMW's iDrive software. The navigation system has augmented reality overlays, which are helpful for finding the next stop on your Napa wine tour, and you can sync everything about your Spectre with Rolls-Royce's owner app, Whispers, which, coincidentally, is also the name of a hotel bar I used to frequent in San Francisco. Probably not the same clientele, but who knows.
Google Ads
All told, Rolls-Royce's first electric car is a banger, and a total looker, as well. (Get it in pink!) For the majority of customers, who already own one or more Rolls-Royces, the Spectre will feel right at home. Plush, quiet, spacious and confidently powered, the Spectre is exactly what you'd expect of a Rolls-Royce, electric or otherwise.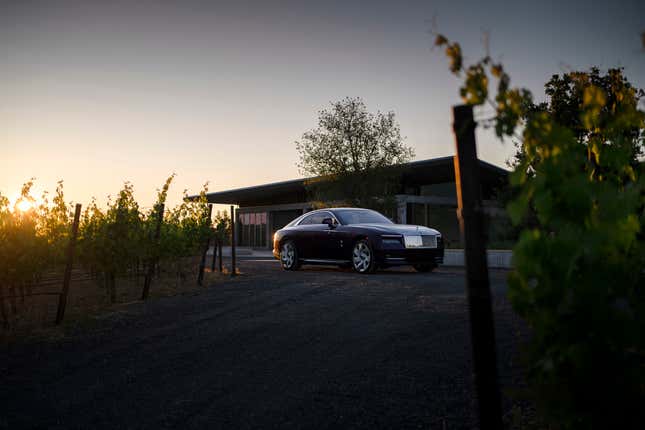 Google Ads