In the world of supercar development, there are a variety of factors that each carry a part of the car that goes on sale to customers. The first concepts need to be made, then modeled in a computer or out of clay to give an idea of proportions and looks. Engineers work out what kinds of materials the car will need to be made out of, and in what proportions. Designers craft the interior of the cabin to make sure it is of the quality and luxury a supercar needs to be. Test drivers take out production mules or pre-production test cars to help refine the handling, power, and feel of the car.
Google Ads
It is that last factor that has increasingly become a much more public, and at times much more significant, part of the whole process of making a supercar. This is because in the middle of the Eiffel Mountains, in the West of Germany, the sleepy little town of Nürburg is located, named after the medieval castle it formed around. The tiny town is also the namesake for the most fearsome, fast, technical, and dangerous race track the world has ever seen: The Nürburgring.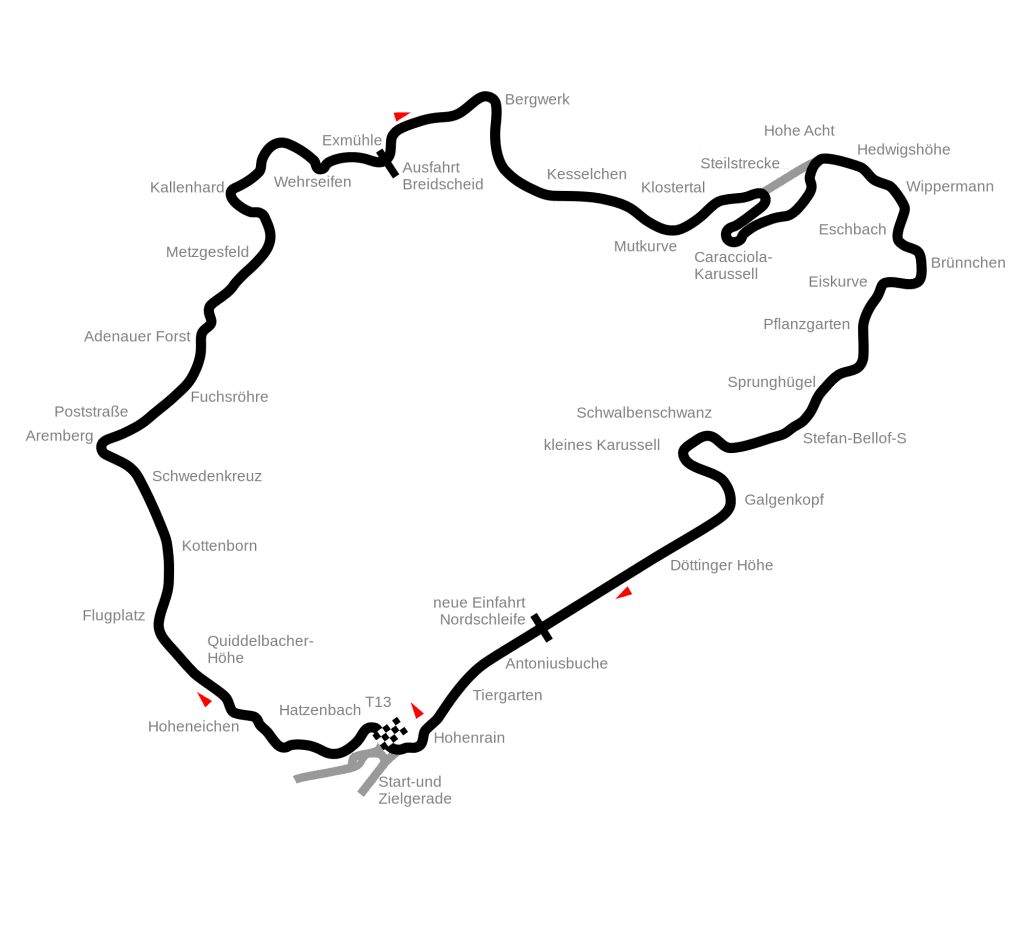 The track itself is split into two pieces, with the modern day GP-Strecke, the circuit used for Formula One and international racing, and the 12.944 miles (20.832 km) long Nordschleife, which is open to the public to use as a toll road most days. This is because in the most technical of senses, it is part of the Autobahn road network that covers Germany. However, for a fee, the track can be closed off, allowing for very specific cars to have all 12.944 miles to themselves, although any part of the track visible from public land cannot be closed off. It is during these days that supercar enthusiasts flock to those public areas with cameras, as they might be seeing the next big supercar to hit the market that day.
Why The Nordschleife Is The Perfect Test Track
While the Nürburgring has a storied history within Germany, it came to international attention when it was the designated track for the German Grand Prix of the newly formed Formula One Championship in 1950. It continued in that capacity all the way through to 1976, gaining a reputation through the years as a dangerously fast and technical track, with many drivers stating that it was getting too dangerous. Among those was the legendary Jackie Stewart, who in 1968 gave the track its famous nickname that it carries to this day: The Green Hell.
While Formula One left the track after the near-fatal accident of Niki Lauda in 1976, until the new GP-Strecke circuit could be built in 1984. However, since the day it opened in 1927, the Nordschleife part of the track was open to the public, who could pay a small fee to do a Touristenfahrten, or "Tourist ride," lap around the course. During these public times, manufacturers started to surreptitiously take production, and sometimes near-production cars, on their own tourist laps to test out performance. This became so prevalent and obvious during the years that the Nürburgring started to allow manufacturers to rent out the entire track, either on their own or as part of a group, in what became known as the "Industry Pool" for 16 weeks out of the year.
So what makes the Green Hell the perfect test track for a performance-oriented sports car, supercar, or even a hypercar?
In the most direct sense, both its length and technicality provide a better experience than any privately owned test track at a manufacturer's factory, even Ferrari's famous Fiorano. It is also strewn around a mountain, with a full third of the lap going uphill, and the dips, curves, straights, and tight corners challenge suspension, lateral stability, aerodynamics, and grip to the maximum.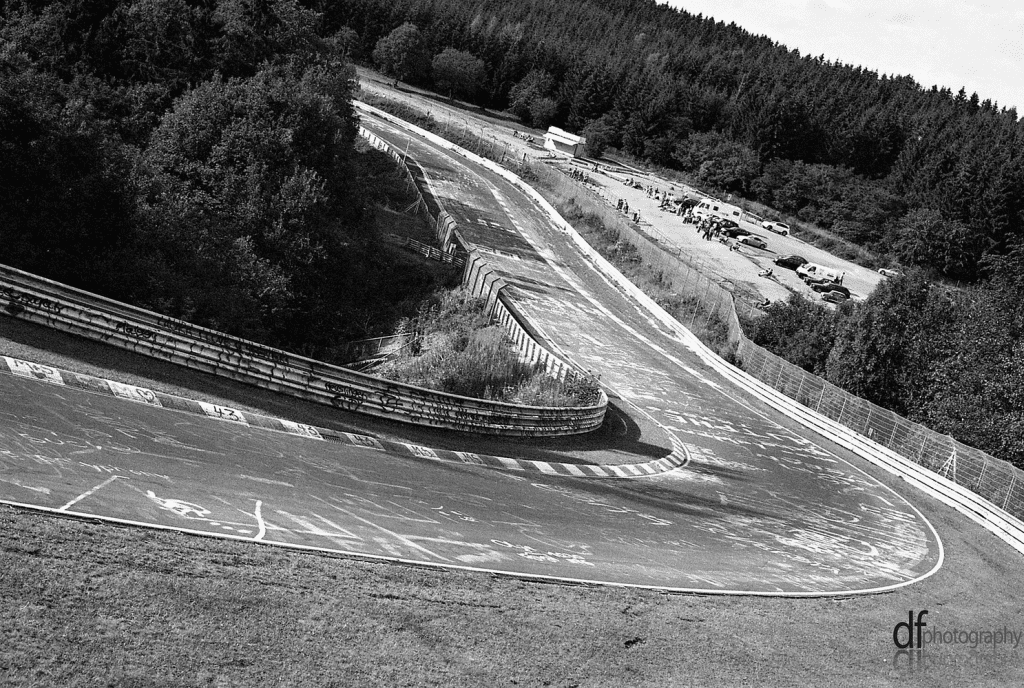 There are parts of the course, such as the Eschbach/Brunnchen complex, where cars are challenged in three dimensions, diving out of one corner downhill, accelerating hard across the compression zone at the bottom of the hill before needing to brake hard, turn in, and not have the back snap out while cresting over the next corner at the top of a small hill. This complex is quite famous both for being very close to a public viewing area just a few meters up a hill overlooking it, as well as one of the places where a lot of close calls and crashes happen. All you need to do is go to YouTube and search "Brunnchen crashes" to see hundreds of amateur tourist drivers, and even some racers, spin out into the retaining walls that are just a couple of meters off the track.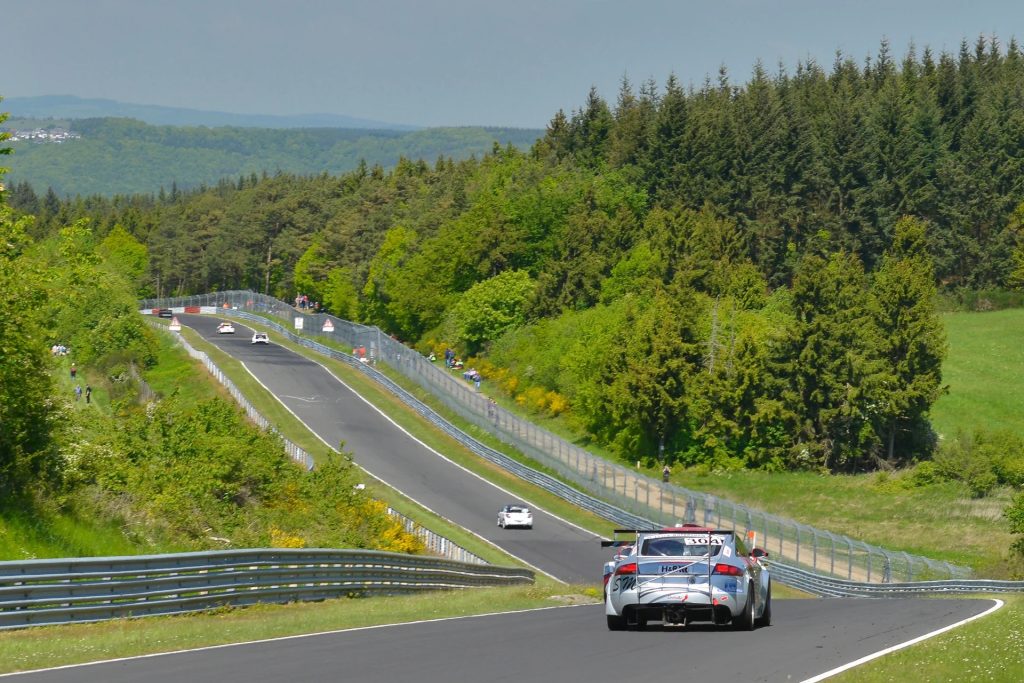 There are other parts that will test the engine and aerodynamics to the maximum, such as the Schwedenkreuz corner that comes directly after cresting a small hill at the end of the near top speed Kottenborn straight. This corner has seen a ton of professional racing crashes, as a car gets very light cresting the rise just before the corner to the point that if you don't time your braking perfectly, you'll understeer straight off into the barriers, or the car goes light and can suffer snap oversteer.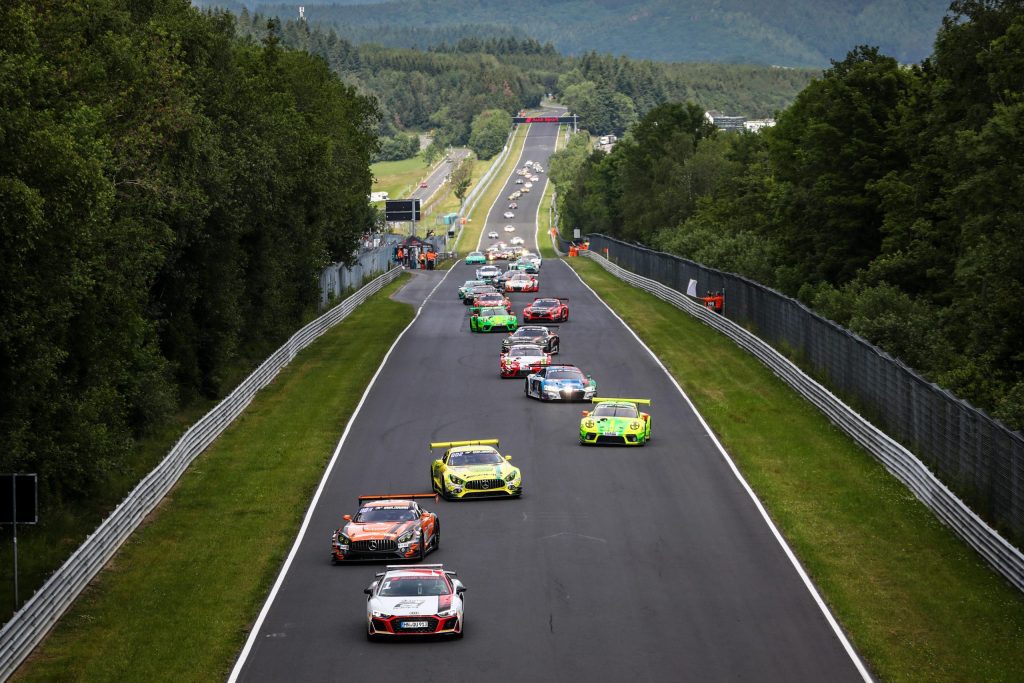 The other part of the course that pushes cars to their top speeds is the Dottinger Hohe, the nearly 3 mile (4.8 km) final straight with the bravery check of the Tiergarten left-right kinks at the end, the left taken flat out before a small braking zone and going down one gear as you plummet down the hill towards the right hand kink.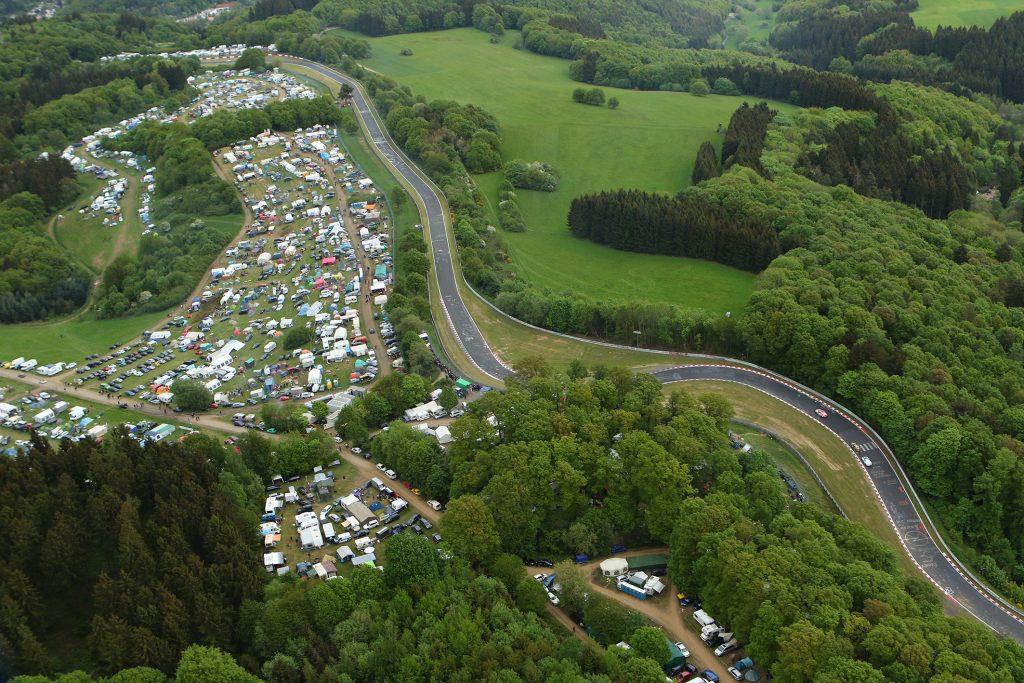 There are points along the course where the suspension and dynamic handling of a car get a massive workout, such as the Adenaur Forst complex, which is a very tight series of corners going right, left, left, right after the screamingly fast Fuchsrorhe ("Foxhole") corner at the base of a steep hill where cars can compress so much that they bottom out. The car needs to handle cresting over a hill flat out, then brake hard for the first right while dropping two gears for the left, and then toss out the anchor to get all the way down to about 50 MPH (80 KPH) for the tight left-right S that ends the complex, slow enough that aerodynamics don't play as much a part as sheer mechanical grip does in keeping you on track. If your car isn't planted and stable throughout any of it, the barriers are just a meter or so off the track and waiting to bend some panels.
While these are just a few examples of the track, there are a total of over 170 corners, curves, kinks, with 86 individual or complex names. There are three distinct areas along the track where a properly set up car can reach, or get very close to, their top speed, and the braking zones after each of these straights require ferocious and resilient stopping power that doesn't fade. In other words, it has absolutely everything a supercar manufacturer wants to test on their car, all in 13 miles of track.
How Nordschleife Lap Times Have Become A Factor In Supercar Marketing
It used to be that it was enough to say that your car had "been tested at the Nürburgring Nordschleife" for it to instantly gain enthusiast attention. BMW and Porsche both stated that their sport models such as the M-cars and the 911 are tested there, and throughout the 1980s and 1990s, that was enough for the customer to think "Well, it has to be good if it can survive that place!"
Google Ads
The Start Of The Lap Time Craze
It wasn't until the early 2000s, however, with the rise of the internet and digital video recording devices that it wasn't just enough to say you tested at the Nordschleife, you had to prove it. Now manufacturers were using their time in the Industry Pool to tweak their setups for their cars, and then spending thousands upon thousands of Euros to rent out the track for one or two days, so they had the entire course to themselves. They then sent out their most qualified, experienced test driver, or for those with racing programs, sometimes even drafting in a factory driver, to set a lap time. Other times, like in the video below, car magazines and blogs, sometimes with the backing of the factory and sometimes on their own, will independently test cars such as the Ferrari 488 Pista, which set a time of almost dead on 7 minutes around the 'Ring.
This also caused four distinct categories of times to be established. The one that was most important to manufacturers was the Road Legal Production Automotive category, as these were the cars that they would sell the most of. The next, Non-Series/Non-Road Legal was for track-only cars, such as a Ferrari FXX-K, to establish their times. The last two categories fall under racing, with Qualifying as the first, and Live Lap (i.e. during a race with hundreds of other cars on the track) as the last. However, because the track has a few sections that can be changed that cause about 650 feet (about 200 meters) of track to be removed from the timing, all lap times are normalized to the 12.944 mile (20.832 km) length. 
While lap times started to enter marketing for supercars in the early 2000s, it didn't become a primary selling point until the late 2000s and early 2010s, through famed runs such as the Pagani Zonda R (6:47.5 Non-Road Legal, video above) and the Lexus LFA Nurburgring Package (7:14.64 Road Legal). All of a sudden, if your supercar or hypercar marketed towards the speed freak and sport enthusiast didn't have a competitive Nordschleife lap time, it could affect sales negatively. Only some very specific hypercars, such as the Bugatti Veyron and Chiron models, could get away without setting a time because they were luxury cars that went stupidly fast, and were marketed well about their technical aspects more than their sheer speed alone. 
Some Saw It As Detrimental
This has, however, brought about a considerable amount of debate. For some, the fact that a lap time has become the core reason a supercar is developed a certain way, instead of one of many reasons for decisions regarding development, has caused some manufacturers to lose sight of "the bigger picture." This tunnel vision level of focus on the Nordschleife led to some cars having extremely firm suspension that worked beautifully on the track, but shattered your spine on any public road. It led others to sacrifice creature comforts in an extreme way, sometimes with back seats removed and roll cages installed instead, such as in the 997 Porsche GT3 RS, to road legal special editions such as the Aston Martin V8 Vantage N24 not even having air conditioning and absolutely no soundproofing.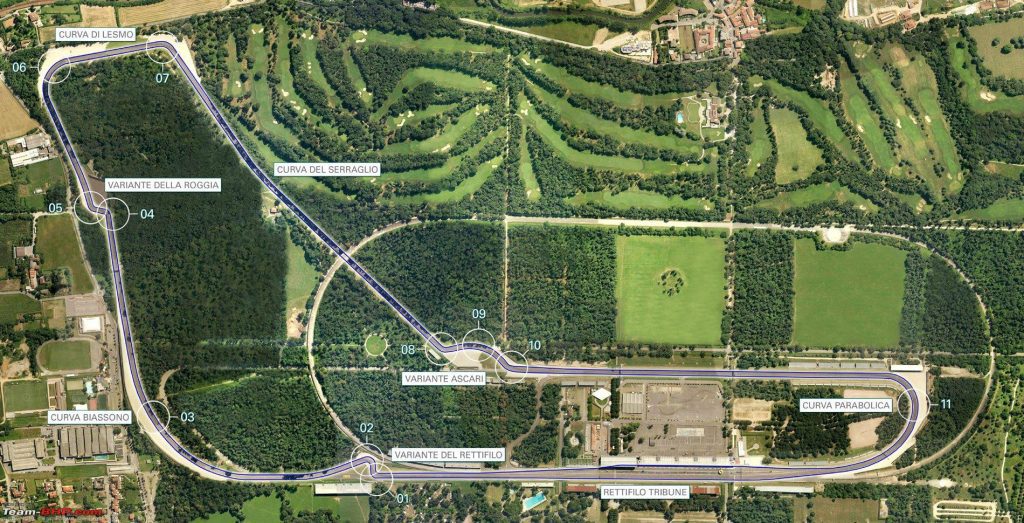 It has also caused debate about why, after all, a Nordschleife lap time is important at all. There are much safer high speed tracks, such as Monza in Italy or Silverstone in the UK, that also have very fast straights and technical corners that will challenge a supercar. Yet, those tracks, despite being world-famous and FIA Grade One, meaning suitable for Formula One races, don't even enter into marketing at all, even though Silverstone is Aston Martin's home track for testing.
As stated before, some supercar manufacturers have not gone to the Nurburgring and still are able to market and sell their cars based on the luxury, technology, and technical aspects of them alone. Even among hypercars, such as the Holy Trinity of Hypercars, not every one of them has a lap time and they still sell. Many special edition cars, such as McLarens developed by their skunkworks MSO, or Lamborghinis developed in their Squadra Corse department, don't have Nordschleife lap times, and still sell out entire production runs.
Is A Lap Time Really That Important?
A better way to ask that question is if the Nurburgring should play a part in supercar and hypercar development. 
The easy answer is that it is something that each manufacturer needs to decide for themselves. There has been a distinct shift since the late 2010s from customers that do appreciate a good lap time, but not at the concession of getting the luxury and comfort that they paid for. Some companies, especially EV hypercar manufacturers, don't consider a lap time at all important, with prime examples being Lotus with the Evija and Rimac with the Nevara. They are extremely fast cars that handle like they're on rails, have ungodly amounts of aerodynamic downforce and mechanical grip, and haven't officially even brushed a tire near the Nurburgring in any official capacity.
Yet, some companies, especially German brands, keep the Nordschleife squarely in their marketing. Porsche received a huge boost in sales when they withdrew from LMP1 competition and built an unrestricted version of their 919 Hybrid prototype to show what they could do, and set the simply unbeatable time of 5:19.546 in the Non-Series/Non-Road Legal category, in the video above that believe it or not, is not on fast forward. The 919 Evo is really that fast. Mercedes recently sent their AMG One hypercar, literally a mid-2010s Formula One car in street clothes, around the track and set a time of 6:30.705, currently the Production Road Legal record, video below. BMW doesn't officially send their cars around as a factory effort, but have provided cars for "independent testing" by some of the bigger automotive magazines and shows in Germany that somehow also come with factory mechanics and engineers to tweak the car for those "unofficial" runs. 
In truth, it all comes down to the marketing department of each manufacturer, as well as the design goal of each model. If the goal is set early in development to set a competitive lap time, then by all means, market the hell out of that fact and use it to your advantage. Chevrolet provided a masterclass in this tactic with the release of the Corvette C8 in 2020, which because of setting a time of 7:29.90 with a near-production model in 2019, convinced many European markets that they had, in fact, built a proper supercar worth looking at. Because of that, the C8 has rapidly become the most successful Corvette in foreign markets, even to the point that Chevrolet makes right-hand-drive models for the EU/UK and Oceania markets.
In that sense, a Nordschleife lap time can indeed be a valuable marketing tool and provide a measure of "real-world" performance to an acknowledged and respected metric. But, and this is just our opinion, it shouldn't be the only metric that a supercar or hypercar is measured by. So we ask you, our readers: How important is a Nurburgring lap time in your decision-making regarding the next sports, super, or hyper car you buy?
Google Ads