If there's anything equally complex as Marvel's Cinematic Universe, it has to be the custom Harley-Davidson cosmos. Of course, we're joking, but there's no denying Harley customization is prominent all around the globe and births crazy-good motorcycles every other day. Though Sportsters and Low Riders are the most common picks, some bike shops take up the challenge with Harley's gigantic Grand American tourers. Swiss build Bundnerbike is one such shop, and it recently jazzed up a CVO Street Glide. The otherwise old-school bagger has become a mean, green beast that will look perfect as Green Goblin's next ride.
Google Ads
RELATED: New Images Of The Harley-Davidson X 440 Will Make You Fall In Love
The Custom Harley-Davidson CVO Street Glide Has A Stripped Back Design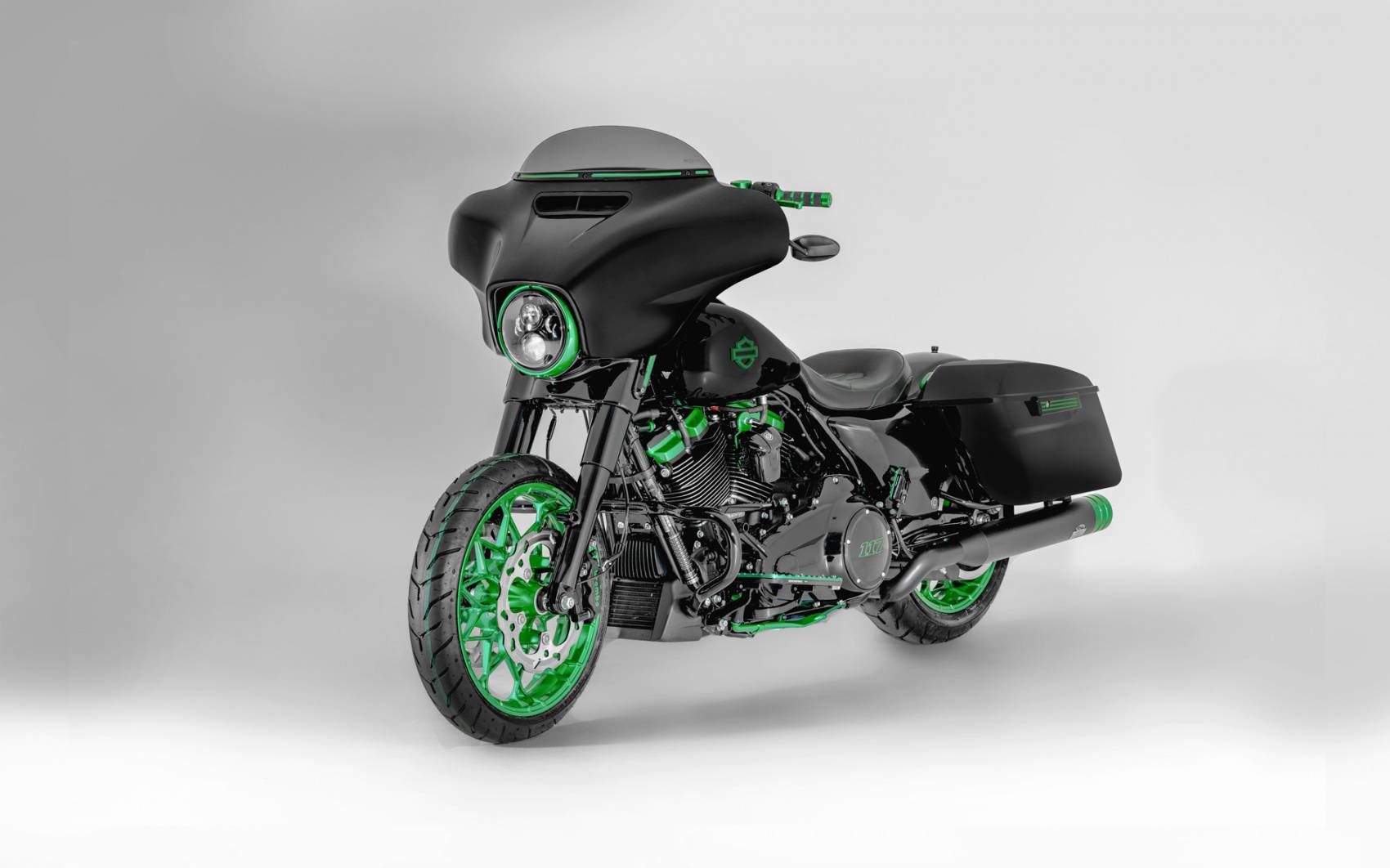 In its stock avatar, the CVO Street Glide (SG) flaunts a batwing fairing and round bi-projector headlamp. Since these are definitive SG elements, the shop has left these unchanged and focused elsewhere to come up with a stripped-back aesthetic. Up top, the long, curvy fender has been canned altogether while the bulky round indicators make way for puny all-LED blinkers. This is followed by a similar treatment outback, courtesy of a chopped fender and new LED tail lamps. The latter are three-in-one units with brake lamps, turn signals, and hazard light functions.
The crown jewel, meanwhile, is the bespoke livery. It drapes the custom motorcycle in a glossy all-black finish, accentuated by green inserts all around. The headlight nacelle, batwing fairing, saddlebags, Harley logo on the tank, engine pushrods, and spoke-like cast wheels feature this finish to look quite standout.
Google Ads
The Custom Harley-Davidson CVO Street Glide Feels Different From The Saddle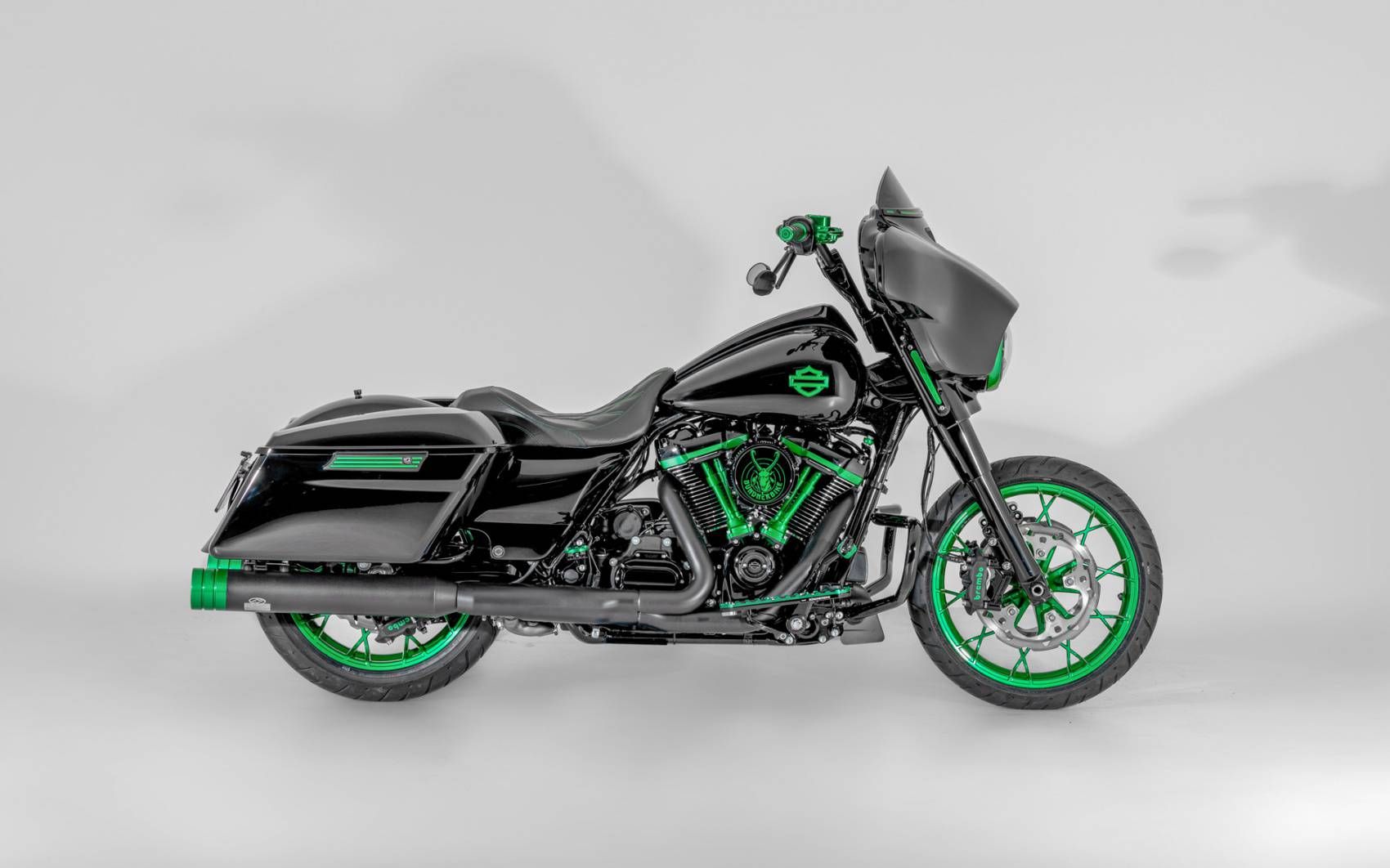 The modified CVO promises different ergonomics as well. You now sit on a new diamond-stitched leather saddle, ripe with green contrast stitching to match the livery. Your hands go on a custom handlebar (from Bundnerbike's catalog) that's taller than the OEM unit, thanks to a new triple-tree and risers. Lastly, the feet go on long, broad custom footboards, finished in green-black and inspired by toothed footrests from motocross bikes.
All this will create a comfortable riding triangle and once you're aboard, the experience will only get better. We say this because the cockpit has excellent attention to detail, evident from the green nacelles on the analog gauges, aftermarket levers, grips, and handlebar-mounted mirrors. Also part of the package is a set of toothed pillion footrests, although there's no pillion saddle.
The Custom Harley-Davidson CVO Street Glide Has Premium Underpinnings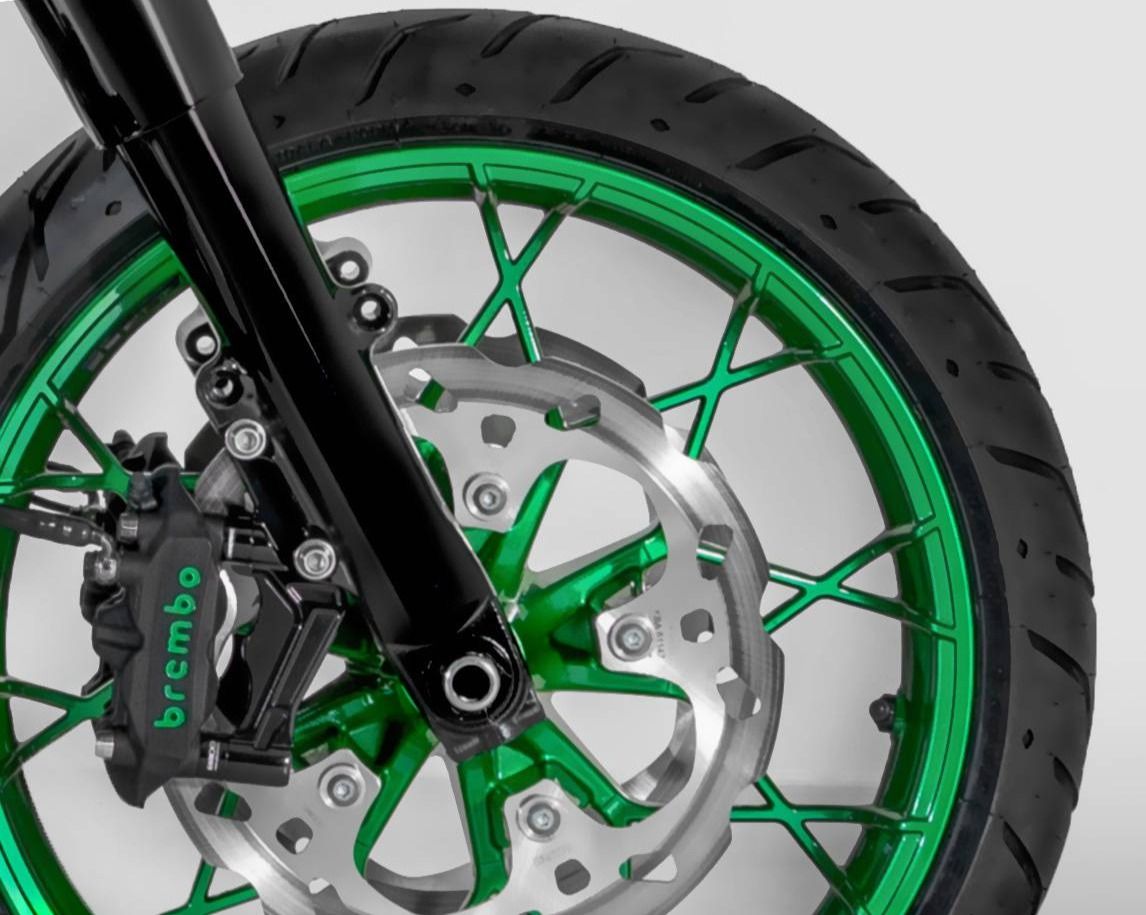 Feeling and looking different is one thing, but riding differently is a whole other challenge. Lucky for you, Bundnerbike hasn't let the latter slide. So the CVO Street Glide ditches its stock rear shock absorbers to welcome a pair of shiny, top-shelf Ohlins HD 357 gas-charged shocks. These allow external compression and rebound adjustability, in addition to half-inch of extra height adjustability for a taller stance. Similarly, the stock rotors and calipers have made way for up-sized petal discs and upgraded Brembo calipers, respectively. The front master cylinder appears different too, but the retro telescopic forks look unchanged.
What about the engine, you ask? Well, it's a tad disappointing because the shop has left the Milwaukee Eight 117 (1,917cc) V-twin powerhouse as it is for the most part. The only notable bit is the full-system Dr. Jekill & Hyde exhaust, which promises three electronic baffle modes. The first keeps the baffle shut, while the second and third allow it to open partially and fully, respectively. Obviously, the exhaust also boosts performance, so you can expect about 115 horsepower from the custom tourer (~10 ponies more than the stock output).
Can You Buy Bundnerbike's Custom Harley-Davidson CVO Street Glide?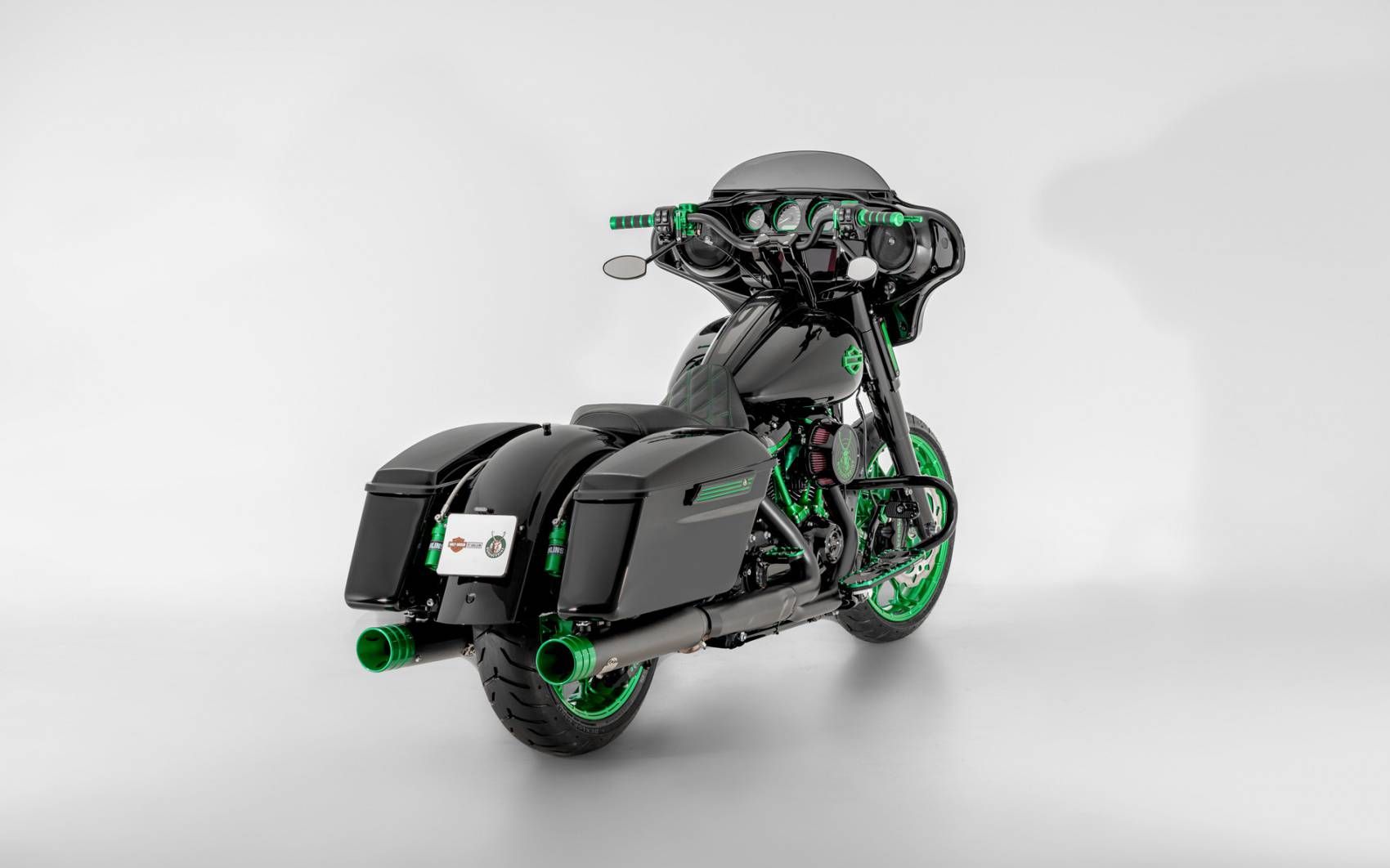 RELATED: Here's An Iconic Harley-Davidson Race Bike You Ought To See
Sadly, it doesn't look like it. The custom Street Glide appears to be a commissioned project and there's a solid chance it's enjoying life with its owner as we speak. But if you like what you see, we suggest you go through Bundnerbike's extensive parts catalog since many of the aforementioned bits are on sale à la carte. For instance, the toothed floorboard you saw above is priced at CHF 612 (equivalent to $680). This also seems like the sensible option because Bunderbike's custom examples start from about $45,000, shipping across the pond excluded.
Brief History About The Harley-Davidson CVO Street Glide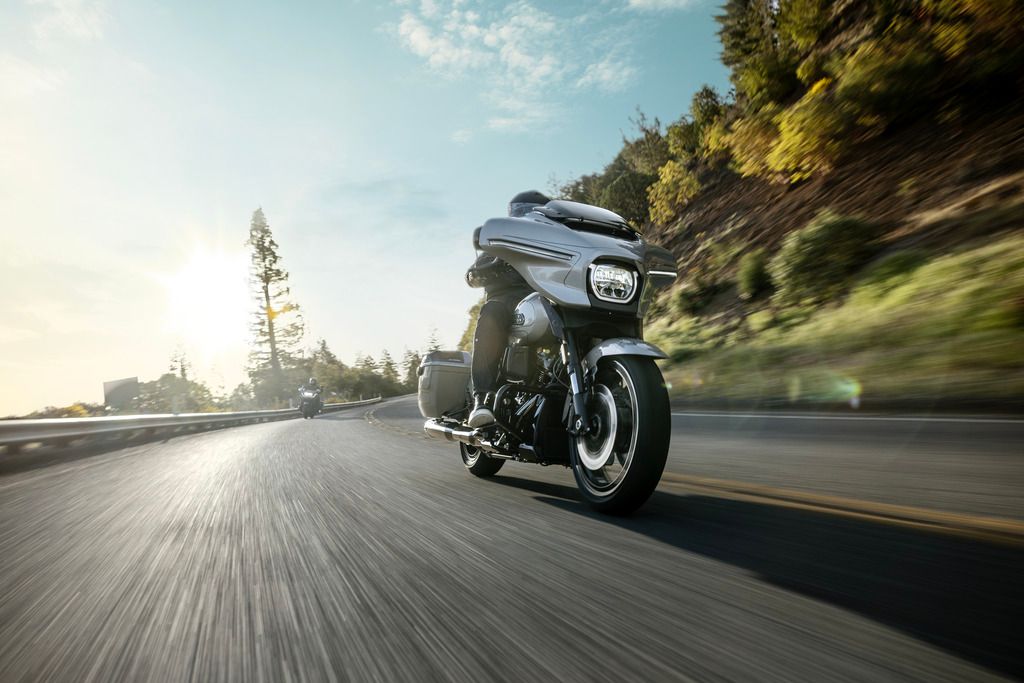 Now that you know all this, allow us to shed some light on the CVO Street Glide. Though Harley's Custom Vehicles Operation debuted in 1999, the Street Glide only joined this lineup in 2010. It's been in constant production since, serving as a spruced-up version of the standard Street Glide.
For 2023, the heavyweight has received its biggest overhaul. A new engine, never-seen-before underpinnings, and a plethora of features all make it better than ever, that too, at a not-so-hefty price hike. Check out its American MSRP here.
Google Ads