Suzuki has cemented itself as an iconic brand over the years and is best known for the Jimny back in 1970. Since then, the brand has sold over 3.2 million units of Jimny worldwide, in approximately 199 countries and regions, though the U.S. isn't one of them. Even though the model has seen four generations over the past half century, not much has changed in terms of the basic formula utilized by Suzuki, which is making a small, light, and affordable off-roader. However, each iteration has always brought something new to the table in order to make it a more rounded package than before.
Google Ads
This brings us to the fourth generation that was unveiled in 2018, which not only retained the ladder-frame chassis, four-wheel drive, and compact dimensions but also came equipped with modern amenities like LED headlights, a touchscreen infotainment system, and even heated front seats. Fast-forward to 2020, and Suzuki announced that it's working on a 5-door version of the Jimny for markets like India, Latin America, South Africa, and a few other African and ASEAN nations. This version was eventually unveiled globally at the 2023 Auto Expo, and with all that said and done, it's time to take a close look at how this version truly differs from its 3-door counterpart.
Related: Here's Why Jeep Is Lucky The Suzuki Jimny Isn't Sold In America
The Most Proportionate Design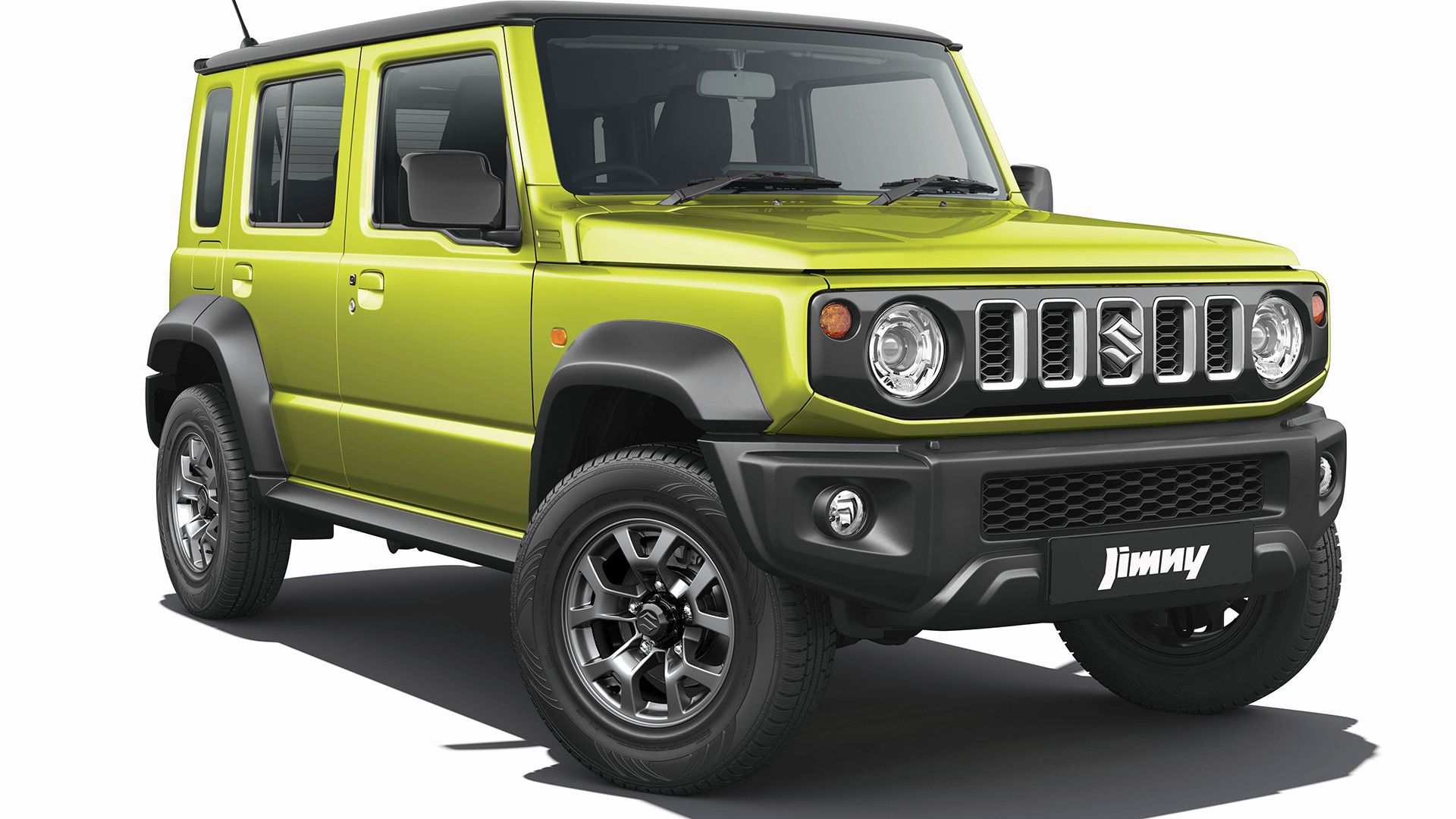 A front three-quarter view of the 2023 Suzuki Jimny 5-door
Now, it's no surprise that most brands do choose to introduce a 5-door version of one of their existing models in order to increase practicality for passengers thanks to more interior space and wheelbase. It's the same story with the Jimny 5-door, which perfectly showcases how Suzuki has managed to increase its size without sacrificing its compact footprint.
his is because of the 64.76-inch width, making the Jimny narrower than the Jeep Wrangler for example. Its 67.72 inches of height makes it a lot less imposing. As mentioned, this 5-door version is longer than the three-door model sold abroad, on account of the wheelbase, which has been lengthened by 13.39 inches to enhance rear passenger space and to accommodate rear doors. Overall, Suzuki has been careful not to not let the Jimny look unnaturally stretched, and executed the square windows and vertical C-pillar glass quite well.
Google Ads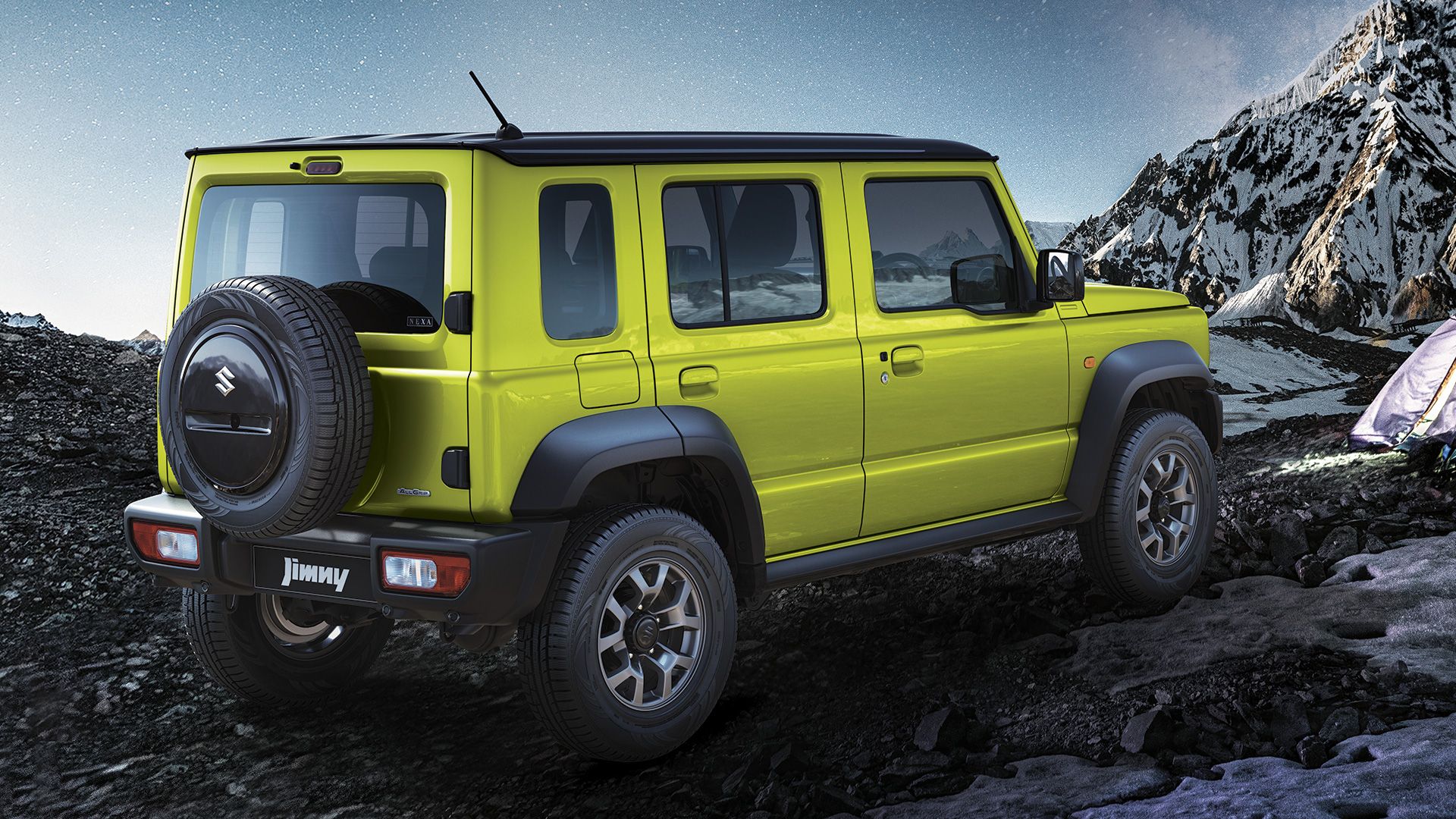 A rear three-quarter shot of the 2023 Suzuki Jimny 5-door
When viewed from the side, it's easy to notice the newly designed rear doors along with the much smaller rear quarter glass. Riding on 15-inch alloy wheels which are wrapped with 195/80 section tires, the Jimny's rear end reveals no major styling changes and instead carries over the same side opening door with exposed hinges, a door-mounted spare tire with black covering, and bumper-mounted tail-lamps as the 3-door version. There are other bits such as the chrome-outlined 5-slot grille, round headlamps, a clamshell bonnet, and streaks near the A-pillar which harken back to the older generations of the Jimny and make it look like a love-child of the Mercedes G-Class and the Jeep Wrangler.
Related: Here's Why Jeep Is Lucky The Suzuki Jimny Isn't Sold In America
A Retro, Minimalist Interior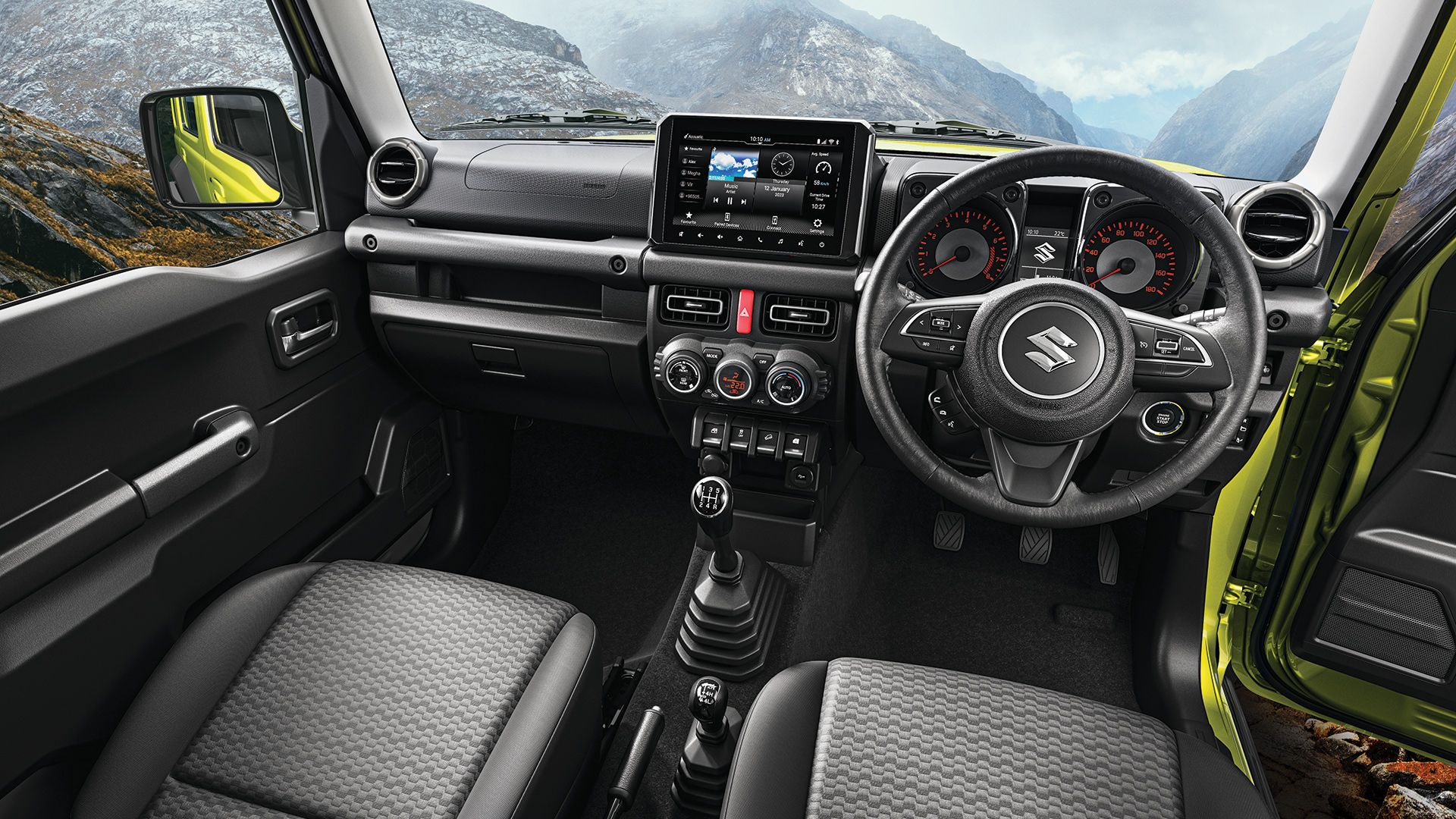 A dashboard view of the 2023 Suzuki Jimny 5-door
While the exterior has some form of differences to be spotted, the interior is exactly the opposite as it's identical to the 3-door version. That's not necessarily a bad thing because the cube-like cabin feels special thanks to elements such as the exposed faux bolts, fixed grab handle on the passenger side, and the twin pod-like instrument cluster with orange backlighting which enhance the design. However, the one aspect that does let it down is the quality of the materials and the plastic used throughout the cabin.
There are other caveats too, such as the steering cannot be adjusted for reach, the seat can't be raised or lowered, door pockets are way too small, glove box space is limited, and the rear seating space is in short supply for tall passengers. However, since the dashboard is pushed all the way to the front and the glass area is upright in nature, visibility outside is excellent. Another benefit comes in the form of the 50:50 split rear seats which enhance cargo space to 332 liters from the standard 219 liters.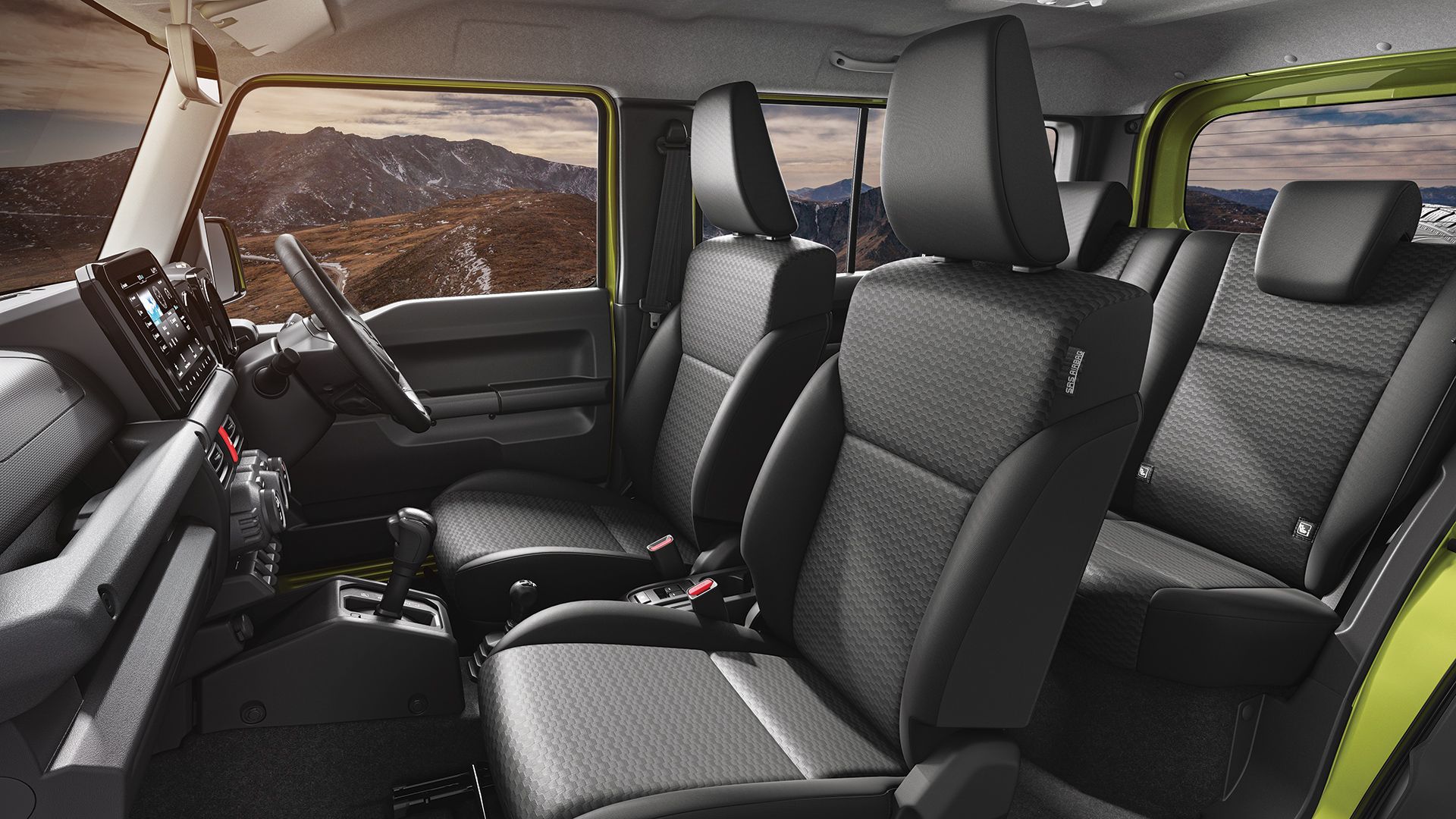 The interior view of the 2023 Suzuki Jimny 5-door
Speaking of equipment, the Jimny boasts quite a few of them and then some. The top-spec trim comes decked out with a 9-inch touchscreen with wireless Android Auto/ Apple CarPlay, automatic LED headlamps with washers, keyless entry, cruise control, climate control, tinted windows, rear wiper and washer, electric foldable outside mirrors, and reversing camera. There's no sacrifice on safety features either as the Jimny 5-door comes equipped with ESP, ABS with electronic brake-force distribution, hill-hold assist, hill-descent control, six airbags, brake limited slip differential, and ISOFIX child seat mounts.
Related: 10 Things You Need To Know About The Exciting Suzuki Jimny
A Modest Powertrain And Price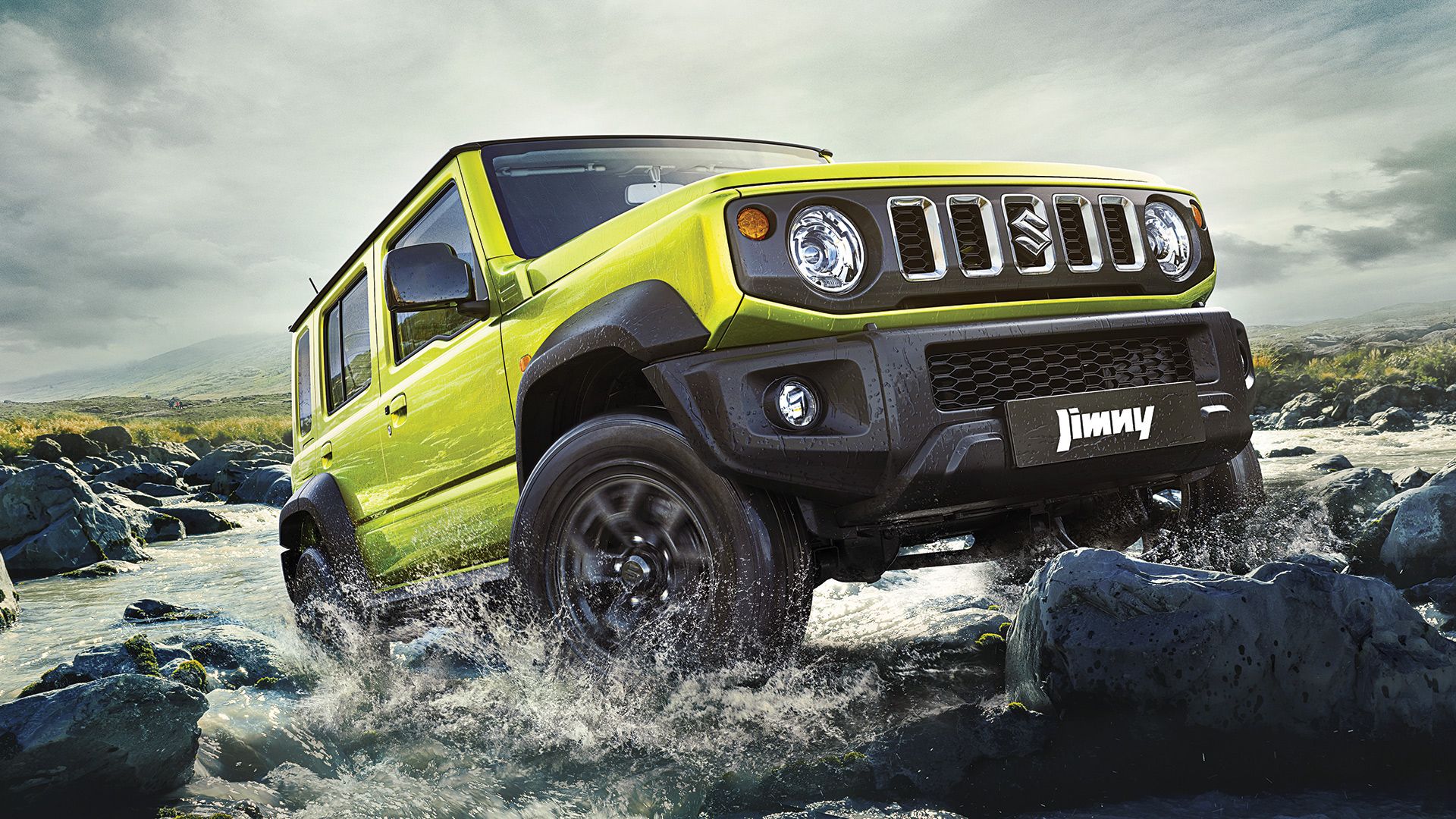 Front 3/4  shot of a kinetic yellow 2023 Suzuki Jimny SUV off-roading
The Jimny's power plant is an interesting case for the markets in that it's sold. Just like the 3-door model, it's powered by the 1.5-liter, four-cylinder K15B engine that develops 103 horsepower and 106 pound-feet of torque. Now, certain markets such as India already transitioned away from using this engine due to the evolving emission norms and instead started using the K15C engine which focuses mainly on fuel efficiency. However, Suzuki chose to not employ the K15C unit since they would have to longitudinally mount it and therefore re-engineer it, raising costs and not receiving many benefits in the process.
Additionally, the company believes that the K15B's stronger low-end performance is more suited to the Jimny's off-road application than the K15C. Speaking of transmissions, this engine is paired to a 5-speed manual or a 4-speed automatic gearbox, with the power going to all four wheels thanks to Suzuki's All-Grip Pro system. With this hardware, drivers can easily switch between '2WD-high', '4WD-high', and '4WD-low' modes. Moreover, this powertrain is fuel-efficient as well, with it delivering a claimed economy of 39.85 MPG in manual guise and 38.55 MPG in automatic guise. All these attributes though are secondary to the Jimny's signature off-roading capability for which it's known the world over.
2023 Suzuki Jimny Price And Specifications

| Variant | Engine | Gearbox | Output | Price |
| --- | --- | --- | --- | --- |
| Zeta | 1.5-liter NA four-cylinder | 5-speed manual | 103 horsepower and 106 pound-feet of torque | $15,529 |
| Alpha | 1.5-liter NA four-cylinder | 5-speed manual | 103 horsepower and 106 pound-feet of torque | $16,687 |
| Alpha dual-tone | 1.5-liter NA four-cylinder | 5-speed manual | 103 horsepower and 106 pound-feet of torque | $16,882 |
| Zeta | 1.5-liter NA four-cylinder | 4-speed auto | 103 horsepower and 106 pound-feet of torque | $16,992 |
| Alpha | 1.5-liter NA four-cylinder | 4-speed auto | 103 horsepower and 106 pound-feet of torque | $18,150 |
| Alpha dual-tone | 1.5-liter NA four-cylinder | 4-speed auto | 103 horsepower and 106 pound-feet of torque | $18,355 |
Specifications of major interest of course are its 36-degree approach and 47-degree departure angles, similar to the three-door version, but since the five-door version's wheelbase is longer, its ramp break-over angle is 24 degrees, 4 degrees less than the three-door version. To put it into context, the Jimny's departure angle absolutely trumps the Jeep Wrangler's 37 degrees of departure even though it can't match the latter's 43.9-degree approach angle. Pair all of this with a curb weight that ranges from 2635–2668 pounds depending on the version, a ladder-frame chassis, and solid front and rear axles, and you have quite the formidable off-road adventurer on your hands. Sadly, the Jimny will never make its way to the U.S. not only due to the fact that Suzuki Auto America filed for bankruptcy in 2012 but also because it does not meet any of the regulatory standards.
Google Ads