Quick Facts About Tires for High-Performance EVs

Tires wear out faster on electric vehicles (EVs).
Replacement tires on an EV can help or hurt the driving range.
Electric vehicles need low-rolling-resistance tires.
Are you impressed with the lightning-quick acceleration and mind-numbing 0-60 times of most electric cars? If you haven't been paying attention, a version of the Kia EV6 (the GT) can whip up 576 horsepower and go from 0 to 60 in about three seconds. Add to that many electric cars, even in base trims, have decent, if not serious, performance credentials. The Volvo S60 Recharge plug-in hybrid (PHEV) sedan makes an astonishing 455 hp, with a significant portion of that output coming from electric motors. BMW's iX SUV, the Mercedes-Benz AMG EQE Sedan, and Porsche's Taycan models, among many others, are tire-blisteringly quick. Even if you don't have an electric exotic, your EV's or PHEV's tires are an essential part of the equation.
Google Ads
Electric Car Tires Wear Faster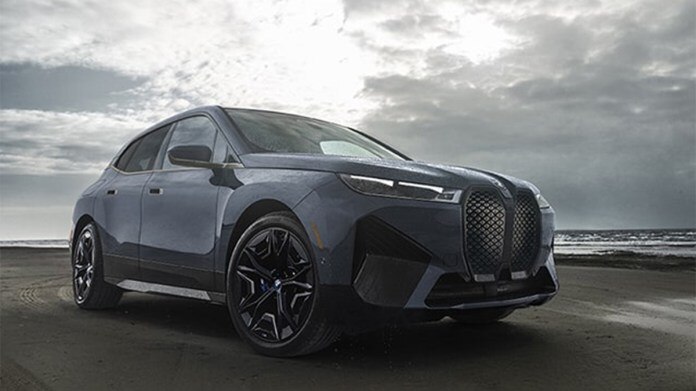 There's one little thing you should remember when shopping for a new or used electric car — you'll need tires sooner than you think. Make sure any used electric vehicle you're considering has plenty of tread left — good advice no matter what kind of car you're buying, but electric cars are harder on tires than most gasoline-powered cars.
For example, Michelin says electric car tires can wear 20% faster than non-electric vehicles. When asked about electric car and truck tires, Michelin said this:
"Tires are put under tougher stress and consumed 20% faster with EVs due to the weight of the batteries, instantaneous torque of electric motors, and regenerative braking."
While EVs don't have specific tire requirements, there are significant differentiating factors between gas-powered cars.
Michelin's advice on tires continues. "EVs are generally heavier and subject tires to additional torque at starts and while stopping, which requires tires designed for significant wear performance. Additionally, due to quiet EV motors, the noise from the tires and the road may be more noticeable, especially on surfaces with repeated joints or uneven surfaces."
Some, but not all, tires have an "EV" designation indicating that those tires are specifically engineered for electric vehicles. Michelin has a long-life tire named "Defender 2," an example that not all EV tires have the term "EV" in the name. There are many more brands and specific models of tires that are best for electric cars.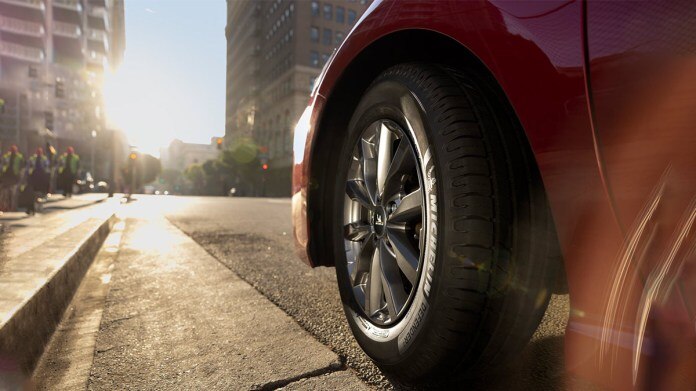 Low-Rolling-Resistance Tires
Most electric cars use something called a "low-rolling-resistance" tire. But what does that mean exactly? Again, we went to Michelin to get the expert answer:
"Rolling resistance is the force required to keep a tire moving at a uniform speed. The lower the rolling resistance, the less energy is needed to keep a tire moving. To maximize battery life and range, EVs need low rolling resistance tires."
Also, tires can impact an electric car's range. It's essential to keep this in mind when replacing EV tires. However, a savvy electric car shopper, when looking for a used EV, should make sure the tires on the car they're buying are specific to that make and model. According to Michelin, "Rolling resistance and aerodynamics of the tires have a significant impact on vehicle range. The choice of tire can impact range by as much as 7%."
In a car with a 250-mile range, that's a little more than 17 miles in driving range you'd lose by replacing your tires with the wrong ones or buying a used electric car with non-EV-specific tires.
Electric Car Tires Can Be More Expensive
Tires can be expensive, especially on electric performance cars. On the Hyundai Ioniq 6, the suggested Nexen tire costs about $240. On a Porsche Taycan, each replacement tire is about $410. If you're buying a used electric car with worn tires, you may be on the hook for an extra $1,000 to $3,000.
If you're looking for a clever way to save money on an electric car, ensure it has the right tires. If you're buying a used electric vehicle, make sure the tires have plenty of tread life left.
Google Ads
Read Related Stories:
Google Ads