You wouldn't go to Harley in search of a top sport bike for the track. Just like you wouldn't turn to Ducati for a full-dresser touring bike. When it comes to buying a bike, you go to the manufacturer that's known for producing top-performing bikes for the style you want to do. Dual sport motorcycles are a unique category, though. These bikes must go from the road to the dirt seamlessly without sacrificing performance or reliability. These manufacturers understand this. With each having a history of quality production, turn to these ten manufacturers for your next dual sport motorcycle.
Google Ads
Updated July 2023: The popularity of dual sport motorcycles continues to grow, especially as a lightweight and inexpensive alternative to bulkier and pricier adventure motorcycles. And as manufacturers update their existing models, and release new ones, we'll be updating this article to keep our readers up to speed on all the latest developments.
RELATED:10 Best Used Dirt and Dual Sport Bikes
Husqvarna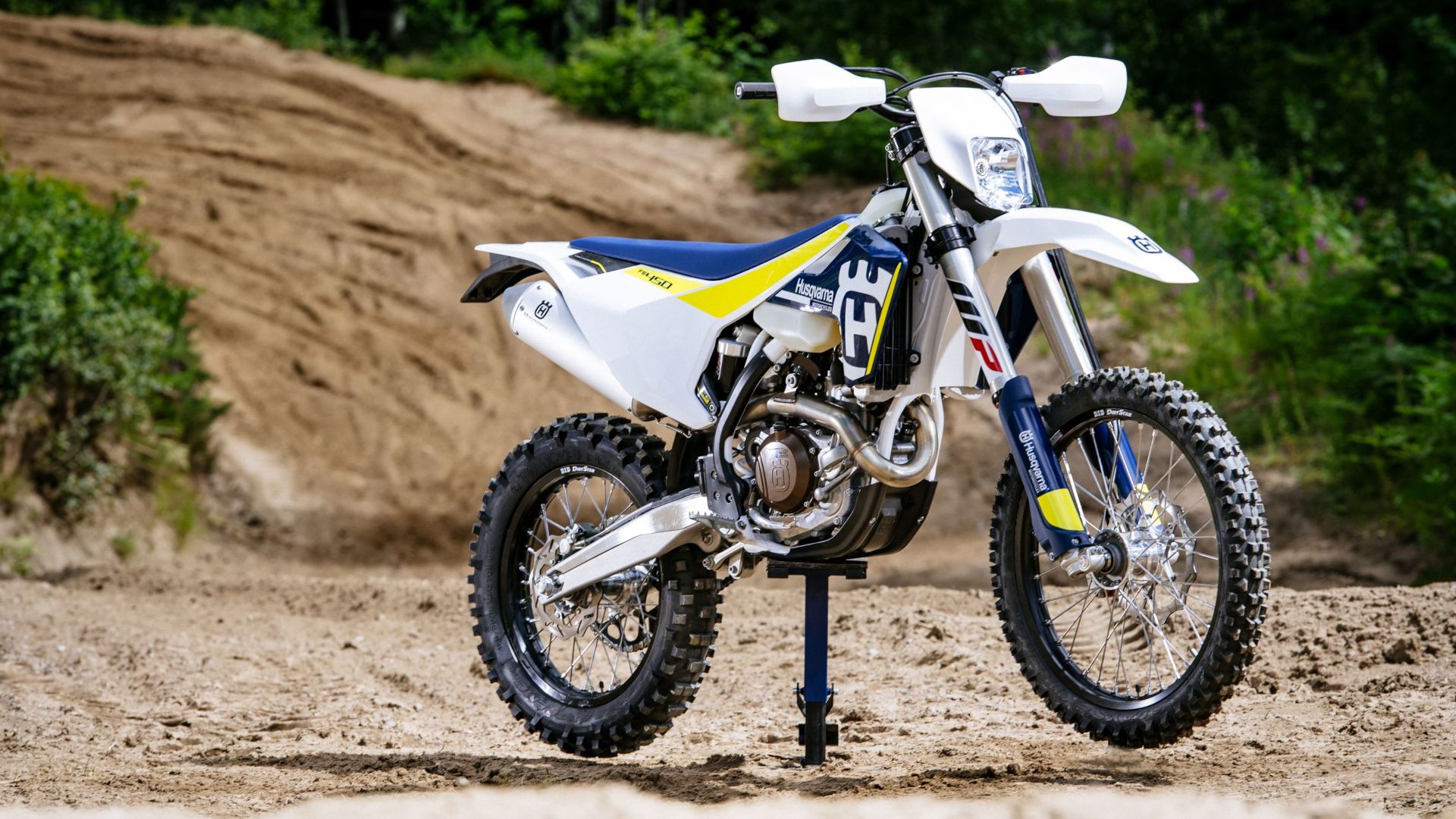 Dirt bike on stand on dirt track.
Husqvarna hit the market in 1903. The company achieved peak popularity in the 60s and 70s. These days, the company is best known for its dirt bikes. To reclaim the majority of the market share, the company makes use of high-end parts such as Brembo, Keihin, and WP. Thanks to the current ownership, you will see the influences of KTM and Husaberg motorcycles. The same parent company owns all three companies. The company entered new territory in 2017 by introducing the enduro model lineup.
KTM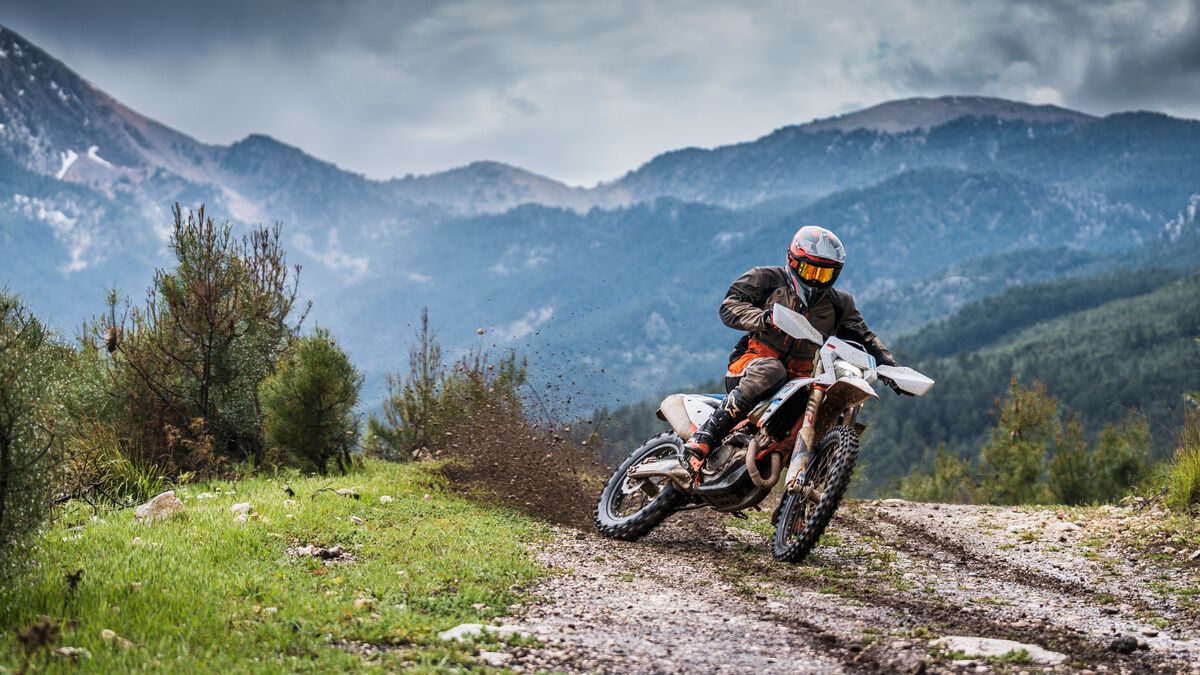 KTM EXC-F 500 on a dirt road
Google Ads
The KTM brand receives much acclaim, winning many awards for off-road, motocross, and supercross performance. The company prioritizes building competition-spec motorcycles. It also doesn't prescribe to the Japanese pack of motorcycle manufacturers' trends. What enthusiasts get is a lineup of bikes that stand out from the crowd and outperform. For example, KTM chooses to make use of chrome-moly steel frames instead of aluminum frames. Of course, you will also stand out thanks to the company's bright orange branding color. It seems to make its way onto every bike. While the company has an impressive lineup of dual sport bikes, it also produces dirt, enduro, and adventure touring bikes. So you are sure to find something that fits your exact needs.
RELATED: 10 Fun Facts About KTM
Kawasaki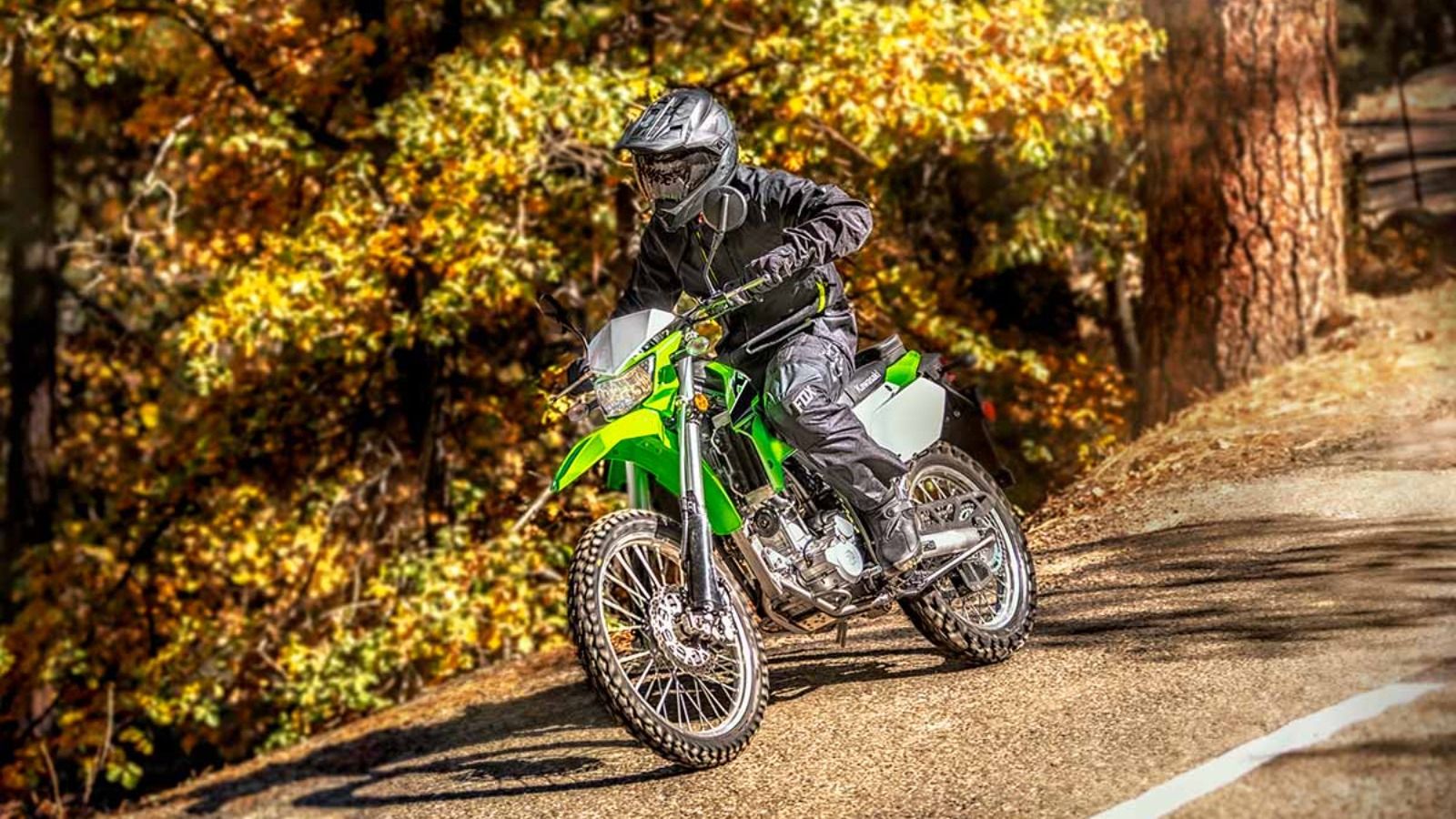 Did you know that motorcycles are just a very small part of Kawasaki Industries? There are divisions like aerospace, trains, jet engines, shipping, robotics, and heavy machinery. When it comes to motorcycles, it is one of the big four from Japan. While it has made its name on the racetrack and with sport bike production, these are not the only types of bikes that Kawasaki builds. It has an extensive lineup of dirt, dual sport, and adventure bikes. Kawasaki's sheer size and financial backing allow it to do extensive research and development. Riders benefit by having the ability to ride a quality bike on and off the road.
Suzuki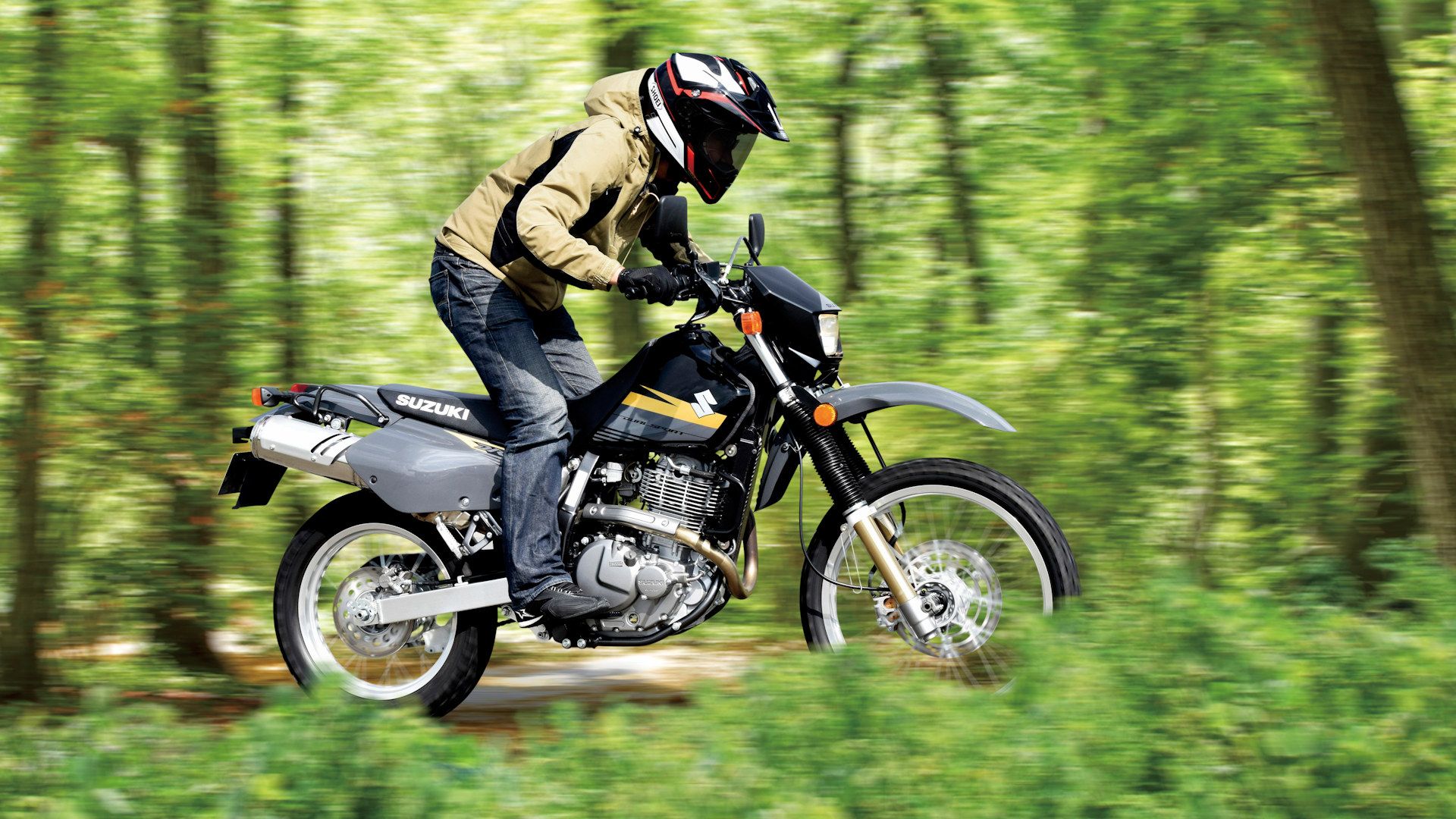 Suzuki DR650S navigating a trail through the woods
Another one of the big four Japanese motorcycle companies, Suzuki started in 1909 as an industrial loom manufacturer for the silk industry. It wasn't until 1952 that it began to produce motorcycles. These days, Suzuki is a power sports company, manufacturing everything from watersports equipment to motorcycles and off-roading machines. While the Hayabusa may get all the attention, don't overlook the dual sport bikes. Suzuki regularly places at the top of dirt and off-road competitions. They are lightweight, affordable, and durable. The company focuses on producing practical but fun machines. They may lack frills, but they deliver plenty of thrills.
Honda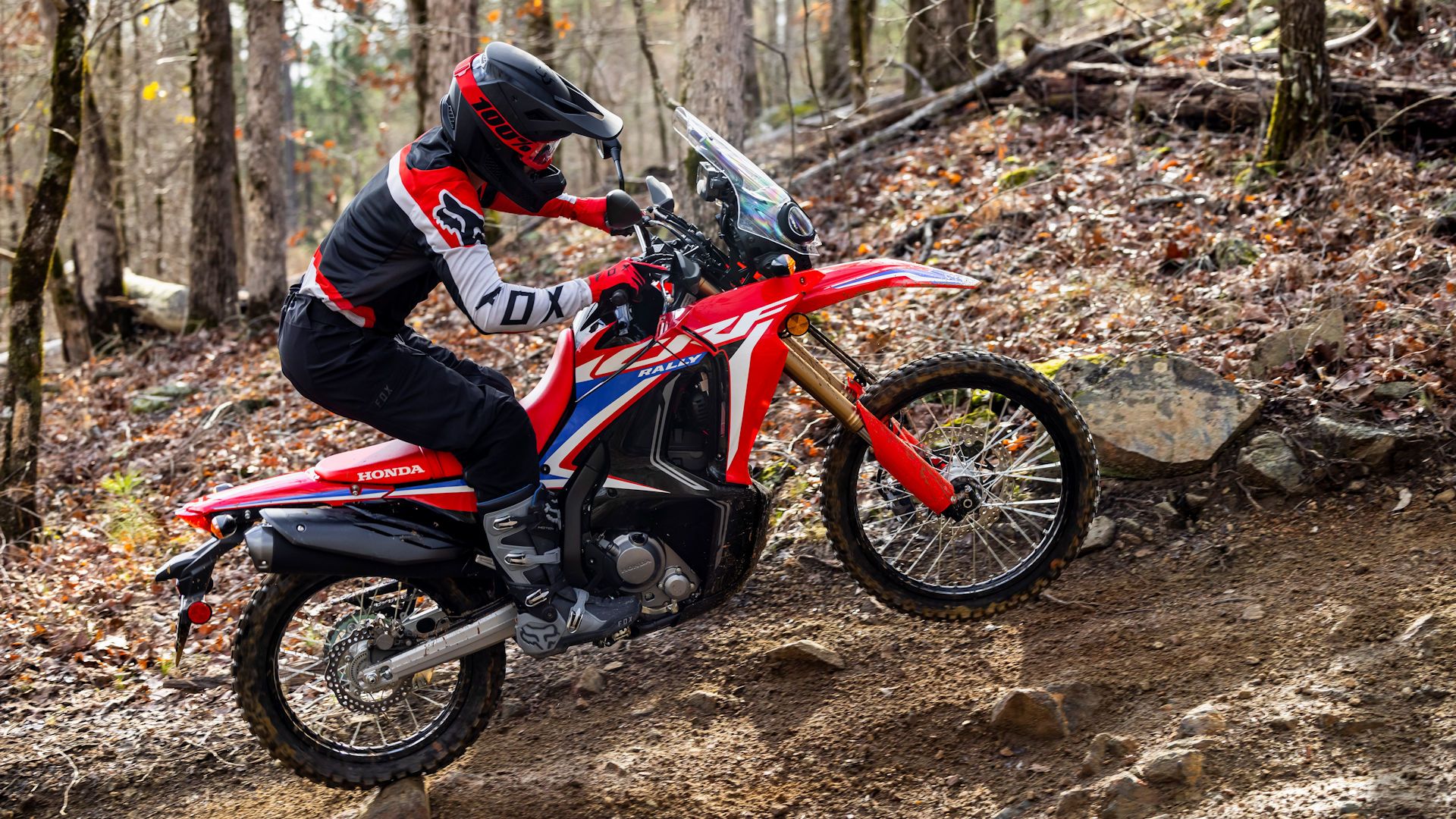 Honda CRF300L going on a dirt road
In 1949 Honda began as a bicycle company. It then moved into combustion engines, which led to the company producing cars and motorcycles. Thanks to the company's roots as an engine company, its motorcycles consistently rank well in racing competitions. Honda has the unique distinction of having the biggest and most widespread lineup of motorcycle models. From the tiny minibikes and GROMS to the hefty Gold Wing, there is something for everyone. Its volume doesn't discount its quality, though. Hondas have a reputation for reliability. They are also easy to work on, making them great bikes for someone on a budget.
Yamaha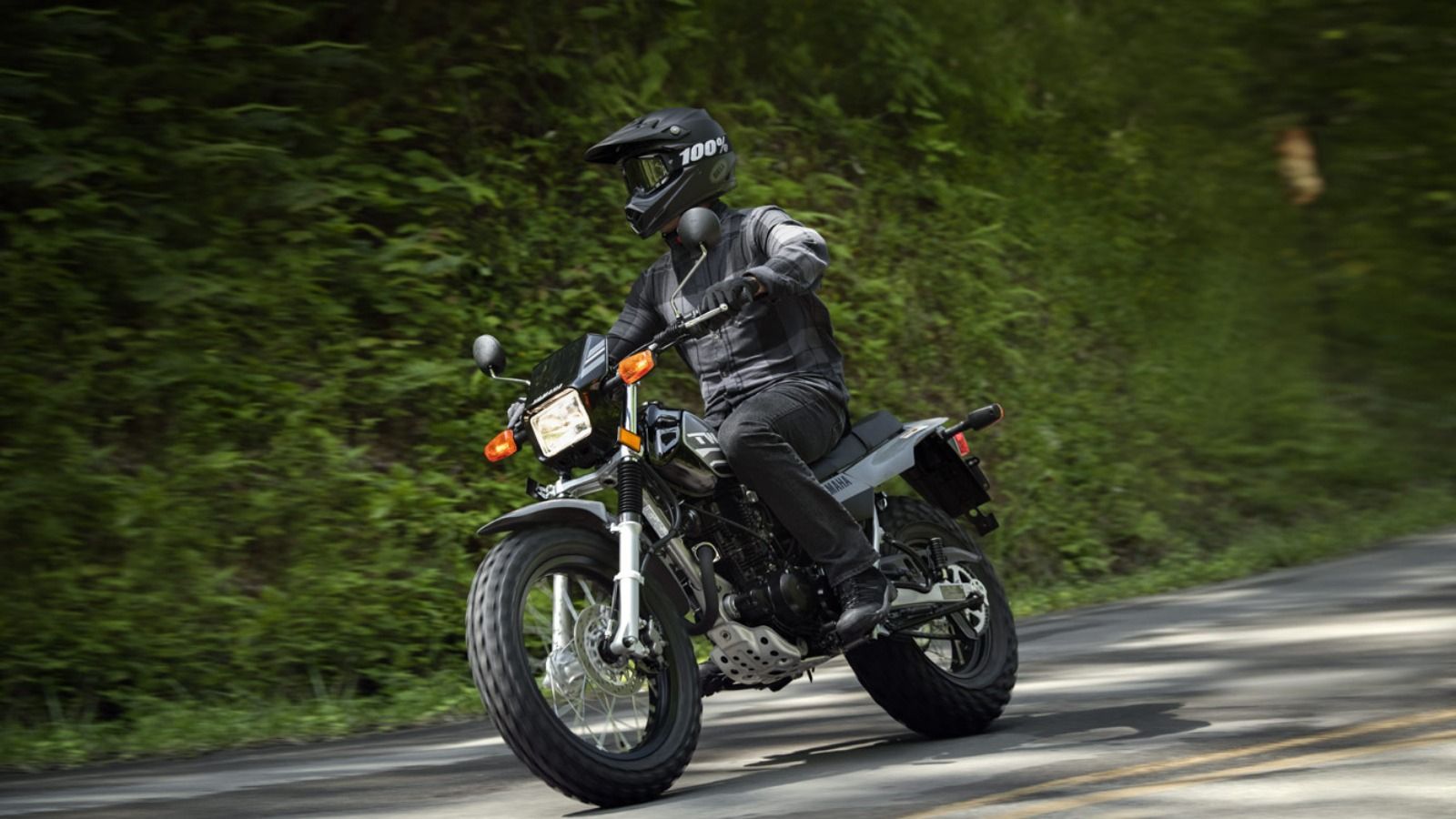 It was on the racetrack where Yamaha made its name. After its establishment in 1955, it was the first Japanese motorcycle manufacturer to race internationally. This grew into the company competing in competitions on and off the road. Despite the company's start as a musical instrument company, it is now one of the big four Japanese motorcycle companies. Its lightweight enduro, off-road, and dirt bike lineup is affordable enough for everyone. They are also easy enough for beginners to have fun on. With so many bikes in its lineup, you can easily move up as your skills and experience grow.
RELATED: 2023 Yamaha TW200: Performance, Price, And Photos
TM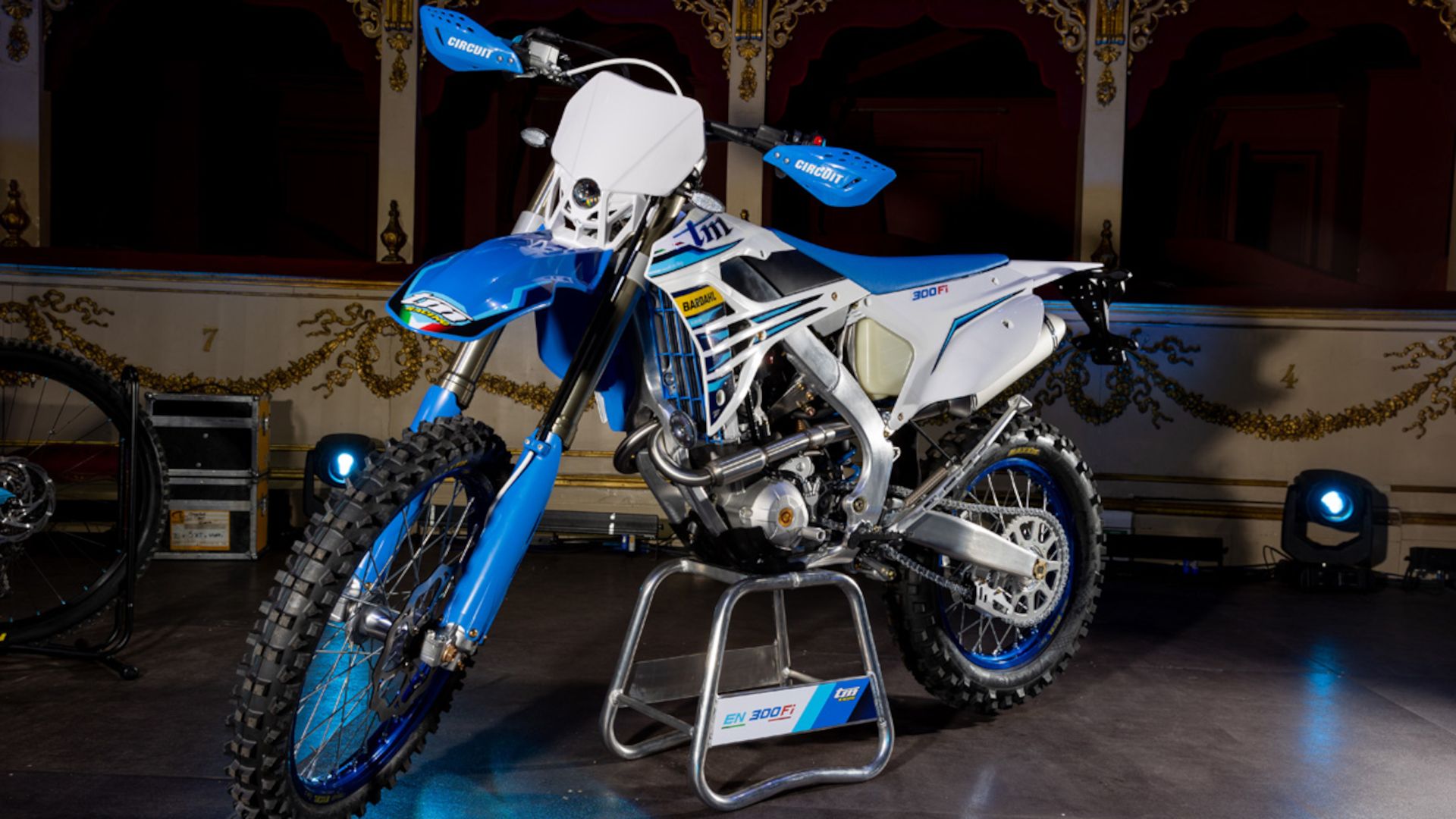 Off road motorcycle on stand in dark studio, facing left.
TM is the epitome of a small boutique family business that found great success with performance-based machines. Though largely unheard of, this small Italian motorcycle company started in 1977 when two, life-long friends, and off-road racing fanatics, quit their jobs in order to start making their own bikes. And though their success wasn't immediate, they did eventually wow the attendants at the Milan Motorcycle Show, which brought them into the limelight. Within a year, the company became large enough to produce 200 motorcycles. The company expanded from there on, adding staff and delivering motorcycles to competition riders that began achieving real results during actual races.
In 2021, TM announced that they'd redesigned their entire lineup, from the engine on up. Today the company has a variety of motorcycle options available for purchase in the enduro, motocross and supermotard markets.
Beta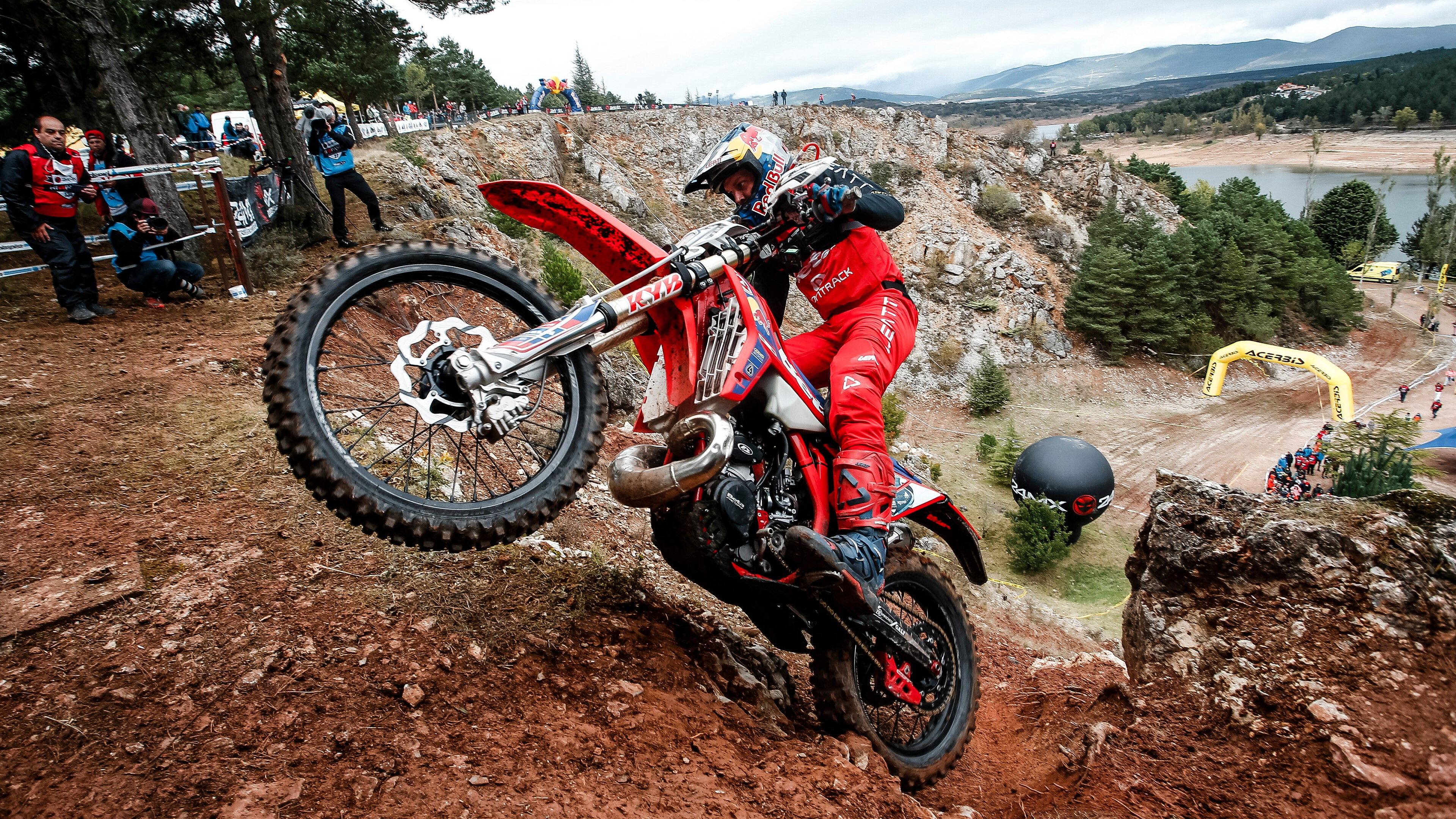 Jonny Walker aboard a 2021 Beta 300RR at the 2021 Hixpania Hard Enduro
Hidden deep in wine country in California is a small motorcycle company called Beta. It specialized in enduro motorcycles for decades, but the lineup grew and matured into an impressive group of machines. The company now produces dual sport, off-road, and trial bikes. Despite the company being U.S.-based, all the components are designed and built in Italy. This gives you American ingenuity combined with Italian craftsmanship and design. The result is a motorcycle that outpaces the competition while also being fun to ride in your off time. Whether you choose a two-stroke or four-stroke model, you can't go wrong.
KOVE Moto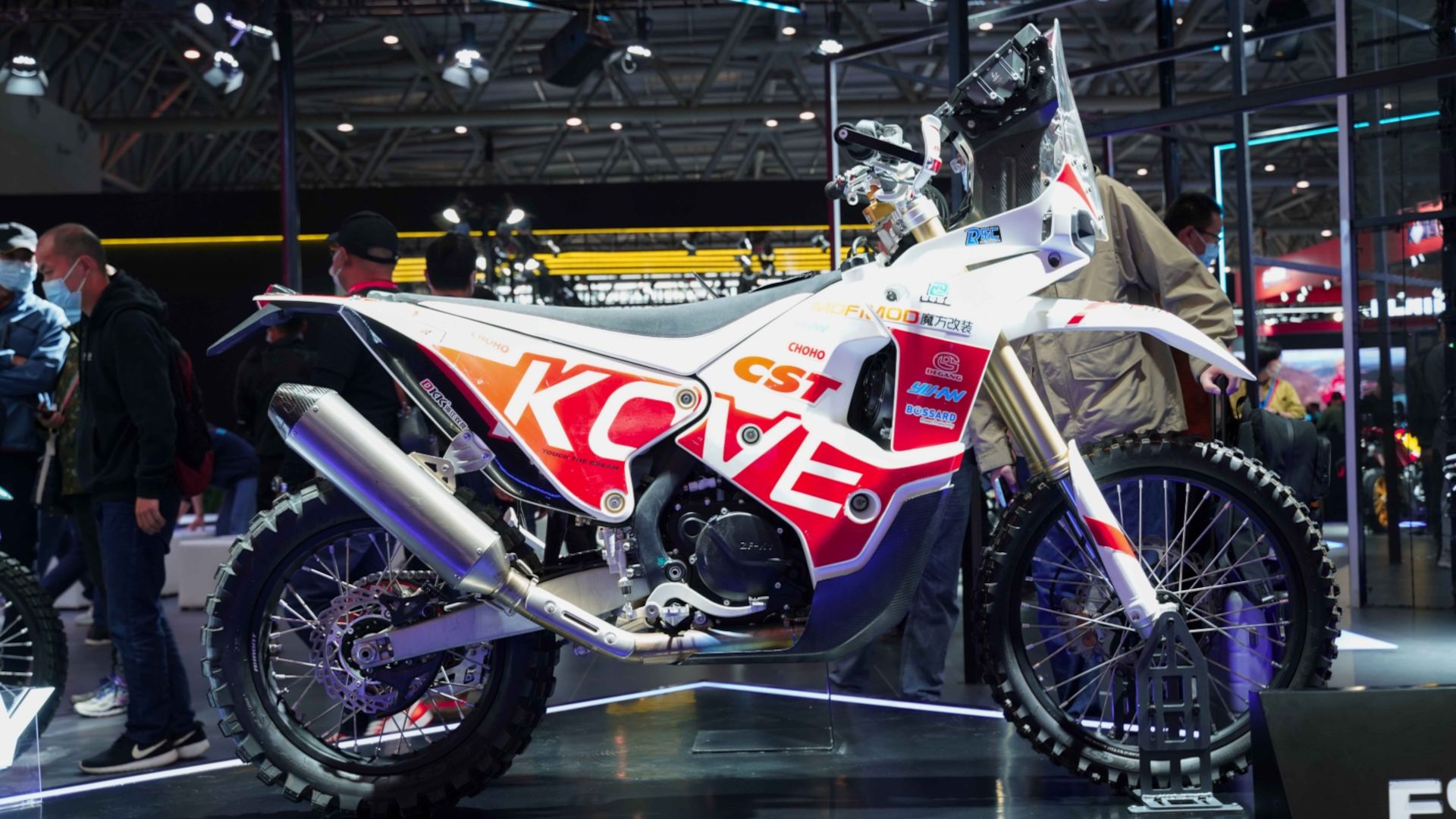 Motorcycle facing right, at a bike show.
Perhaps as a testament of the ever-rising popularity of the dual-sport, one of the youngest motorcycle companies is already making a stir not only in its native China, but on the global market as well. KOVE Moto started in 2017 and is already the 4th domestic manufacturer in terms of motorcycle sales. In 2021 alone it had exceeded 20,000 units sold. And with its eyes firmly on exports, KOVE Moto has already partnered with several European companies, selling bikes in Spain under Macbor badging and the Czech Republic under Jawa.
Like many established motorcycle companies, KOVE Moto's focus lies beyond off-road bikes. And though it produces retro and sport bikes as well, there is an interesting set of choices for ADV, Rally and off-road enthusiasts in that part of the world. However since it's a relatively new company it has some hurdles to overcome before it can become a household name in dual-sports.
Christini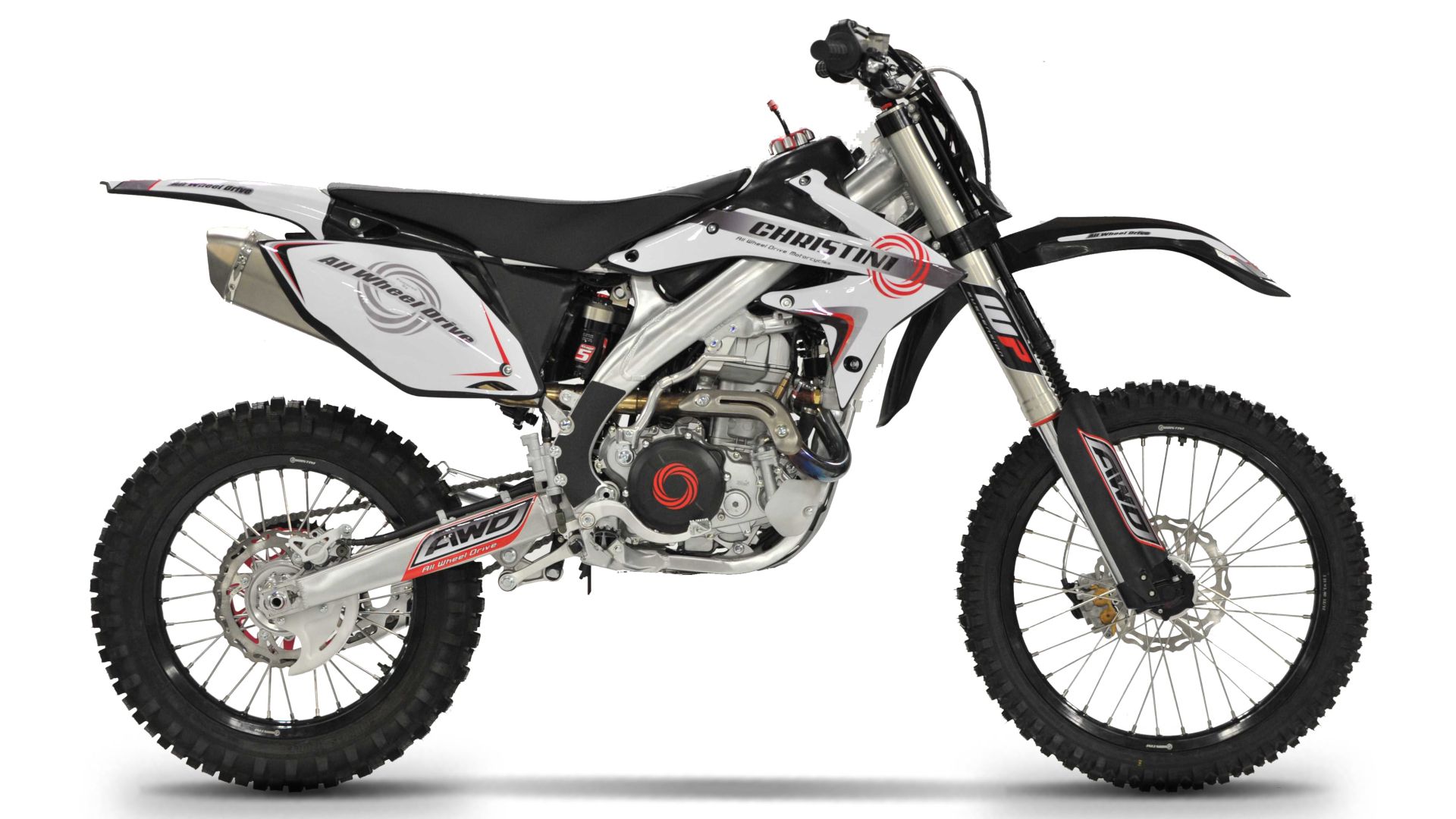 Motorcycle facing right in bright studio shot.
Riders outside the dirt and dual sport world may not be familiar with Christini. The company has not been around nearly as long as others on this list. It developed its first bicycle prototype in 1995. It commenced sales in 2001. However, it wasn't until 2004 that it prototyped its first motorcycle. By 2007, the first Christini motorcycles hit the consumer market. The bikes went off like wildfire, winning competitions, setting speed records, and gaining the attention of the military. The bikes now get used by the military and the U.S. Border Patrol. The bikes have a cult following of enthusiasts who understand the beauty of this small brand.
Google Ads