On paper, driving both wheels of a motorcycle makes sense: increased traction and safety being the two main selling points. In reality, however, getting drive to the front wheel of a motorcycle is a lot harder than getting drive to all four wheels of a car, mainly because of the way the front wheel of a motorcycle is mounted, with no clear path for the drive to take from the engine to the wheel, unless alternative front wheel mounting solutions are adopted as well. Many manufacturers have tried two wheel drive for motorcycles but not with any great enthusiasm or seeming intent to commit to the concept, so there's never really been the chance for the buying public to get used to the idea.
Google Ads
Related: 10 Best Concept Bikes That Never Made It To Production
10
Ural Sidecar Outfit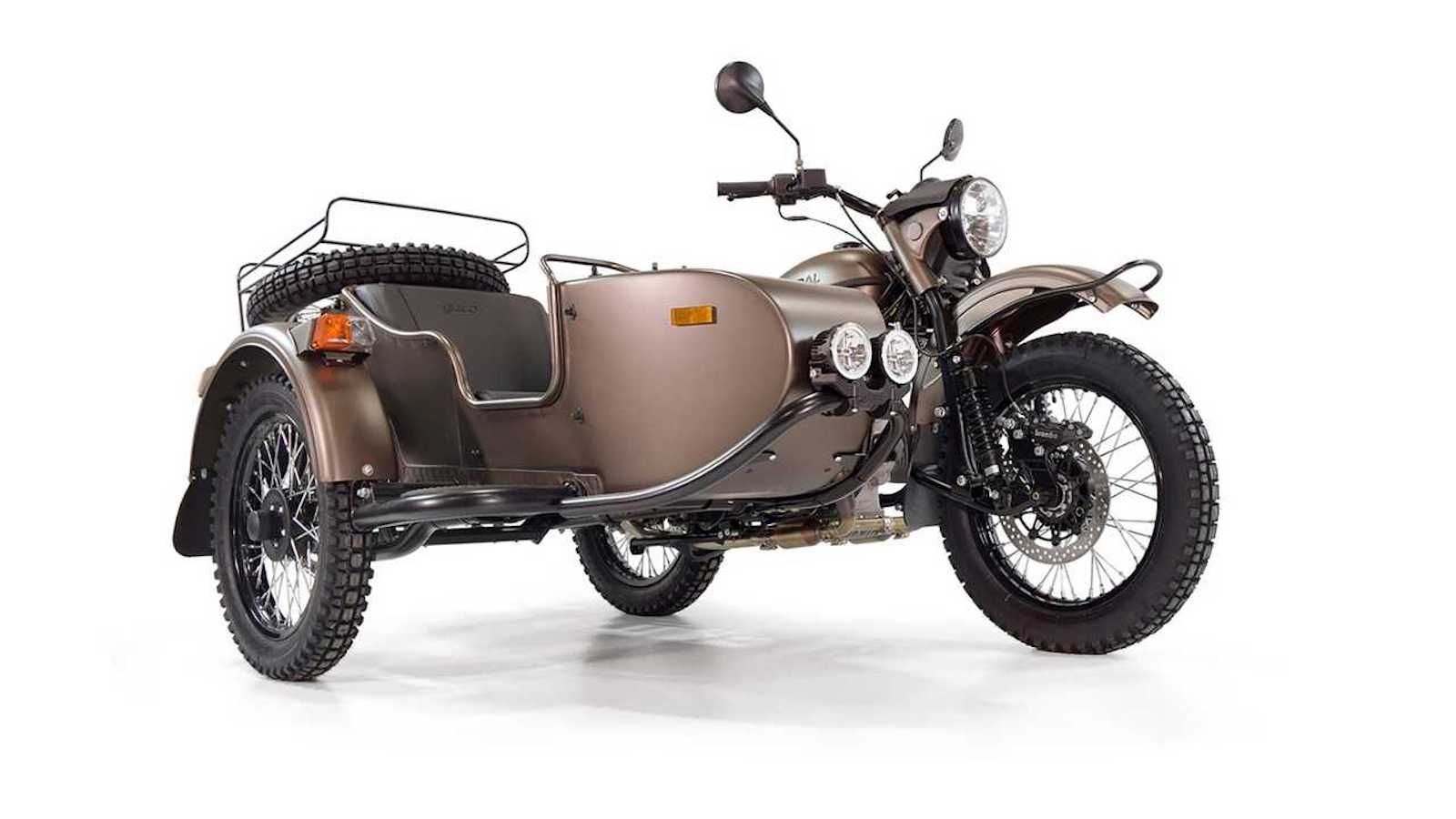 Ural Sidecar outfit, with driven third wheel
During the Second World War, BMW pioneered taking drive to the 'third wheel' of a sidecar outfit, necessary to enable them to traverse muddy or snowy terrain. The Russians had the same idea and the Ural of today is a direct descendent of those military workhorses. The sidecar wheel is driven via a shaft that is driven from the gearbox, just like the shaft that drives the rear wheel but at 90 degrees to that one. The Ural is a basic but rugged motorcycle, with few frills and little electronic sophistication and continues to produce sidecar outfits even when sidecars have largely gone out of fashion.
9
Suzuki XF5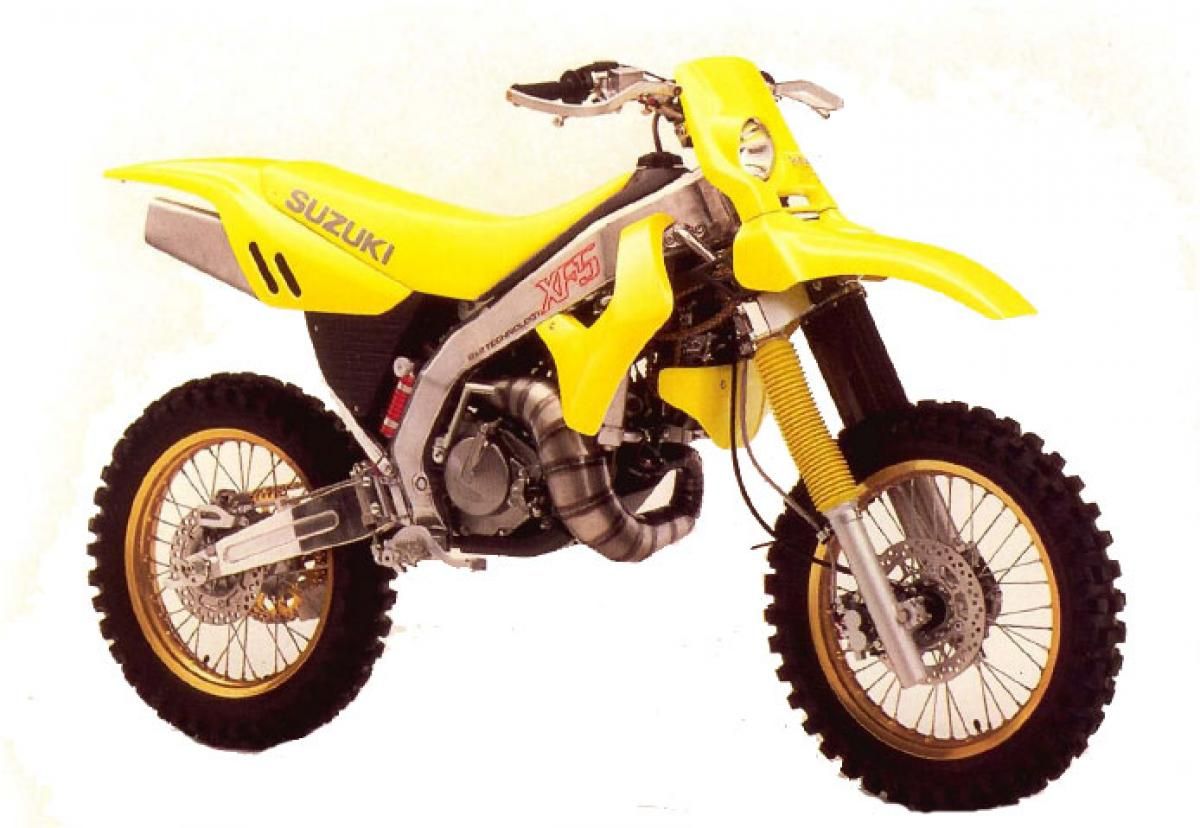 Suzuki XF5 two-wheel drive
Google Ads
There have been many two wheel drive concepts that never made it to production and the Suzuki XF5 is one of them. In 1991, Suzuki showed a trio of concept designs – a standard road bike, a scooter and an enduro bike. Powered by a 200cc single cylinder engine, drive was taken to the front wheel via a telescopic drive shaft running vertically in front of the left hand fork leg. Power was taken from the engine by a series of chains and a transfer box mounted near the headstock. The system will have probably taxed the power output of the engine and there must have been significant drag from the system, although Suzuki managed to keep the weight increase down to only 17 pounds.
8
Rokon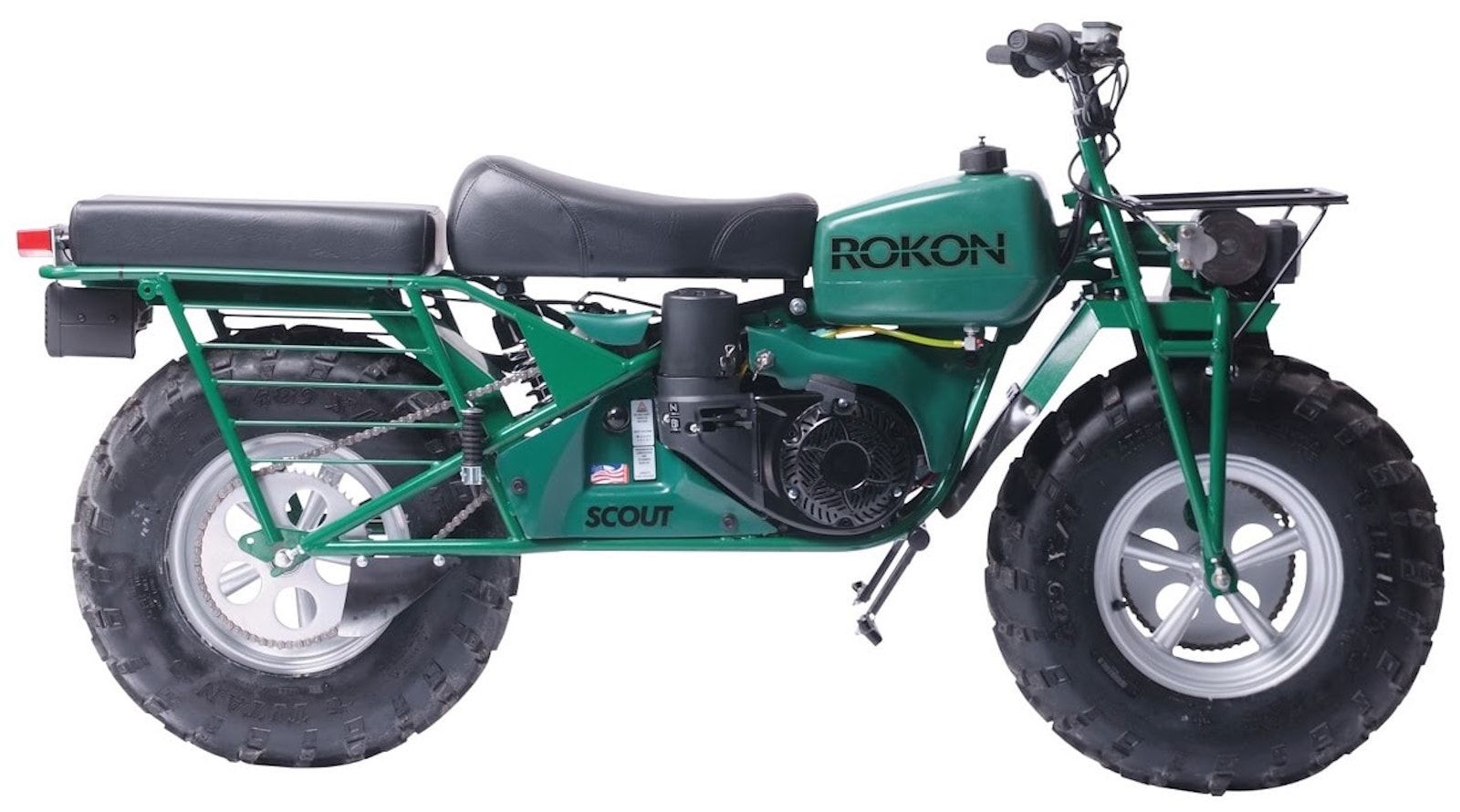 Rokon two-wheel drive motorcycle
Another long-lived two wheel drive motorcycle, the Rokon has been around since the 1960s and is sort of a two-wheeled version of the Jeep: practical and rugged and with real go-anywhere ability. One of the big problems with taking drive to the front wheel is accommodating suspension movement so the Rokon gets around this by having no suspension, relying on the fat balloon tyres to provide shock absorption, although some models are now available with front suspension. Drive to the front wheel is by chains and a large sprocket and the Rokon is both a great workhorse and also a fun leisure vehicle.
7
Drysdale 2X2X2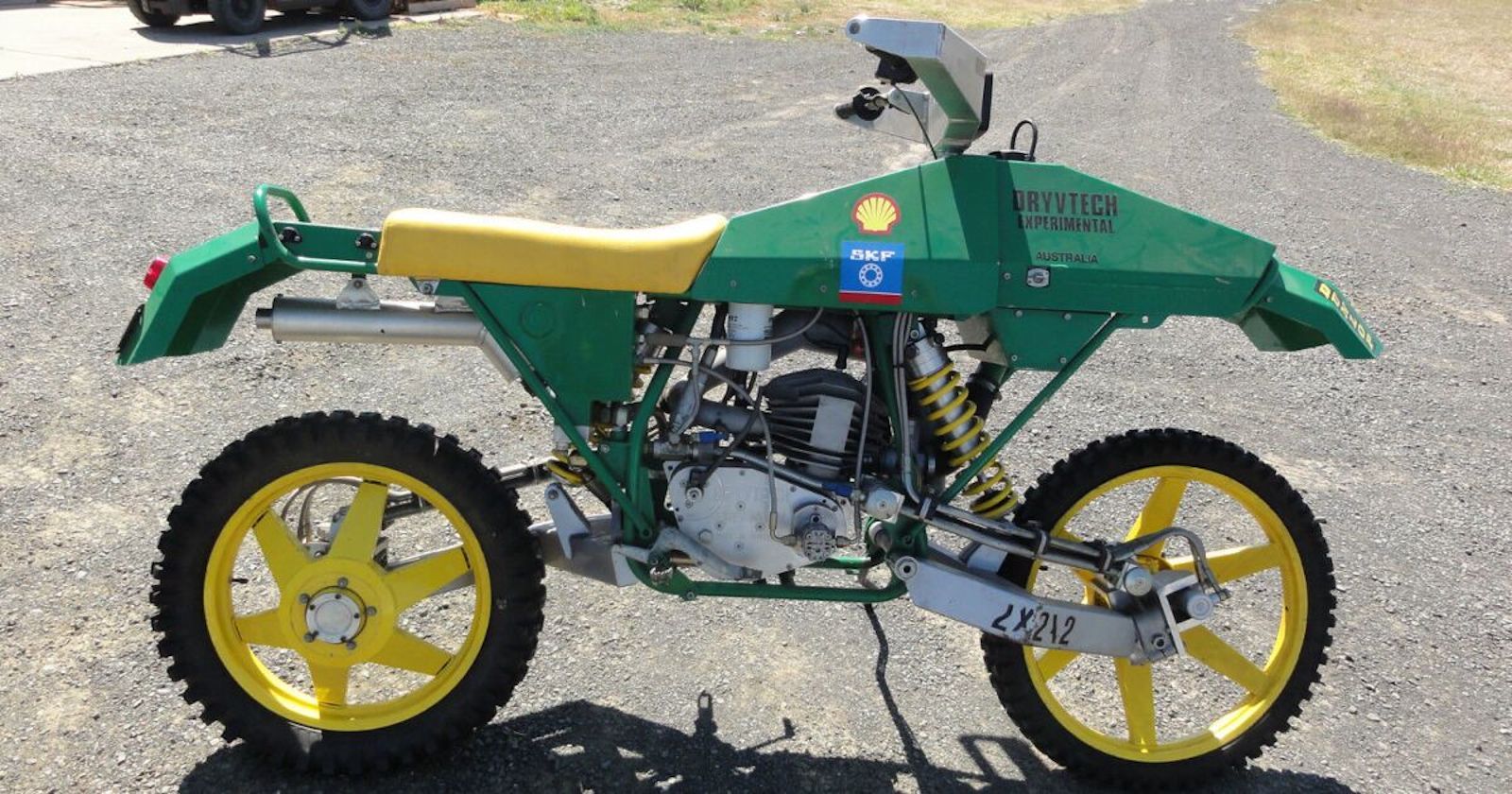 Drysdale 2x2x2, two-wheel drive motorcycle
One method of delivering power to the wheels is by a hydraulic pump and lines and this is the method the Drysdale 2X2X2 uses. Engineer Ian Drysdale built the two-stroke engine from scratch by hand and hydraulic power sends power to both wheels. Both wheels are also used for steering, which is again hydraulic powered and there are swing arms at both ends, giving hub-centre steering. There are no brakes, or at least no visible disc brakes. Instead, the hydraulic pump itself acts as a brake. By all accounts, the Drysdale 2X2X2 felt very strange to ride initially but you got used to it. One problem is that, if the engine is not running, then it can't be moved or the steering turned. But, as something built in a small workshop, it's an impressive piece of engineering.
Related: Davinci DC100 Electric Motorcycle is Brutal And Ugly, But Also Brilliant
6
KTM 2WD Prototype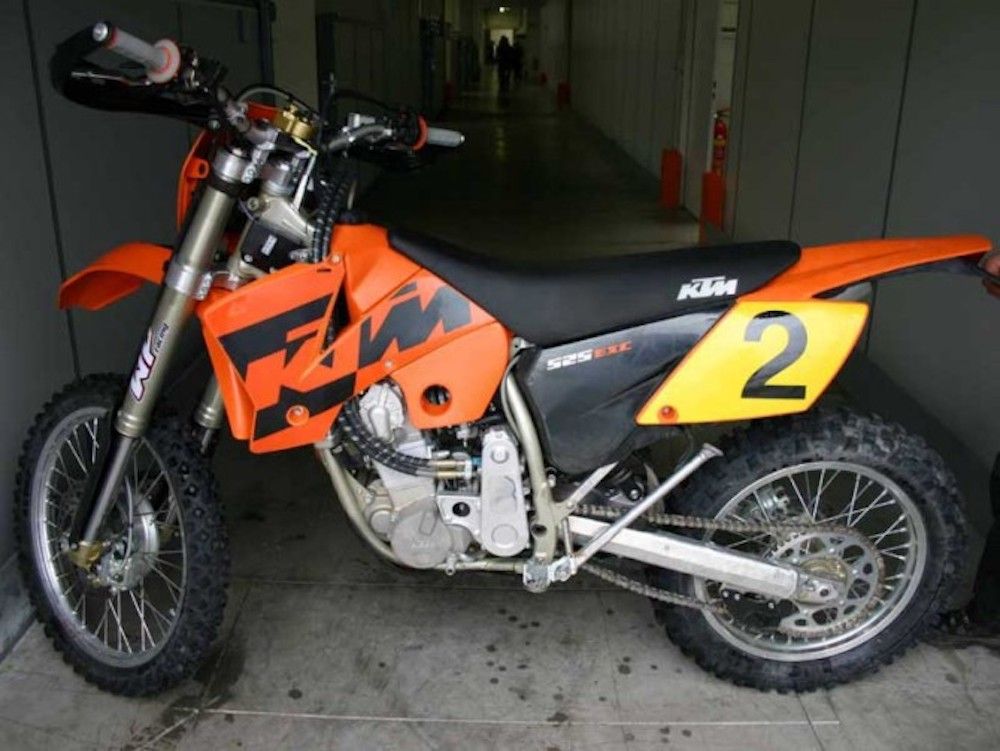 KTM 2WD prototype
Back in 2004, KTM began investigating two wheel drive for its off-road motorcycles. Like the Drysdale above, it also had a hydraulic pump but this sent power to the front wheel only, the rear being conventionally driven by gearbox and chain. The hoses taking the pressurised oil to the front wheel were flexible, so standard front forks could be used and the system was a lot simpler than a mechanical drive. When tested, the acceleration on dirt was found to be hugely impressive. Later, KTM patented a hybrid two wheel drive motorcycle with an electric motor mounted in the front hub, while the rear wheel was driven by the engine. For whatever reason, KTM did not continue with development of the idea.
5
Wunderlich Hybrid BMW R 1200 GS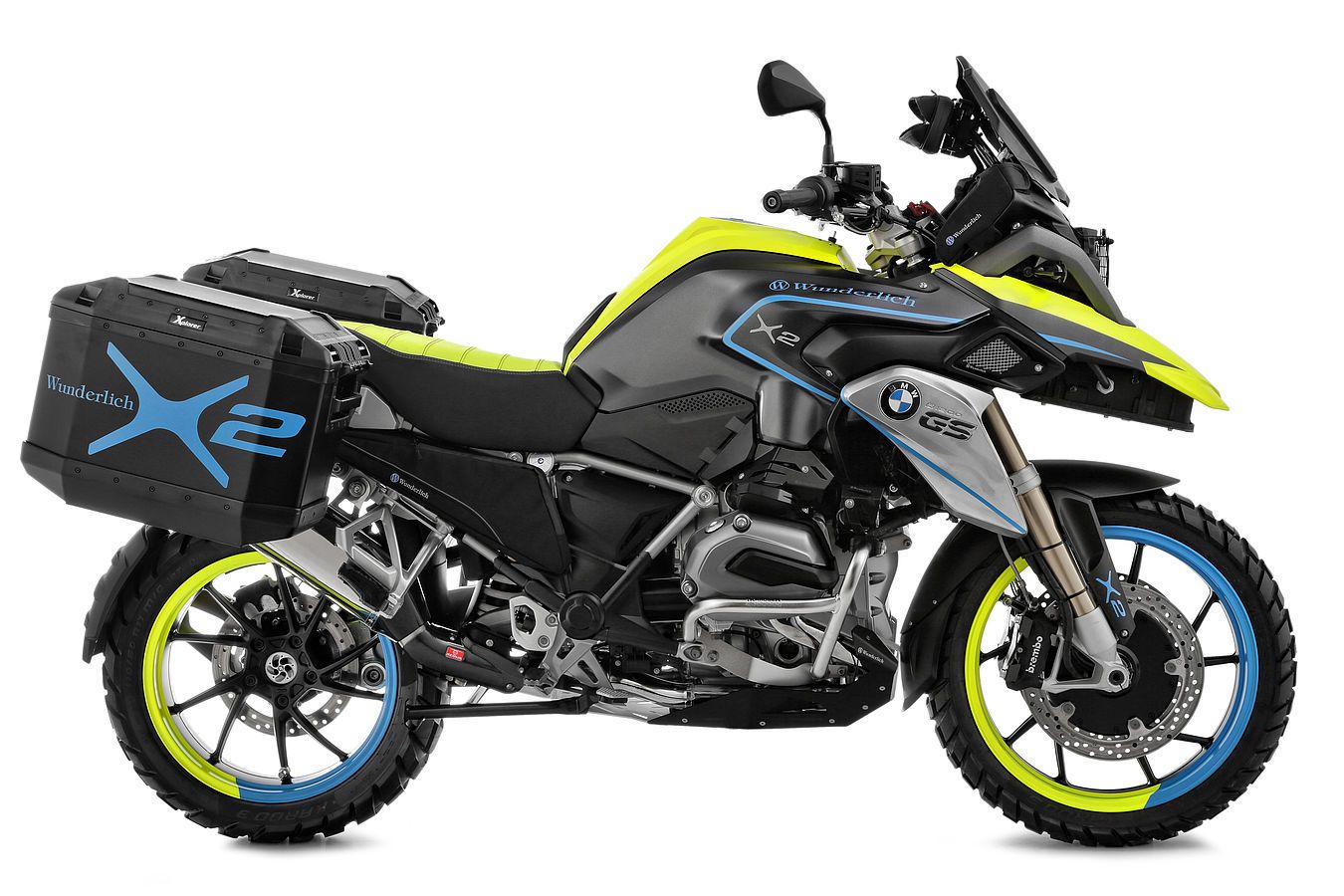 Wunderlich BMW R1200GS Hybrid right hand side
In 2015, German BMW tuner Wunderlich obviously looked at KTM's electric front hub patent and decided it was just the ticket for application to a large and heavy adventure bike. Naturally, a BMW was used and the interesting thing about this system is that it could be easily retro-fitted to any existing motorcycle, as long there is space to package the batteries and generators, which would also add more weight. When you're taking about a bike that is already as big and heavy as a modern adventure bike, that is not necessarily desirable, despite the advantages of added traction. Another issue would be programming the speed and torque of the electric motor into the bike's existing electronic brain, not necessarily something that could be done by a home mechanic. One clever feature is that the motor can run backwards, giving a reverse gear, useful for many situations when out on the wild trail.
4
Yamaha PES2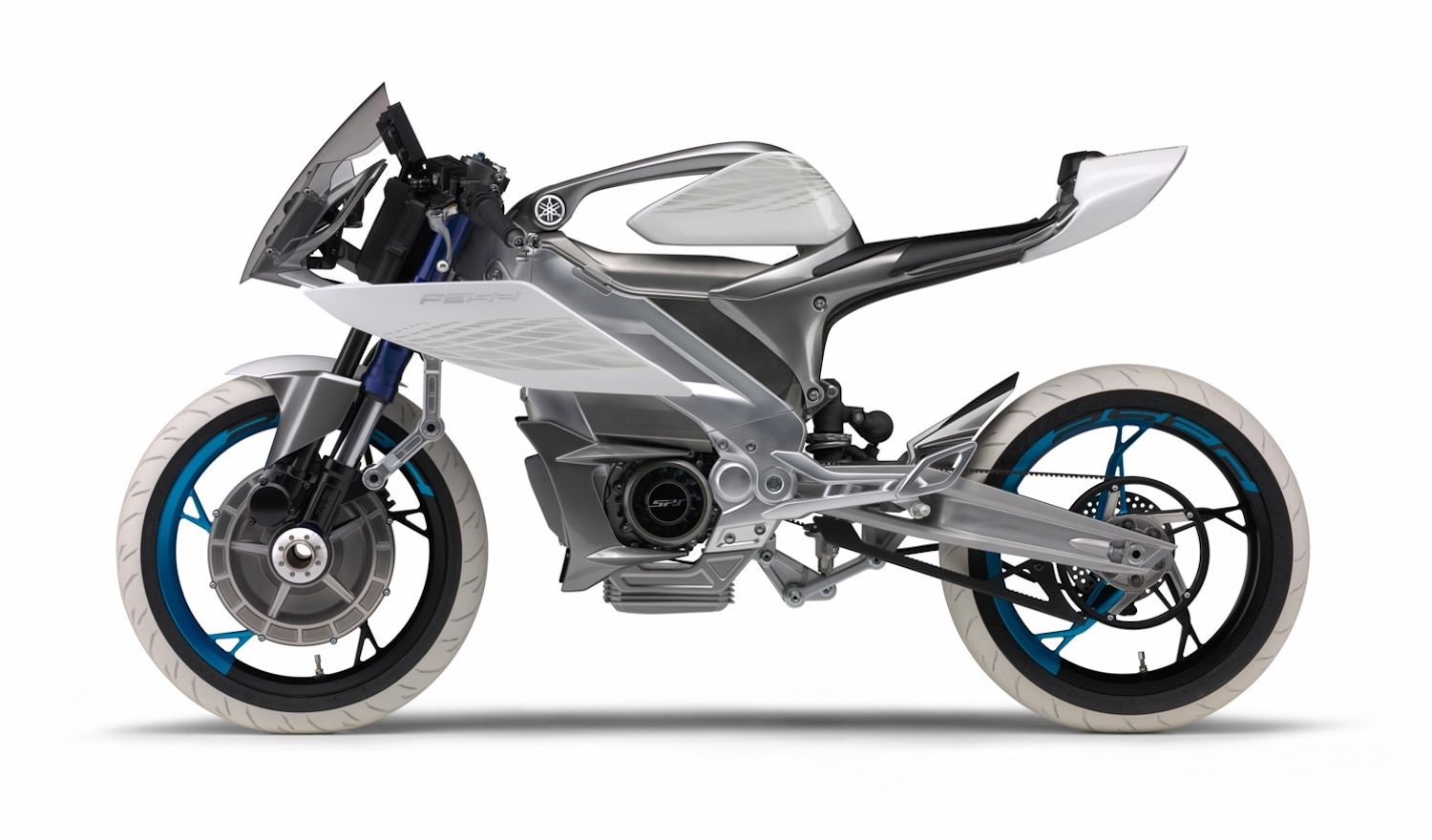 Yamaha PES2, two-wheel drive concept
Back in 2014, Yamaha's annual report contained information regarding the company's electric sports bike, that we were assured would go into production but, at the time of writing this in 2023, it has still to see the light of day. A second generation concept featured two wheel drive, with an electric hub-mounted motor at each end. The front electric motor also doubled as a brake with a regenerative function to feed electricity back into the batteries. With the increasing urgency to find alternative power sources for motorcycles and automobiles, it is strange that the PES2 seems to have vanished off the face of the earth.
Related: 15 Best Yamaha Motorcycles Ever Built
3
Suzuki Nuda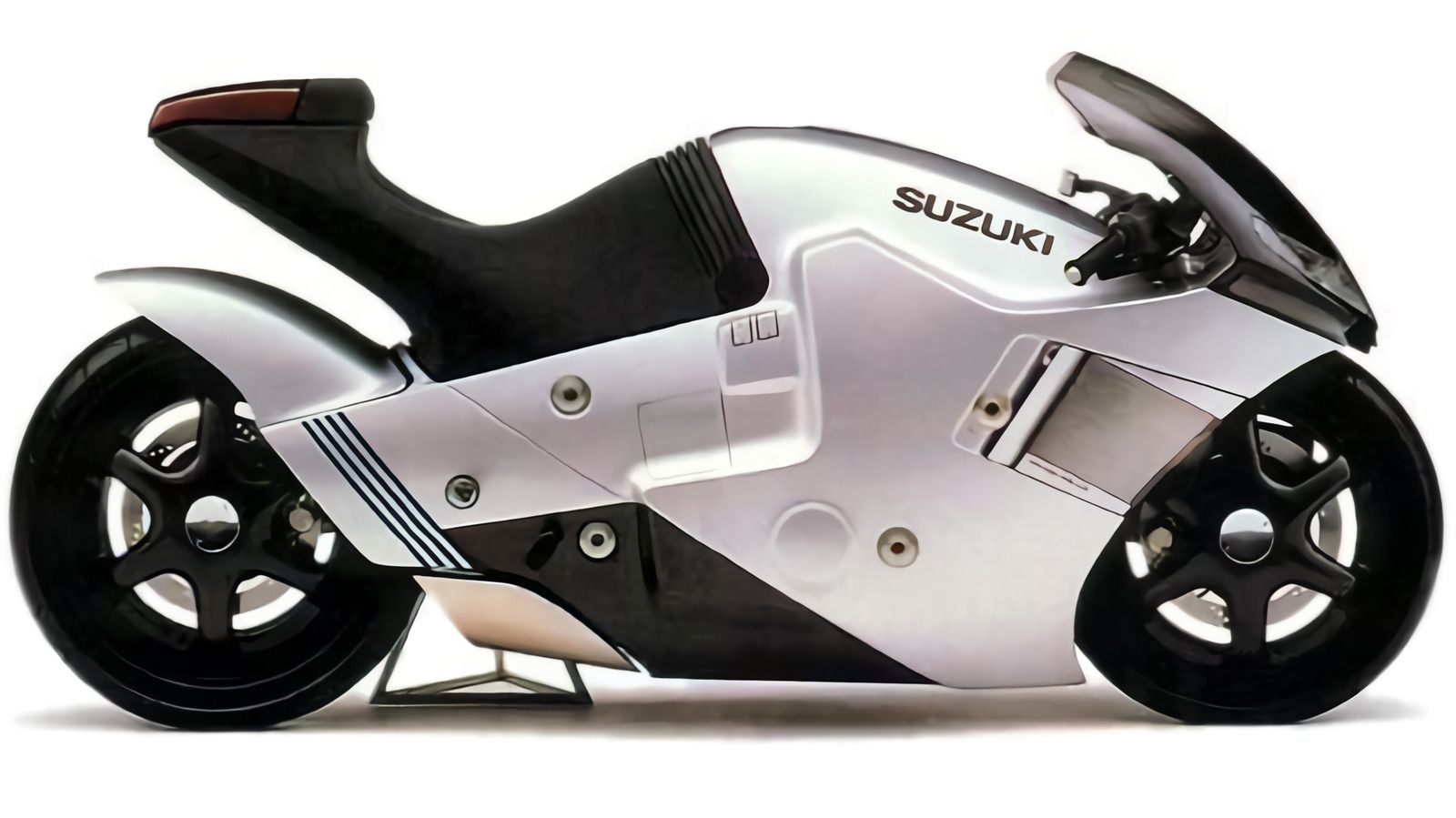 Suzuki Nuda concept bike
A pure concept motorcycle, the Suzuki Nuda not only looked sensational, but also bristled with new tech. Like the Drysdale, the Nuda had a swing arm at both ends, which not only meant hub-centre steering but also drive from the gearbox was by shaft to both wheels. Despite the Nuda being a running and working model, Suzuki's fascination with two-wheel drive was quietly shelved. Suzuki was not the only Japanese manufacturer who looked at two-wheel drive: Yamaha's GTS1000 already featured a front swing arm and hub-centre steering and Yamaha even patented a two-wheel drive system for the model. With the relative lack of success for the model, it's no surprise that Yamaha did not pursue two-wheel drive technology for road bikes. And neither has Suzuki.
2
Yamaha 2Trac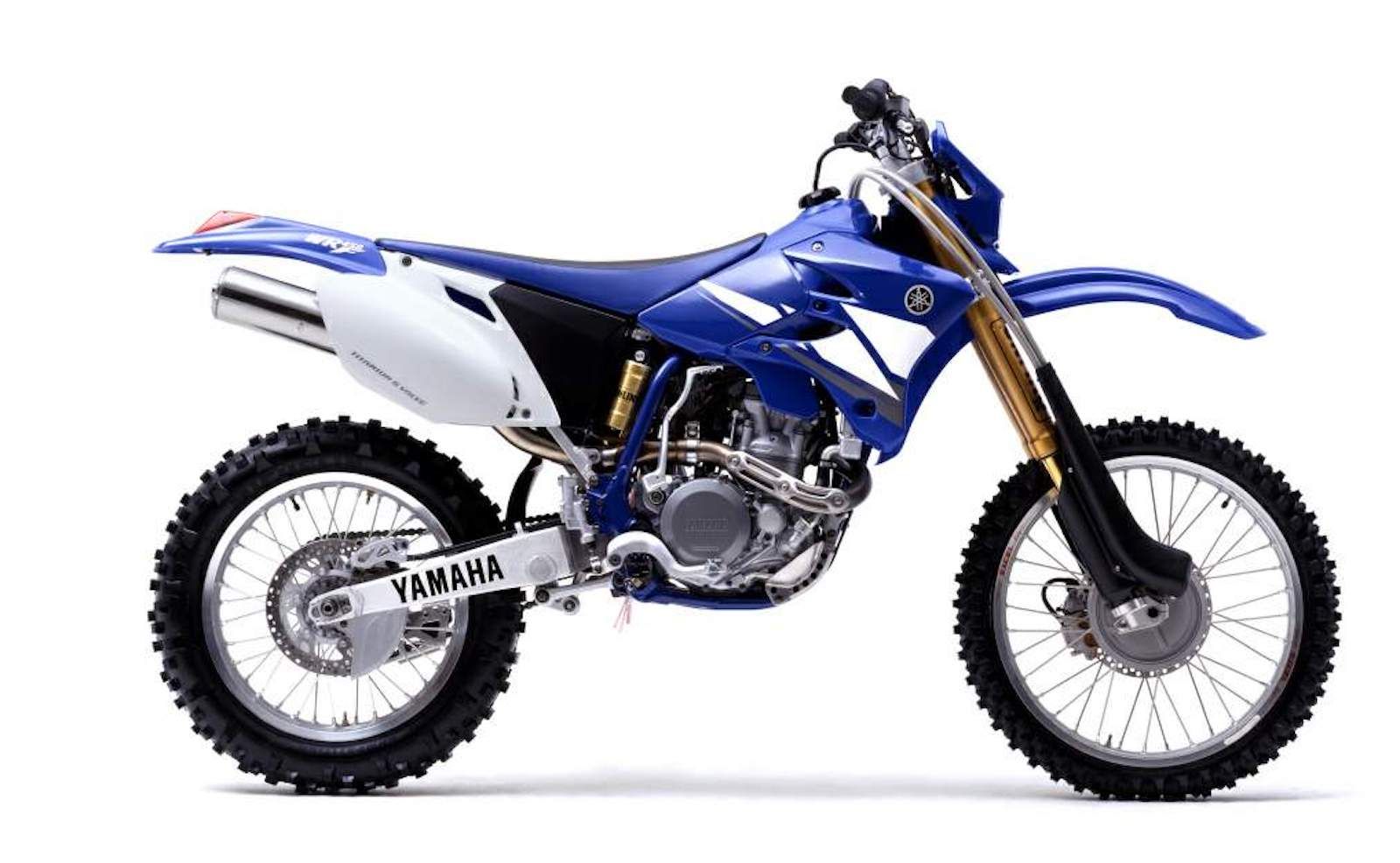 Yamaha 2Trac two-wheel drive motorcycle
Yamaha might have abandoned two wheel drive for road bikes, but it did look at it for off-road bikes. The recipient was the WR450F, which at least had enough power to compensate for the power loss that employing drive to the front wheel implied. The system Yamaha opted for was a hydraulic drive similar to that tried by KTM (see above). The system itself was developed by suspension specialist Ohlins and used an hydraulic pump and a motor mounted in the front wheel hub. The WR450F 2Trac was built in tiny numbers and Yamaha even experimented with two wheel drive on other models in the range, including the YZF-R1 sports bike. Even though those who tried the system were enthusiastic about the traction and performance in wet or slippery conditions, none of the models so fitted ever went into production.
1
Christini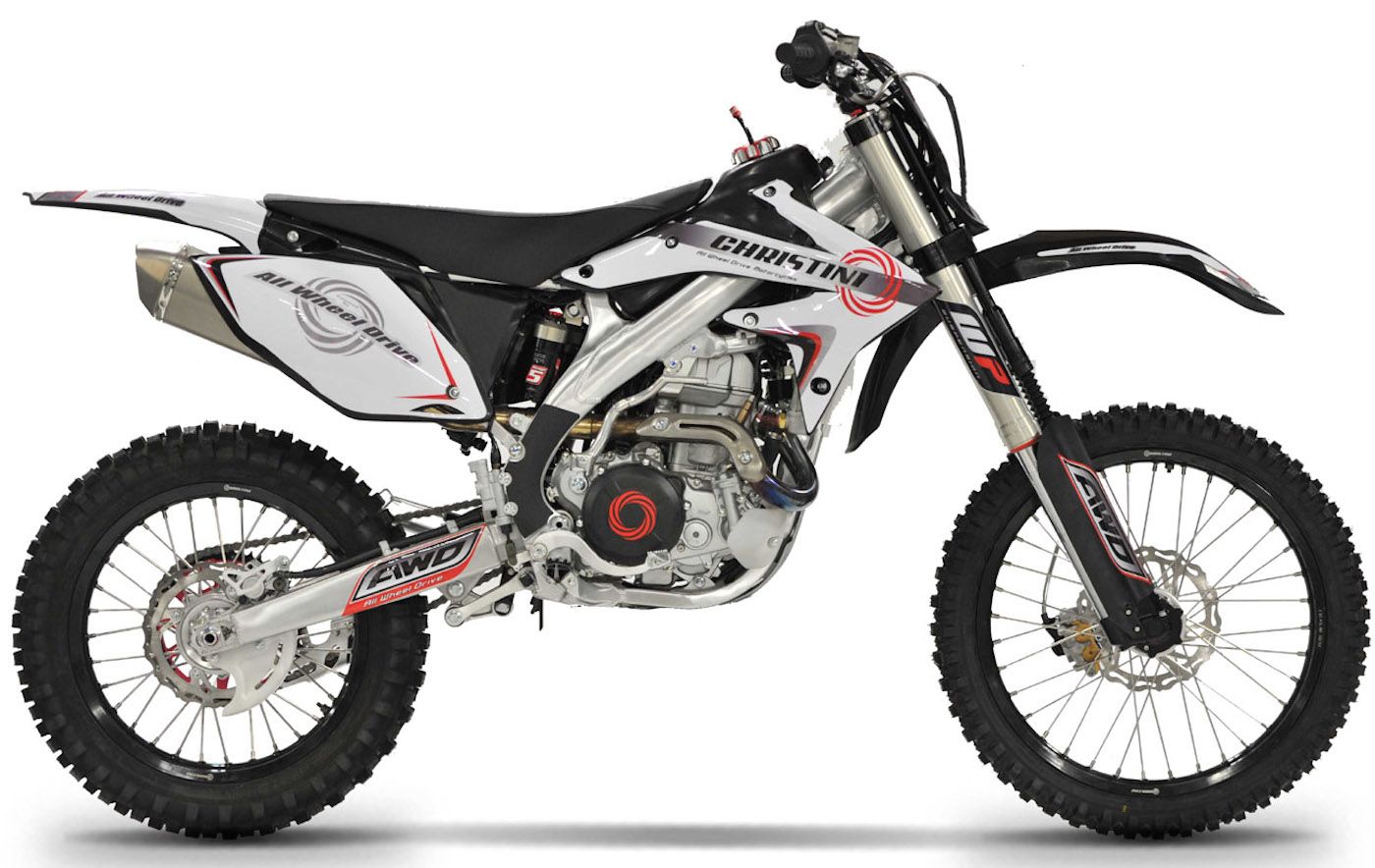 Christini two-wheel drive motorcycle
One manufacturer that has persevered with two wheel drive for motorcycles is Christini from the USA. The system employed is a fully mechanical system, comprising a chain that drives a transfer box mounted on top of the engine, a shaft that takes drive to another transfer box at the headstock and two telescopic shafts that run next to the fork legs. Compared to electric or hydraulic systems, it is rather complicated but reliable and the system can be mounted on a variety of bikes. You can either buy a complete motorcycle from Christini or a conversion kit for your own bike. Christini also manufactures modified frames to either replace the frame on your own off-road bike or for you to build up your own two wheel drive motorcycle.
Google Ads