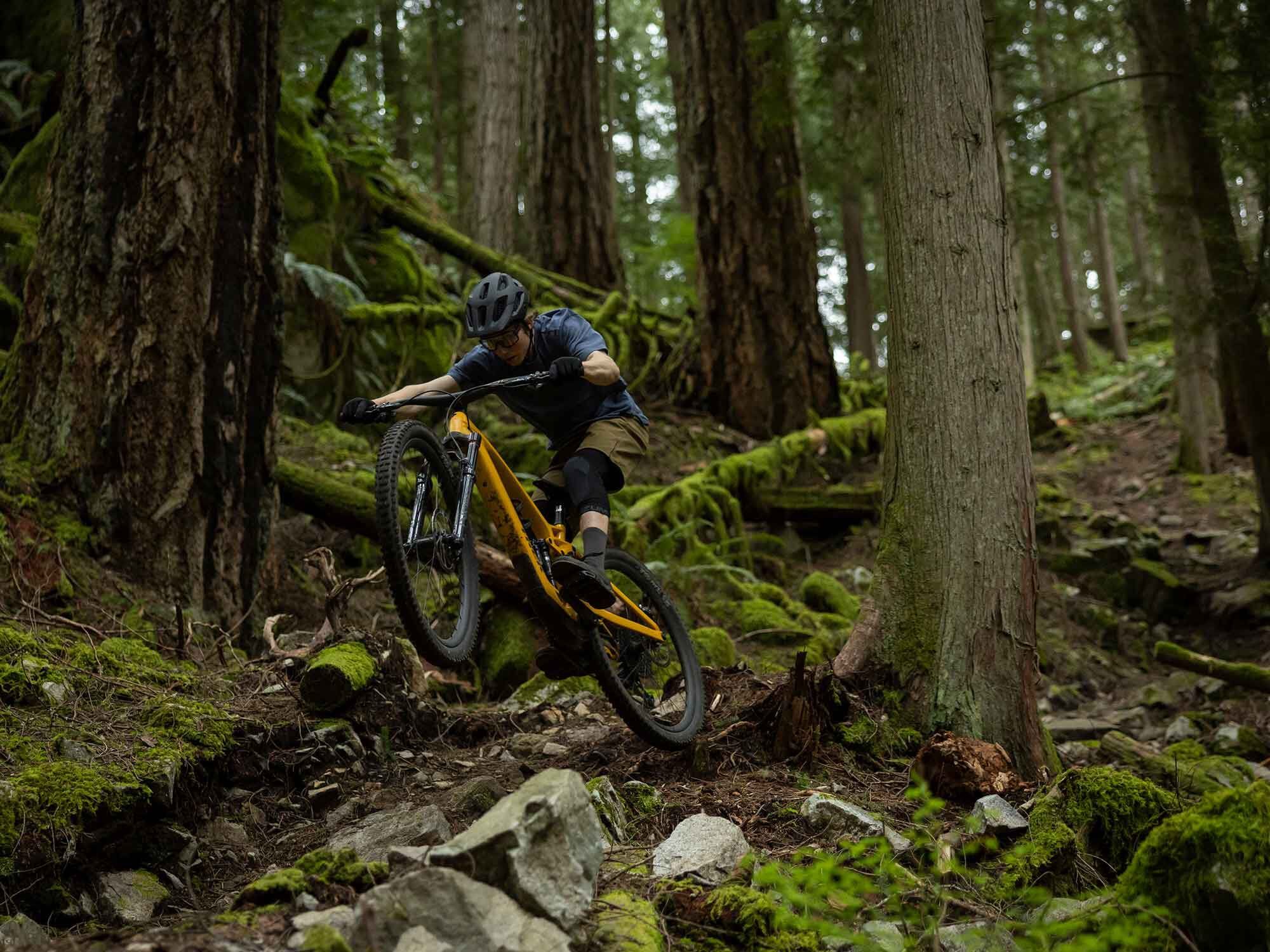 Good times aboard the Fuel EXe 9.9 XX1 AXS come at a $14K price tag. Worth it? We think it might be. (Trek Bicycle/)
In late July we told you that the new Trek Fuel EXe heralded the reinvention of the electric mountain bike. If you were hoping Cycle Volta was wrong, I have bad news: For the past 85 miles of testing, the $14,000 Fuel EXe 9.9 XX1 AXS hasn't been merely great, it's been almost entirely mind-blowing.
Google Ads
Yes, it would require both a second mortgage and perhaps cause major friction with my significant other to buy one; nonetheless I've literally lost sleep about making room for this bike in my life. I think Trek has delivered so much tech here that there are significant lessons not just for rival bike makers, but for both automotive and motorcycle manufacturers.
What follows is more "back of the napkin" than a complete summing up, because this bike is exceptionally complex. Also, it's a "first ride" review, even if I've basically been trying to ride the Fuel EXe every time I get a window. More details on this leap-forward Trek will come in a few weeks.
The Tech
First off, this version comes with SRAM's electronic drivetrain and suspension. The entry-level $6,500 Fuel EXe 9.5 weighs closer to 44 pounds and doesn't have an ultralight component set, nor does it shift electronically like the AXS model, but for the sake of comparison, it's only about 4 pounds heavier, and you literally could buy two 9.5s for the sticker of the XX1 AXS build.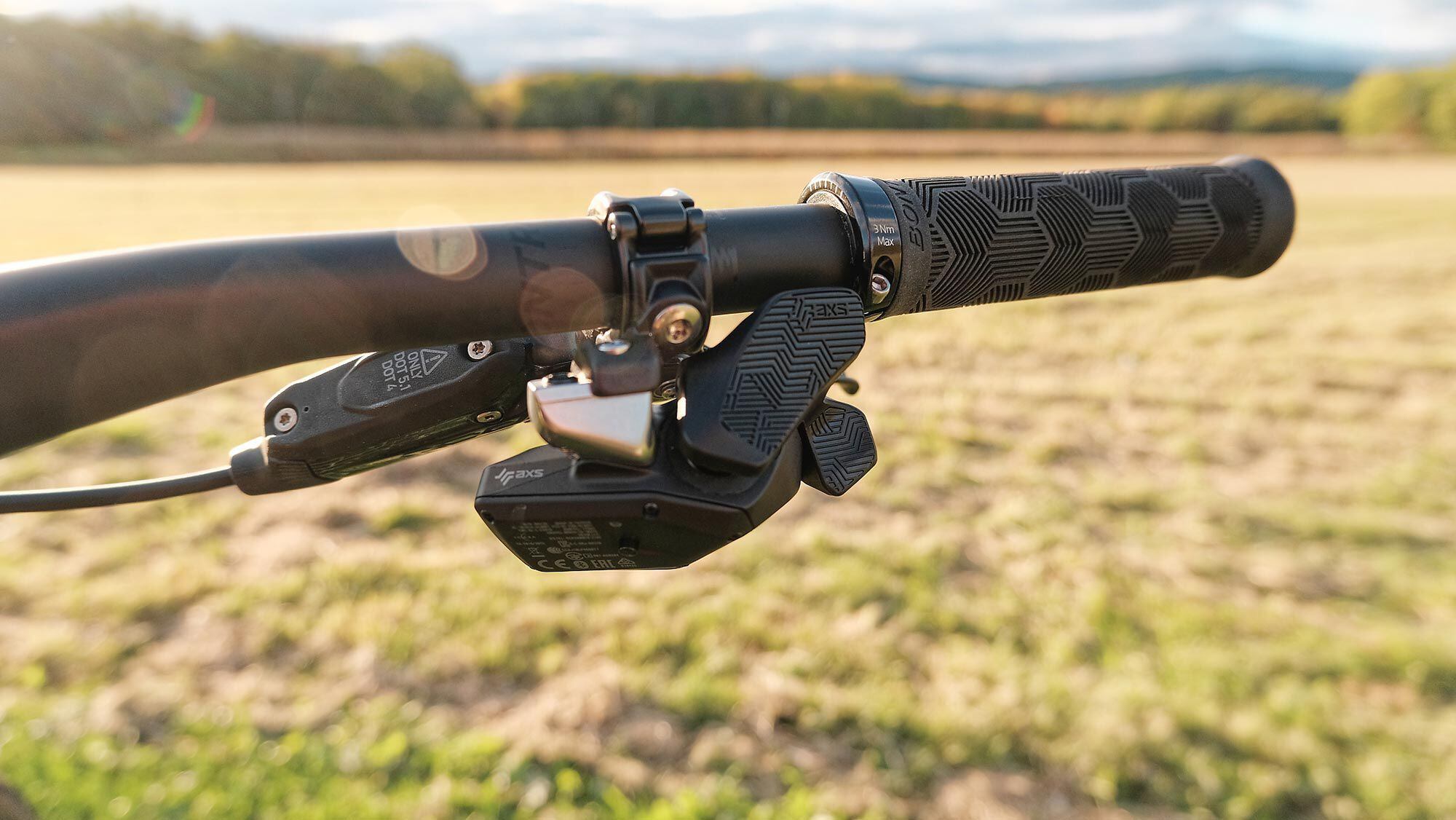 Wireless electronic shifting comes courtesy of SRAM's top-end XX1 AXS system. (Michael Frank/)
But hey, I'm hardly complaining that I've had the perk of testing the halo-level eMTB, since its integrated electronic powertrain, shock, and fork—as well as wheels' air valves—all pair via Bluetooth. That means you can accurately tune the bike to do exactly what you want.
Fire up the Wisconsin juggernaut's very simple-to-use Trek Central app and you see every aspect of the system in just a few screens. Enter your rider weight and the app gives you target settings for tire inflation and pressure in both the RockShox Lyrik Ultimate fork and RockShox Super Deluxe Ultimate rear shock. If you're out of those suggested ranges, add or reduce psi and the app signals you're dialed by turning digits from red to green.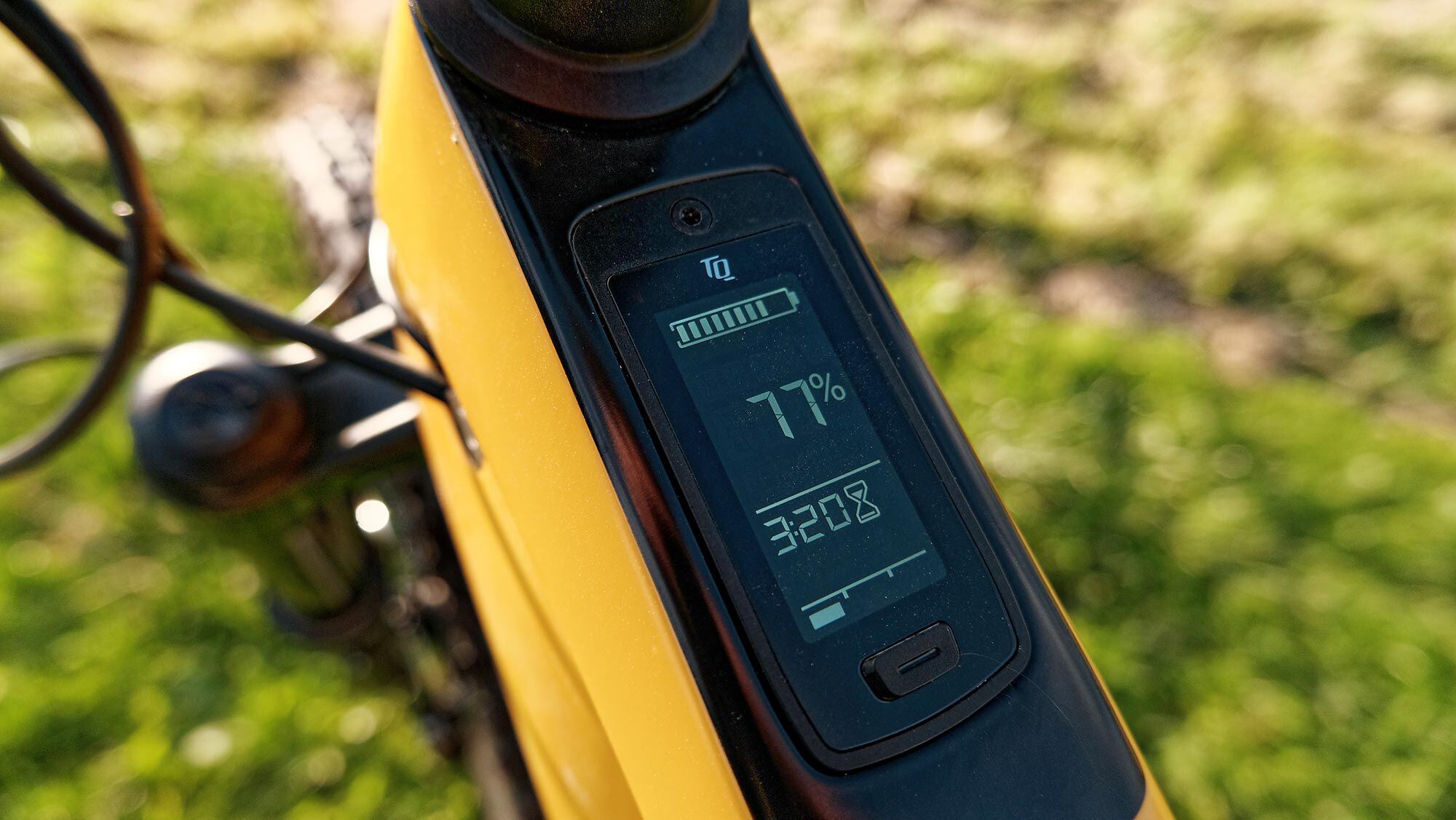 A cleanly integrated toptube display screen conveys key ride information, including battery life remaining. (Michael Frank/)
Riders can also get ride data from the Trek Central app. (Trek Bicycle/)
Then sift for the amount of assist you want in three levels: Eco, Mid, and High, with propulsion capped at 20 mph and modes selected via a simple toggle inboard of the left handlebar grip.
In the menu you immediately see how much range you've got in each level, depending on the state of charge. This is represented both in the screen on the frame's toptube and in the app in either miles or hours—whichever you prefer. In the app you can drill down further, setting not just how much power you'd like, from 30 to 300 watts, but also determining assist as a percentage of your own output, from 25 to 200 percent and also how quickly you want power to arrive.
I love these granular settings because I really dig fast pedal response but don't necessarily want a ton of power for most singletrack rides, where you might get bucked right into an obstacle if there's overkill assist.
Setting Eco mode to a maximum wattage of 147 but only up to 25 percent of my own output meant that I could safely and comfortably climb all but the gnarliest steeps and still clean them pretty comfortably. And because I wanted pedal assist even at that modest boost to hit instantly, I could get the Fuel EXe to hop rocks and logs with merely half or even quarter crank turns. But the TQ powertrain (more on that below) didn't throttle my motion beyond my expectations, so the hit of muscle felt very natural.
Google Ads
Luckily, all the aforementioned variables are up to you. On more wide-open terrain than my native Northeast singletrack, I might prefer a different set of X/Y axes, and that's something I could set in less than a minute.
Total Quessence (TQ)
We told you when we previewed this bike that TQ was a new system created by a smallish German robotics company rather than a titan like Bosch or Shimano. The promise was less about a breakthrough in power than in lightness and efficiency. This is all true based on initial experience.
The TQ system combines a downtube-integrated 360Wh battery and a mid-drive motor that can churn out up to 50Nm of torque. Compared with more robust systems that produce 85 or 90Nm of peak power, you might think the TQ system's lowish output would leave you wanting more. But I took this bike to an insanely steep power line climb I've never cleared on a non-electric mountain bike. The ascent is also technical enough that a heavier ebike would make for an oafish attempt at summiting—you'd just never be able to finesse the off-camber rocks and balance-y bends.
In top assist mode I just about cleaned my way to the top, even though, yes, I was very gassed. I don't blame the bike, however. My lack of skill eventually had me teetering sideways on the leaf-littered, ultraslick stone near the apex. But thanks to its sub-40-pound weight, the Fuel EXe never suffered for lack of muscle. And so far TQ and Trek have absolutely aced their promise of excellent power-on/power-off characteristics. That's something I could feel while ratcheting pedals ahead of stunts, berms, and swoops in a bike park.
Trek also promised efficiency, and I've seen at least five hours of juice per charge riding lots of doubletrack approaches and singletrack descents. It's possible that means this bike wouldn't be an ideal "big mountain" option for churning up the Alps and back down, but then, with about 5.5 inches of suspension travel it's not really set up for that kind of terrain anyway.
I absolutely must add that the TQ system is astonishingly quiet. When really hammering in the highest assist mode you will discern a tiny whir, but I caught up to some friends during an evening shred one night and nobody on the ride even noticed I was rolling e-assisted. Only when we got back to the car did anyone realize I'd been riding an ebike. Subsequent ribbing didn't deter the huzzahs, head-scratching, and minds blown.
Some Niggles?
Besides the asking price, there's not a lot to beef about. While the wheelbase can feel a little truckish, this bike gets the identical footprint from tire patch to tire patch as the non-electric Fuel EX 9.8 AXS that has the same amount of suspension travel. On very tight singletrack and especially on stacked switchbacks, that can be a challenge. But it would be even more of a struggle without a bunch of watts powering your caboose up the climbs.
One swap I might make would be to ditch the integrated stem/bar combo and its quite wide 820-millimeter spread. While it's very stiff and steers wonderfully, that's wider than the bars on some motorcycles. It's awesome during bombing descents but often made me feel like I was gripping the wheel of a cross-town bus.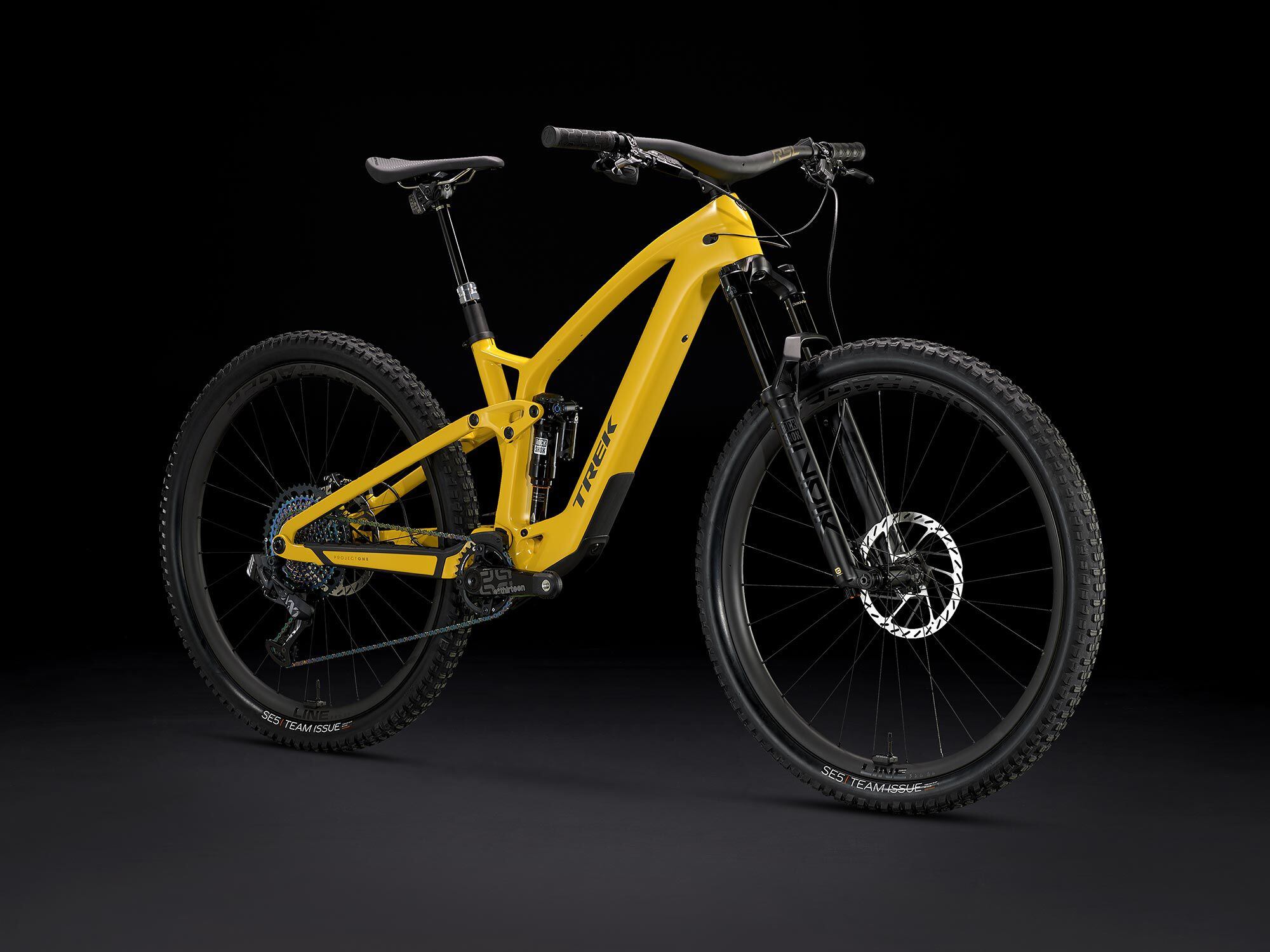 Is the Fuel EXe a harbinger of great things to come throughout Trek's ebike line? (Trek Bicycle/)
What to Think?
I began this piece suggesting that car and moto makers could learn a thing or five from Trek. My belief there is based around the Fuel EXe's exceptional customization that imparts a natural-feeling ride quality within the first hour of pedaling. I also test electric cars and motorcycles, and I can fully imagine that level of hackery opened up to those buyers—and I don't mean just the techie crowd of tuners who customize their own software, but any purchaser. Isn't that what "electric everything" has promised us?
Speaking more specifically of the TQ powertrain, you have to argue the compactness and low weight of the system enabled Trek to build a far lighter—and therefore far more efficient—electric mountain bike that's nimble enough to ride even tight singletrack. That's important: The closer ebikes get to riding and feeling like non-assisted bikes, the less we'll divide ourselves into tribes of different kinds of cyclists and can more readily coexist.
For now, my head spins at what this means. For instance, Trek just launched a new line of Domane+ SLR "endurance road" ebikes using a similar TQ powertrain and weighing as little as 25 pounds. One can easily imagine Trek deploying something similar in a whole spate of more affordable lightweight commuter and alt-category electric rigs that aren't so beefy that they require a powerlifter's physique to heft them onto a car's roof rack.
The Fuel EXe and Domane+ are, I'm betting, just the start. It seems like Trek just kicked a door down into a wonderful new dimension of electric cycling.
Google Ads