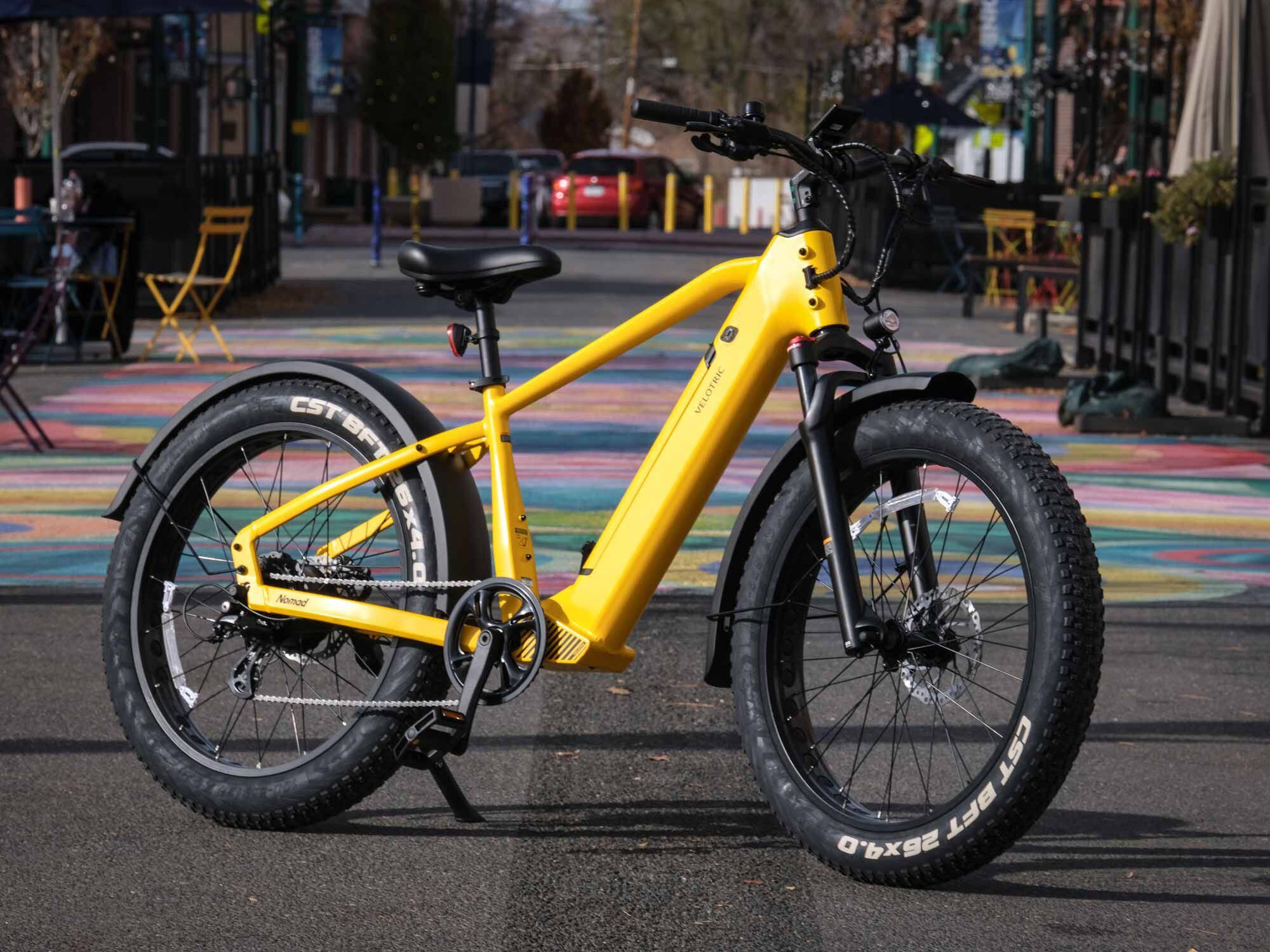 Just about everything is big about the Velotric Nomad 1, starting with its 4-inch-wide fat tires. (Dan Cavallari/)
Velotric's Nomad 1 e-fat bike could not have arrived on my doorstep at a better time. I've long struggled with the practicality of an electric fat bike, tending to think of them as niche products more focused on fun than functionality. But then it snowed the day the box arrived, and the lightbulb went on over my head.
Google Ads
This winter I'll be experimenting with ditching my car as much as possible and riding bikes the rest of the time. A cargo bike suits my needs best, but it sure does snow here frequently in Colorado, so it seems logical I'll need a bike that can handle such conditions. The Nomad 1 seems ideally suited to the challenge.
Related: Velotric Nomad 1 First Look
It's got big, 26 x 4-inch tires to counter nasty conditions. And Velotric wisely includes big, wide-coverage fenders front and rear to help eliminate the inevitable spray of muck from those big bits of rubber.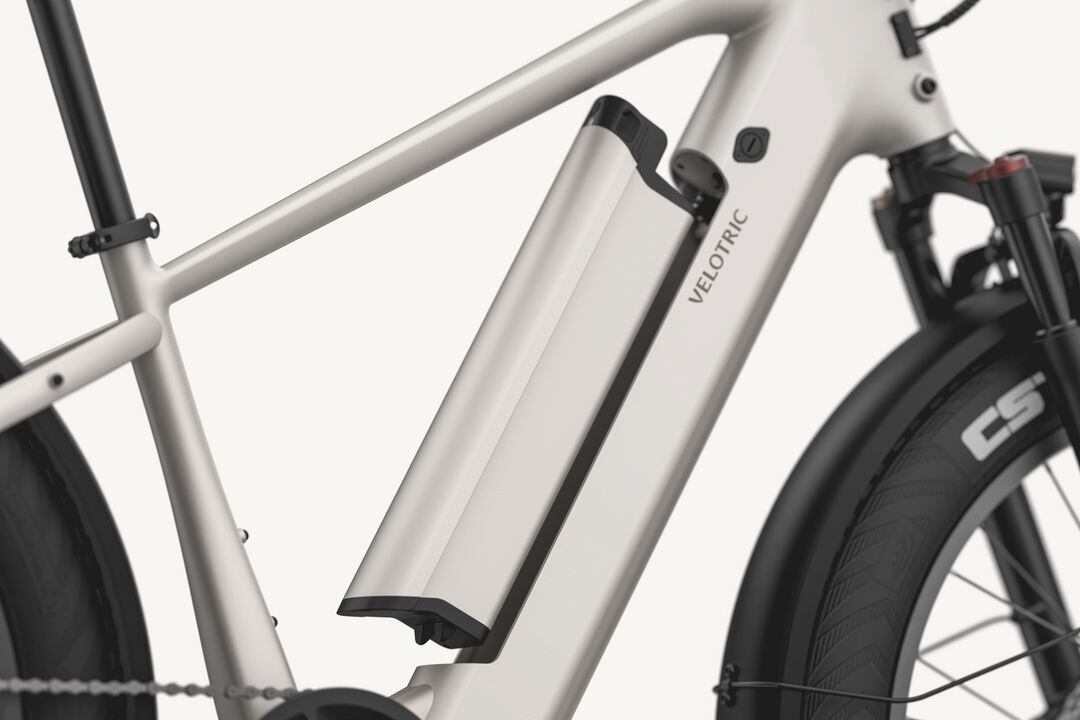 Velotric says riders can expect up to 55 miles of range from the 691.2Wh battery. (Velotric/)
The electronics trend big too. The LG/Samsung battery specs at 48 volts and 14.4Ah—that's 691.2Wh—and pairs to the 750W motor that can reach a peak of 1,200W. It takes six hours to charge the system fully, and Velotric says you should get a 55-mile max range from a single charge. That, of course, depends on how you ride, where you ride, and what the conditions are. The Nomad 1 does feature a throttle, so if you're heavy using that, you'll reduce range.
The Nomad 1 (MSRP: $1,600) has five assist levels to tailor your ride. That works in conjunction with a Shimano eight-speed drivetrain.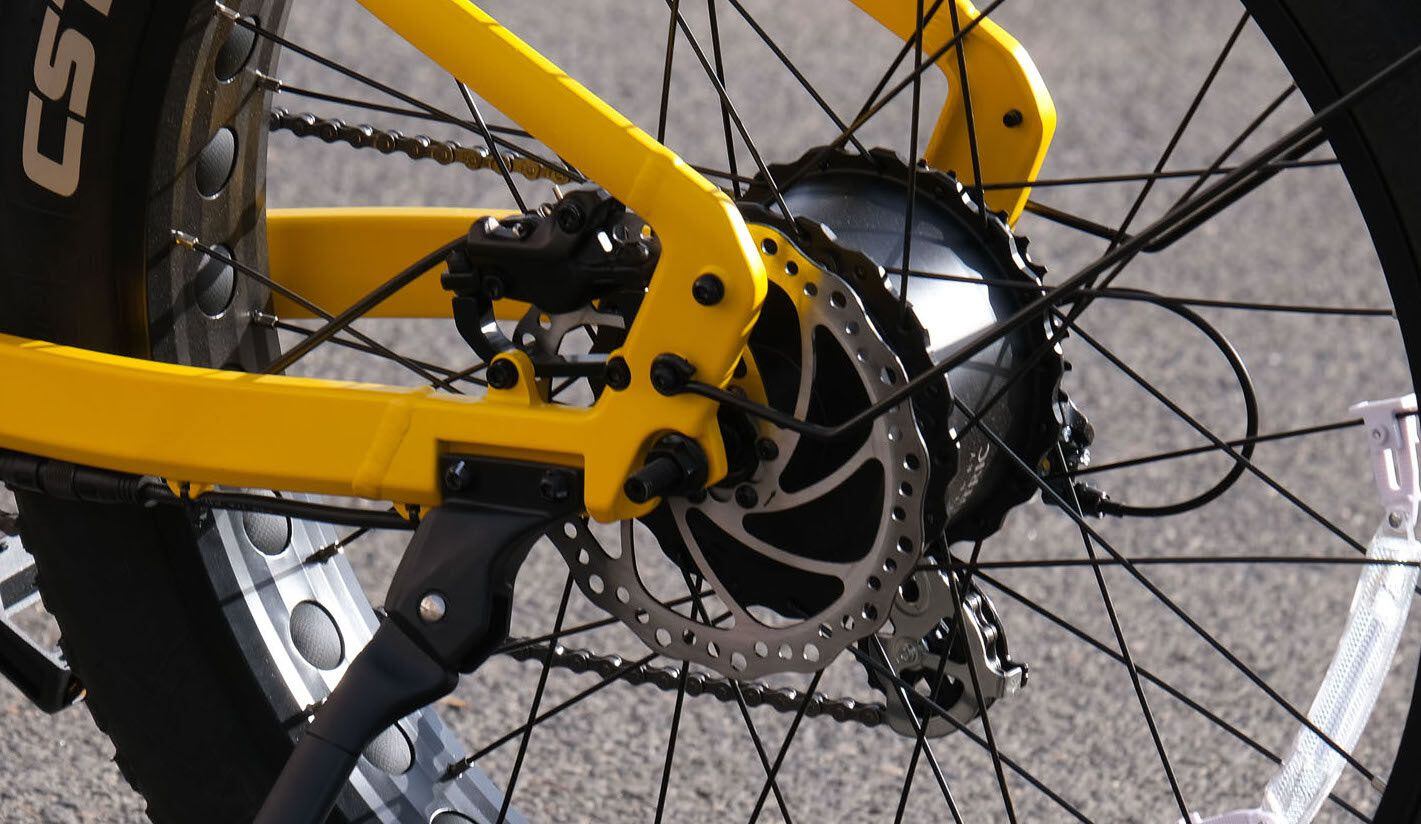 The 750W rear hub motor peaks at 1,200W and puts out 75Nm of torque. (Dan Cavallari/)
A suspension fork with 80 millimeters of travel, hydraulic disc brakes, and two frame designs to choose from—step-through for shorter riders, and high-step for taller riders—round out a solid spec from Velotric. And finally, you can choose from four different colors.
Velotric Nomad 1 First Ride
I rode the Nomad 1 about 5 miles on my first ride, to go get coffee in Olde Town Arvada on a cold morning. The Nomad immediately feels stable and solid, with one small exception.
The suspension fork has quite a bit of fore-aft play, which gives the front end of the bike a wobbly feel under braking. The suspension does, however, do a decent job of scrubbing off big bumps and most chatter, though it does get stacked up when the impacts come fast and furious. It's generally a nice touch, but with the massive tires I'm not sure it's entirely necessary.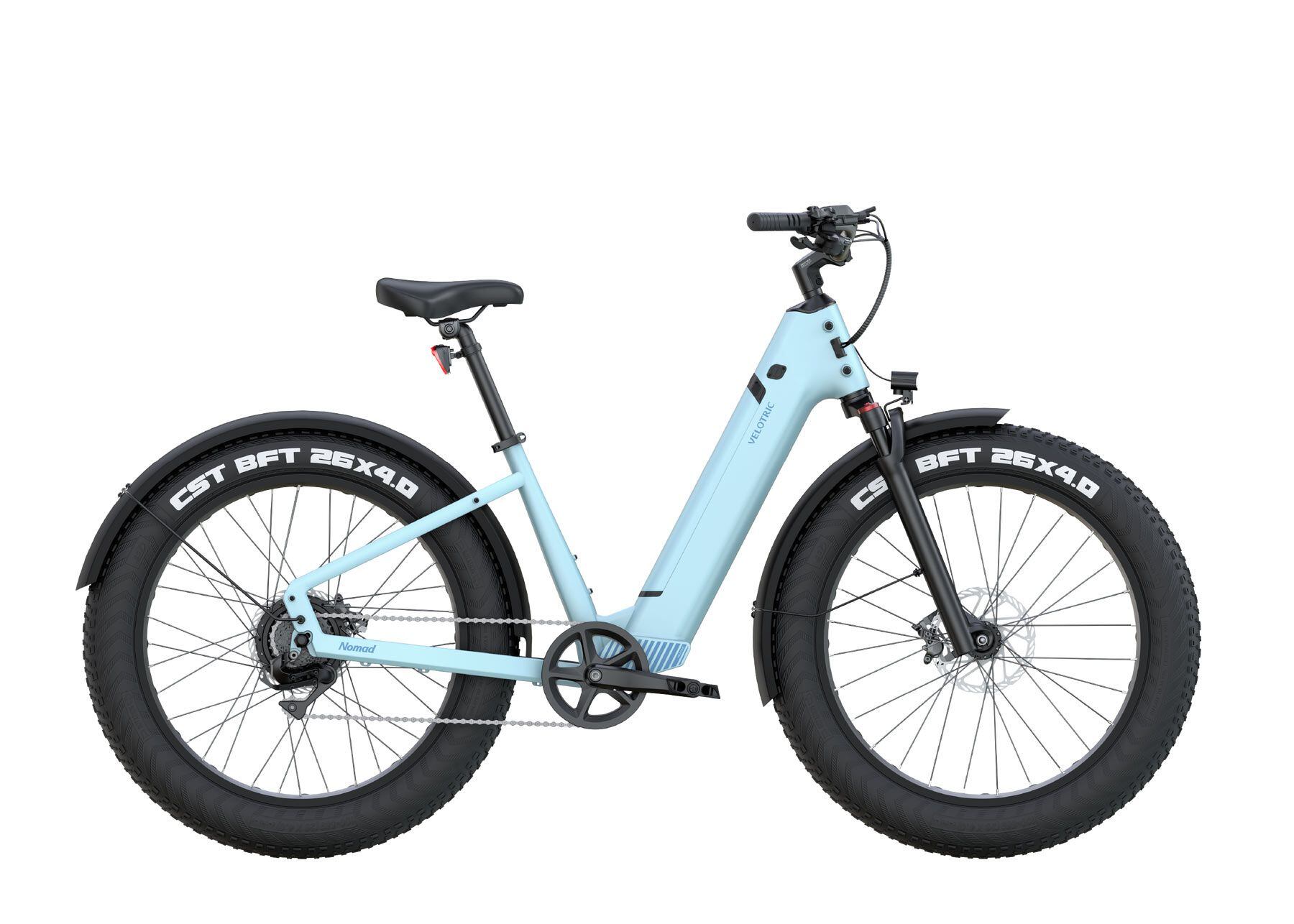 The Nomad 1 also comes in a step-through frame, fitting riders down to 5-foot-1. (Velotric/)
The motor shines. It engages quickly and has a ton of power, so you might want to dial it down to the middle of the five settings when you first hop on. The throttle helps you get up to speed quickly too.
Google Ads
I started the Nomad from a dead stop on a steep incline, and it all but rockets off the line. This is a huge win for the Nomad, as so many ebikes I've tested have faltered on this very hill.
Related: Velotric Discover 1 Review
The big tires on the Nomad make it ideal for plowing through rough conditions, and I suspect this is going to make a wonderful winter commuter. It's a fairly heavy bike, which means you have two factors affecting the steering: the big rubber, and the weight of the bike and rider. The Nomad has a tendency to dive to the inside while cornering as the tires hook up into the pavement or dirt, so you'll need to pay attention to that and do a bit of countersteering.
I'm quickly falling in love with this bike as more snowstorms threaten through the winter months. It's comfortable and powerful, and it seems designed for nasty weather. I wish it came stock with some sort of rack or cargo carrier, but even without those accessories (which do not yet appear to be available on Velotric's website), the Nomad has a lot of tools that make it a good addition to the arsenal.
I'll be testing the Nomad 1 over the coming weeks (and hopefully months) as the winter weather moves in. During my testing, I'll keep a close eye on the battery's ability to contend with cold conditions, and the bike's overall ability to handle less-than-ideal road conditions.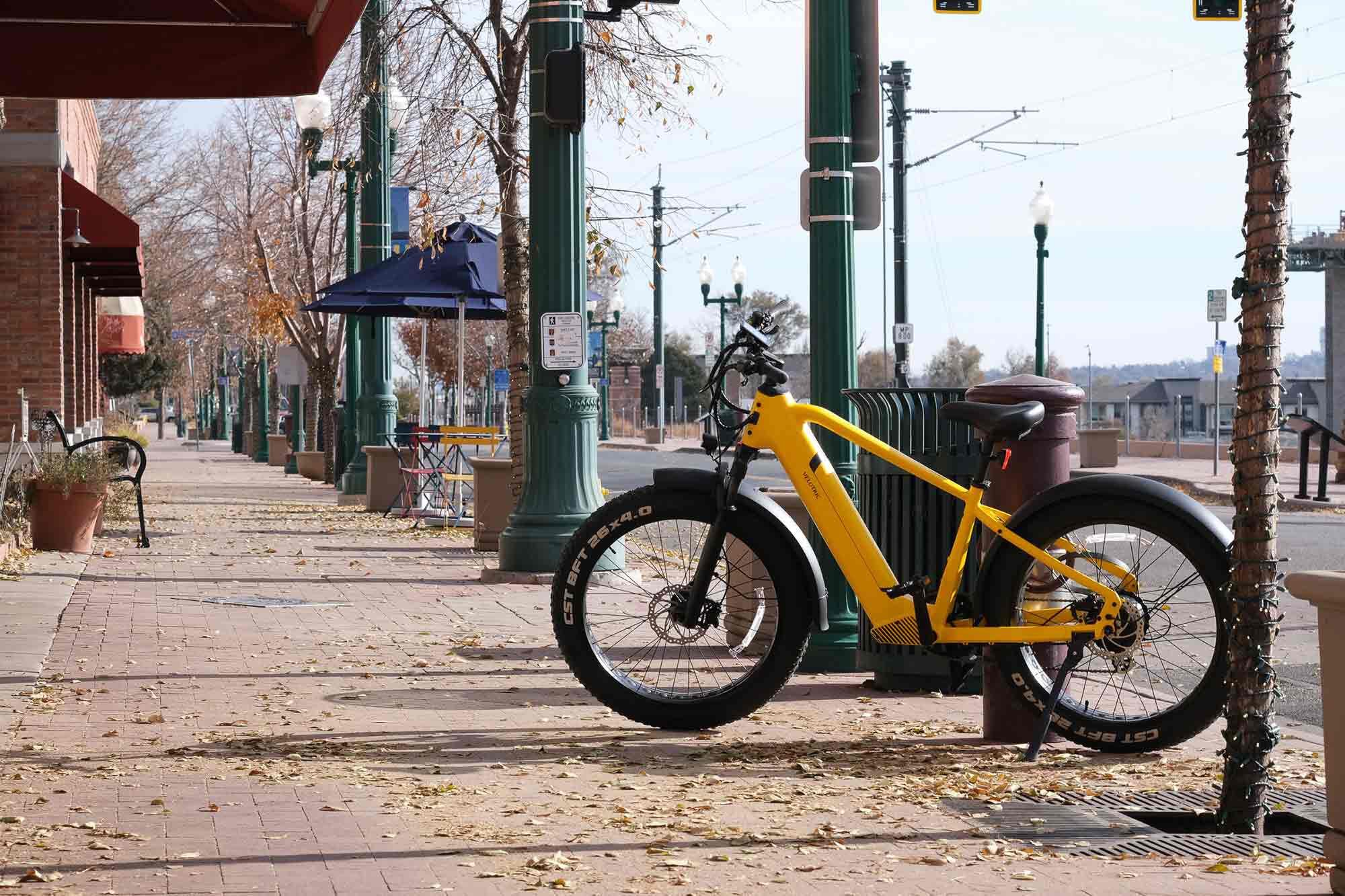 We'd love to see some cargo-carrying accessories offered with the Nomad 1. (Dan Cavallari/)
I'm also curious if the suspension fork ends up being a worthy addition to the overall build, or if it ends up feeling superfluous given the big tires that allow you to tailor compliance through air pressure.
And finally, if accessories—specifically, front and rear racks—become available through Velotric, I would love to test the Nomad's ability to haul cargo. I have a feeling this would be a great ride for trips to the grocery store with the right storage solutions added.
Google Ads