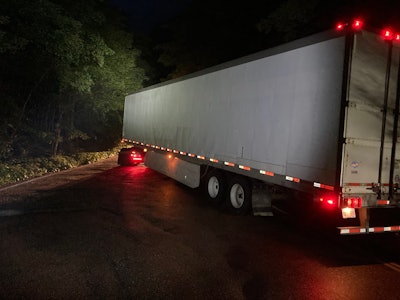 Google Ads
The winding, steep contours of the Smuggler's Notch stretch of Vermont state route 108 have claimed another foolhardy driver who trusted GPS over the objections of at least a half dozen signs in multiple languages, and the frenzied warnings of local bystanders watching the tractor-trailer plow uphill to certain doom. 
Overdrive has recently chronicled what many readers call worst stretch of interstate in the nation, I-40 in Arizona, and the equipment problems it causes, but Notch Road might just be the single most dangerous road for truck drivers in the U.S. 
The good news is that it's absolutely positively marked off as unsafe for drivers, only open seasonally and outfitted with heavy signage warning trucks to steer clear. 
The bad news is that drivers keep getting stuck their anyway. Regular readers will recall this report from way back in 2017 when eight tractor-trailers fell victim to the most avoidable mistake in New England. Vermont has recently raised the fine for driving a truck on this road from $200 to $2,000, but some drivers remain undeterred.
At nearly 11 pm on Sunday night, Yusnier Anuez, 36, of Florida City, Florida, became the most recent victim, according to Vermont State Police. 
Trucks getting stuck on that pass has become a local tradition, with some joking that summer has finally begun up north once we get our first tractor-trailer stuck on the notch. 
But while locals at this point may laugh it off for the most part, the driver faced stiff penalties.
From the police report:
«Anuez advised he ignored several signs that are posted stating tractor trailers are prohibited, as he was following his GPS. Multiple bystanders attempted to stop Anuez from entering the Notch, however he continued. The road was closed for several hours until Charlebois Towing removed the truck and trailer. Anuez was issued two tickets carrying a combined monetary fine of $3,544.»
A representative from Charlebois, officially called RR Charlebois, said they see anywhere from 2 to 10 of these incidents a year, and the loaded tractor-trailers usually face about $6,500 in wrecker fees. Keep in mind they're just one wrecker crew on rotation, so the real number of tractors stuck on the notch could be much higher.
[Related: Owner-operators call out the absolute worst stretch of highway in America]
Overdrive has reported on the apparent rise of predatory towing and exorbitant prices for simple tow jobs of Class 8 tractors and trailers, but with clear signage, multiple bystanders attempting to intervene and even GPS itself showing a steady stream of switchbacks, this is just an involved, expensive tow, not some trap set for the driver. 
«I think there's eight signs leading up to going on that road,» a Charlebois representative said. «Multiple people tried to stop this guy and he ignored it and went up anyway. The road is very windy with multiple 90-degree S turns with huge boulders.»
Google Ads
In this case, the wrecker driver had to actually back up the 4.5 mile stretch himself.
«It's just kinda technical, you have to bring everything up backwards, because you can't turn around up there,» said the wrecker operator who recovered the truck and trailer.
The wrecker operator said Anuez was an owner-operator who admitted to seeing the signs, but probably dismissed them after making the first two or three tight turns successfully. In the end, though, the Notch always wins. 
«It's impossible to get a truck through there,» he said. «There's a 300-foot stretch that's almost impossible» even for regular cars and trucks at some parts of the year. 
Often, recovering trucks can take two or three wreckers.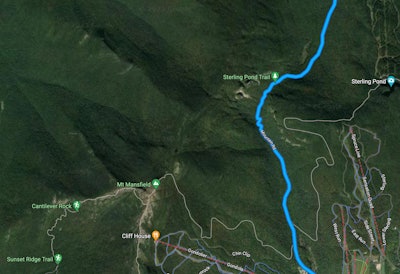 The tow operator partially blamed truckers using just standard GPS like Google Maps rather than truck-specific GPS systems. «It's ongoing, and that's why these smaller companies need to invest in getting the trucker GPS,» they said. «Spend a little bit of money» to avoid disaster. 
Another likely problem is language barriers. The signs warning about the road are in English and French, probably to benefit drivers from nearby Quebec, where French is an official language. Perhaps more languages are needed. Given all its AI interest of late, maybe Google could help us here with some kind of pop-up from in their maps application that asks, «You're not about to try to drive that tractor-trailer up Smuggler's Notch, are you?»
[Related: Truckers may get the last laugh on Artificial Intelligence]
Google Ads