Will Toyota finally concede to follow the EV revolution instead of going its own way? The more time passes, the more it seems like it. Under its new management, the Japanese company appears to be more oriented toward the electric model than it was under Akio Toyoda's reign as CEO. We've recently heard encouraging news regarding the production of an upcoming electric Toyota GR Sports. The prominent automaker is now set to reach the next level, with the announcement of $850 million in subsidies from the Japanese government. Toyota claims it will use the money to develop its bipolar lithium iron phosphate battery, a variation of lithium-ion technology that is expected to improve range by 20 percent when it eventually enters the market in 2027. Another chunk of that amount will also be used to enhance solid-state battery development. Toyota has been pioneering solid-state battery technology for over a decade, and is set to incorporate them in a hybrid vehicle by 2025.
Google Ads
The company also plans to propel solid-state batteries into mainstream use by 2030. Now, here's where things get trickier. Instead of taking a clear, forward path like Volvo, Volkswagen, and General Motors, which all plan to fully electrify their fleet in the future, Toyota's EV manufacturing will only account for 12 percent of its production in 2030. To make its route even more labyrinthine, the Asian automaker is still clinging to hydrogen vehicles, which have already been disregarded by most of the industry.
Related: Why The Toyota Camry Hybrid Offers The Best Bang For Your Buck
Toyota's New Solid-State Batteries Could Offer Up Over 900 Miles Of Range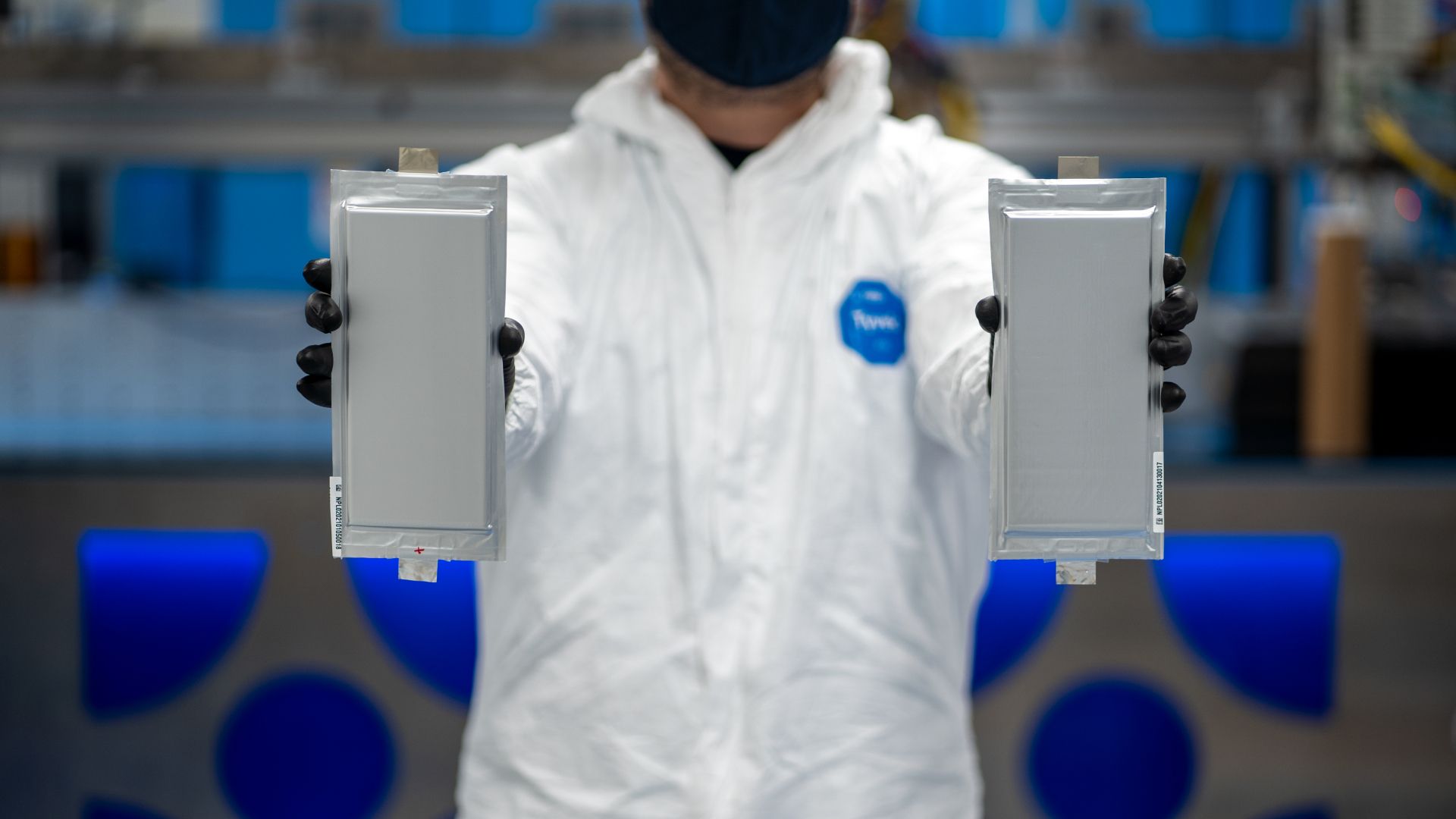 Shot of an engineer holding Solid State Batteries
Toyota initially pioneered the solid-state battery revolution back in 2012. Fast-forward eleven years later, and the company is still working on solid batteries, with new developments being announced sporadically. In 2020, the company unveiled the world's first EV to run on solid-state batteries and promised to display a production prototype by 2021, but it never did. The lengthy process has pushed many consumers to wonder if we'll ever see the touted technology at a commercial level. Yet, the company assures us that its clientele will soon have access to a hybrid car featuring solid-state batteries by 2025, through joint efforts with Panasonic, which also happens to be Tesla's battery supplier. Toyota made the dangling carrot even more appetizing when it recently announced a new breakthrough. The latest milestone in Toyota's solid-state battery research is expected to increase range by 20 percent, and has the potential to deliver a ten-minute quick charge.
Google Ads
Toyota's bZ4x is its only fully electric vehicle at the moment, and can run for 252 miles on a single charge as per the EPA ratings. The increase could thus help the fully-electric SUV reach 458 miles CLTC. Toyota claims it has already sped up the development process with hopes of achieving mass-production by 2027 to 2028. The Japanese manufacturer also claims it has also been toiling away on a performance-oriented solid-battery technology that promises to up cruising range by 50 percent, which would consequently amount to over 900 miles on a full charge.
Related: Brace Yourselves! Toyota Is Bringing Manual Transmission To EVs!
Toyota Will Speed Up The EV Manufacturing Process Thanks To The Giga Strategy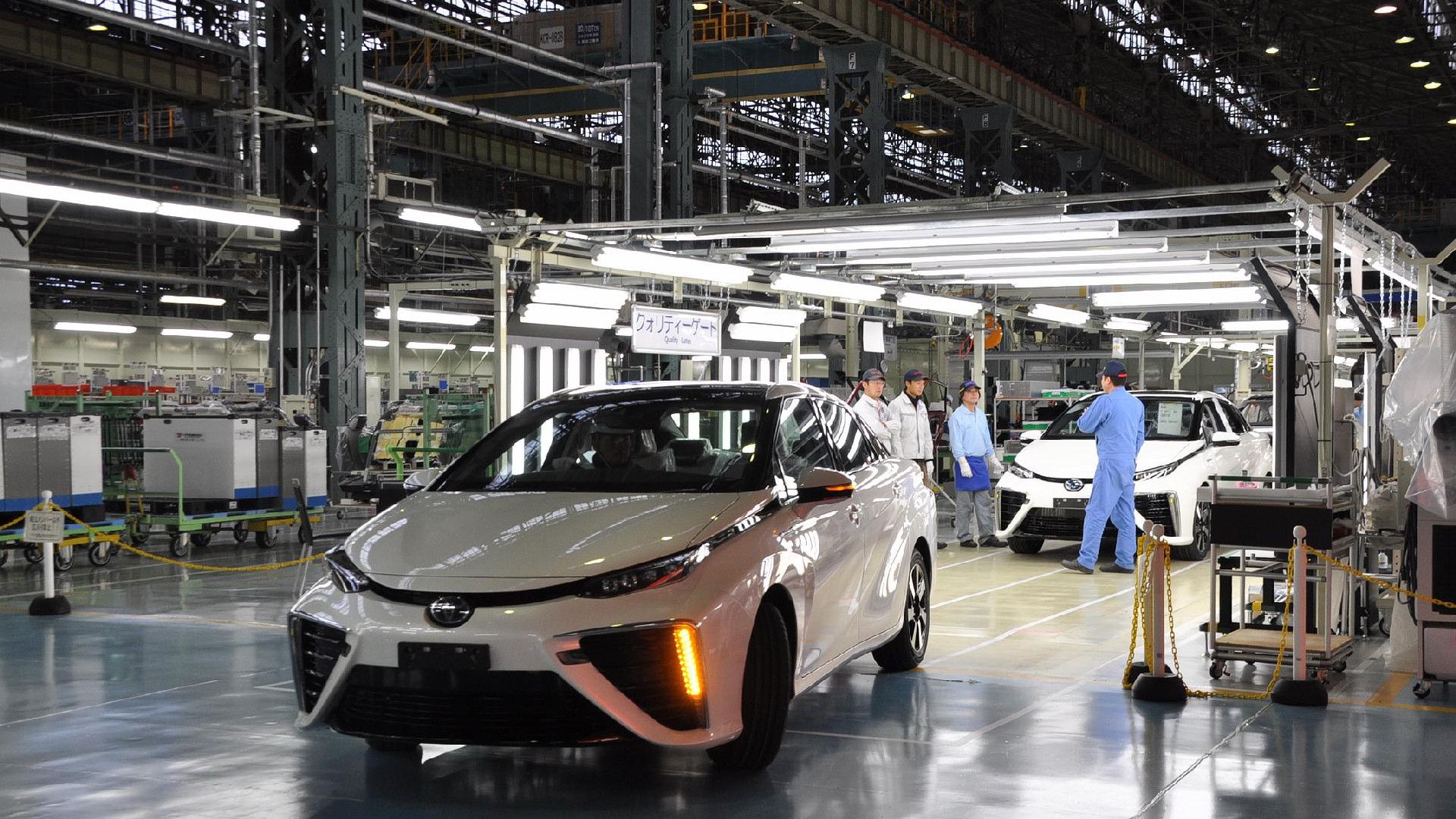 Front end shot of a white Toyota Mirai in the factory.
Tesla can be thanked for a number of things: paving the way for the EV revolution, making electric cars cool, and introducing car manufacturers to the Giga strategy. Reminiscent of how the Carthaginians revolutionized ship-making with their revolutionary technique back in antiquity, Tesla's new-age approach consists of using giant casting machines, nicknamed Giga press, to reduce the number of pieces needed to make a car, thus speeding up the manufacturing process. This method has since been adopted by Toyota, which now plans on simplifying the body structure of its vehicles to accommodate its electrification goals. The company vows to release 10 new BEVs by 2026 and plans on producing a three-row, all-electric SUV in its plant located in Georgetown, Kentucky, by 2025. The plant has a manufacturing capacity of 550,000 vehicles per year, and is Toyota's largest complex. A battery plant in North Carolina is also currently under construction, and is fortified with $3.8 billion in investments to accommodate large-scale battery production. The endeavor is part of Toyota's aspirations to break free from the hegemony of Chinese battery suppliers-namely CATL, and BYD, and comes with blessings and subsidies from the Japanese government, which is also aiming for self-sufficiency in that regard.
One caveat is that Toyota is late to the party, as the EV revolution kicked out years ago. However, the automaker is working overtime to make up for time lost, and is now studying a new technology to enhance its aggressive strategy, which consists of:
Reducing manufacturing costs
Optimizing aerodynamics and reducing drag
Improving solid-state battery technology
Improving the market appeal of the EV panoply
Toyota-leader Koji Sato has also mentioned an innovative multi-layered approach to optimize EV development for the upcoming models: " Our new models scheduled for launch in 2026 will be built on three new platforms: the body and chassis, the electronic platform, and the software platform. They will all be renewed as we aim to achieve mobility by way of a new vehicle packaging with a rational structure that is unique to BEVs."
Related: 2025 Toyota Stout EV: Everything You Can Expect
Toyota Still Hasn't Given Up On Hydrogen Vehicles
Hydrogen vehicles are, euphemistically speaking, quite an ambitious project in today's market. As a frame of reference, there are around 50,000 EV stations in the US, with over 9,000 in California alone. However, these limitations were not enough to stop Toyota, which still believes in a hydrogen future. In 2022, former CEO Akio Toyoda robustly pressured the Japanese government into fully endorsing hydrogen and hybrid cars, arguing that the use of synthetic fuels would make them a green alternative worthy of endorsement. In May 2023, the tenacious Toyoda entered the Fuji 24 Hours race in a hydrogen-fueled Toyota Corolla H2 Concept, which had to be modified prior to the race after it caught fire during the pre-season testing phase.
Toyota Mirai Specs
| | |
| --- | --- |
| Engine Type | Fuel Cell |
| Power Output | 186 horsepower and 300 pound-feet of torque |
| Range | 402 Miles |
| Acceleration (0-60 mph) | 9.2 seconds |
| Drive | RWD |
The company seems to be still determined on following the hydrogen model, despite the charging of the guard that took place in April. «We want to ensure that hydrogen stays a viable option," said new Toyota CEO Koji Sato. This temerity, however, might involve a little bit of nuance, as company executives appear to be subtly redirecting their hydrogen strategy towards heavy-duty vehicles. Toyota's chief technology officer, Hiroki Nakajima further solidified that hypothesis, as he clarified that "For FCEVs, we will pursue mass production centered on commercial vehicles,".
The floor has already been prepared to accommodate such plans, as Toyota entered a hydrogen fuel cell joint project with Hino Motors in March 2020. The cooperation is set to result in a Hino Profia FR1AWHG truck that will incorporate newly developed Toyota fuel stacks which will be featured in the next-generation Toyota Mirai. Yes, the notorious hydrogen car with abysmally low sales!. Passenger vehicles are thus not completely out of the window, as the company is still considering a hydrogen Toyota Hilux, and it is highly likely that it will be released for the masses, considering the popularity of the ICE version. An FCEV variant of the Toyota Crown will also make its debut in Japan during the fall of 2023.
Google Ads