The Hyundai Santa Cruz could be described as a truck-like car. It's definitely a compact vehicle, one that resides in a market that has few offerings. In fact, the only two compact pickups offered new today are the Santa Cruz and Ford Maverick. However, this could very well be changing soon. There are three new compact trucks rumored to be entering production, perhaps this year or next. This includes models from the likes of Toyota, Subaru, and Ram. All of these models have a history. Toyota will bring the Stout, Subaru the Baja, and Ram the Dakota. Each of these vehicles would bring a fresh face to the table, and all will exhibit some type of unique features based on their heritage and brand identity. Therefore, although the Santa Cruz is a unique vehicle in its own right, it would be smart for Hyundai to put on its thinking caps to further drive innovation with this particular model.
Google Ads
For if it remains as is, despite being a new model itself, Hyundai may miss out on a golden opportunity within the segment. Given that there are only two compact trucks available new now, of which neither is a full EV, and while the Maverick orders are backlogged and sitting at idle, now is the time to strike!
Related: Why The Hyundai Santa Cruz Just Can't Compete With American Trucks
Hyundai Santa Cruz: Great, But Not The Best
The Santa Cruz actually out-tows the Maverick. This is important, because it's debatable if the former is really a compact truck or not. It does in fact have a bed, although smaller than the Maverick's in this case. The Santa Cruz does look more like a car, while the Maverick has more of a truck's appearance. Still, this isn't the worst thing, because it gives the Santa Cruz an image like nothing else on the road. Customers in the market for such a vehicle could choose the Santa Cruz over the Maverick by that alone, as it could be argued that the former is not trying to be something it's not. Despite the Maverick's boxy, four-door look, it still doesn't quite appear just like a truck either. Despite all this, the two are in close competition.
Hyundai Santa Cruz and Ford Maverick Hybrid Specs
Hyundai Santa Cruz

Ford Maverick Hybrid

Engine

2.5-liter, turbocharged four-cylinder

Google Ads

2.5-liter, four-cylinder Atkinson cycle with two electric motors

Horsepower

281 horses

191 horses combined

Torque

311 pound-feet

155 pound-feet

Transmission

Eight-speed dual-clutch automatic

CVT

Drivetrain

AWD

FWD
You would think this would be enough, but in case it's not, the Santa Cruz offers about a four-foot bed, complete with an integrated locking tonneau cover. It also sports an in-bed trunk, similar to the Honda Ridgeline. Speaking of the Ridgeline, the Santa Cruz can also tow 5,000 pounds, matching that other unibody vehicle. Of note this is with the upgraded engine, a turbocharged 2.5 liter, making 281 horsepower and 311 pound-feet of torque. The standard engine is a naturally aspirated four-cylinder of the same displacement, producing only 191 horsepower and 181 pound-feet of torque. Starting prices range from over $27,000 all the way up to nearly $42,000. In short, the Santa Cruz tows more than a Maverick, but it also costs more with a smaller bed. Despite nifty features, it's not enough to surpass the Maverick in terms of rating or buyer preference.
Related: Why Ford's Next EV Should Be The All-Electric Maverick
Are We Looking At The Ioniq 5 And Ioniq 6's Soul In The Santa Cruz's Body?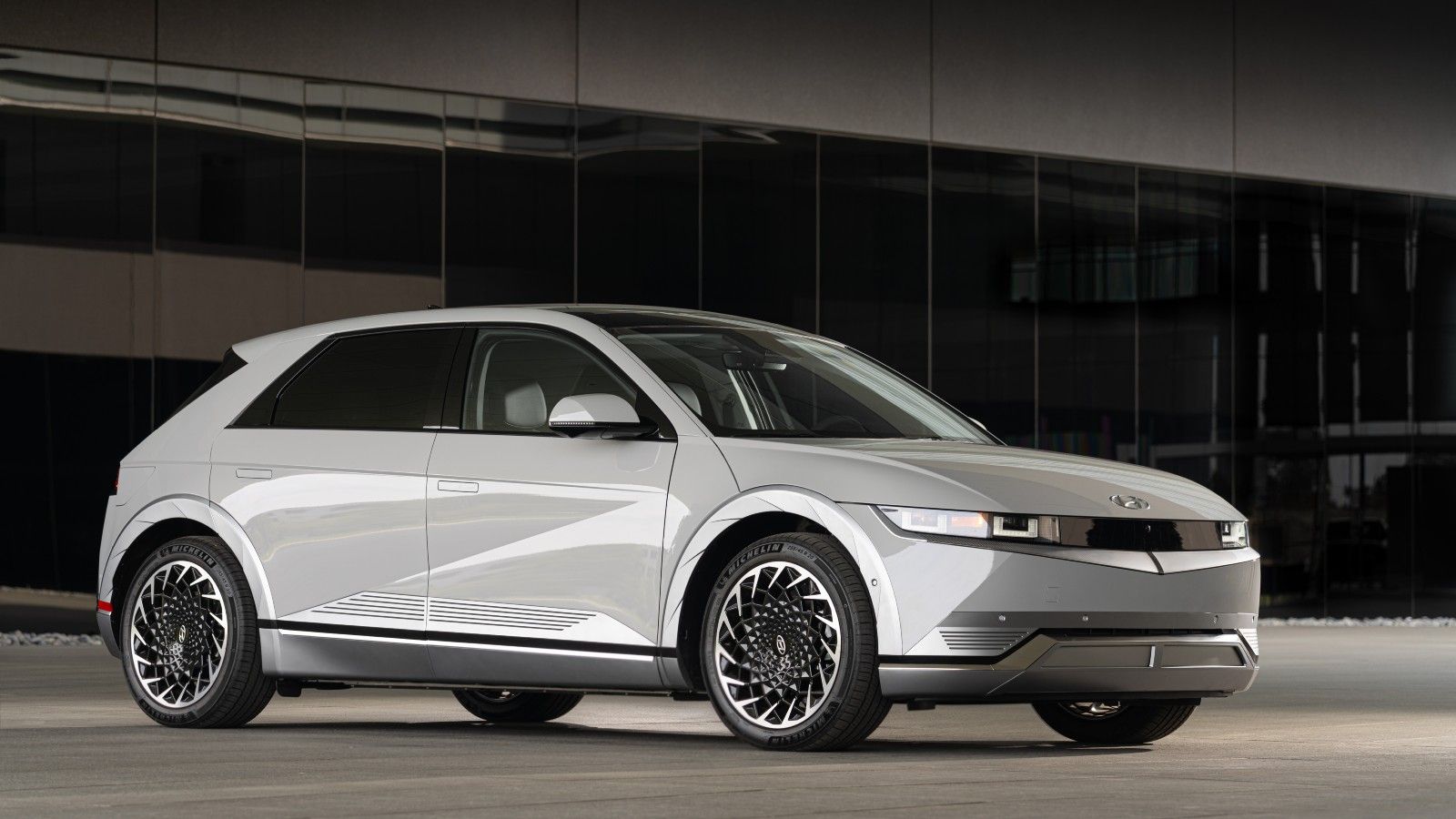 An action shot of the Hyundai Ionic 5, showcasing the body
The Hyundai Ioniq 5 has a distinctive design, not unlike the Santa Cruz, but perhaps taken to the next level. It is top of the class, positioned above others such as the Kia EV6, Ford Mustang Mach-E, and Volkswagen ID.4. These are some serious performance number cars, given the electric powertrain. The price range starts at over $42,000, which is where the Santa Cruz tops out, but it's only a little over $10,000 more for the top trim. The mid-level SEL trim (there are only three) is a preference, with 303 miles of range and 225 horsepower for well under $50,000. All-wheel-drive, with 320 horsepower and 446 pound-feet of torque, is available, leading to a 4.5 second zero to sixty mph time. The vehicle has fast-charging capability, and the up to 303 miles of range is among the most for an EV under $60,000 today.
In terms of the Santa Cruz, there is no EV option as of now of course, but there isn't even a hybrid either. This is something of a disadvantage, because the Maverick at least offers a hybrid, which is standard. As good as the Maverick is, even it could benefit from an EV variant. The power and instant torque of an EV are a boon to any vehicle, and Hyundai already has proven it can make a car with great range for a reasonable price in the Ioniq 5. Such tech would boost the Santa Cruz stats accordingly in hauling and towing, and it would have sufficient range, with added cargo room where the engine would normally be. This could make up for the smaller bed. Pricing-wise, it's not out of the question, given that the top Santa Cruz intersects with the base Ioniq 5.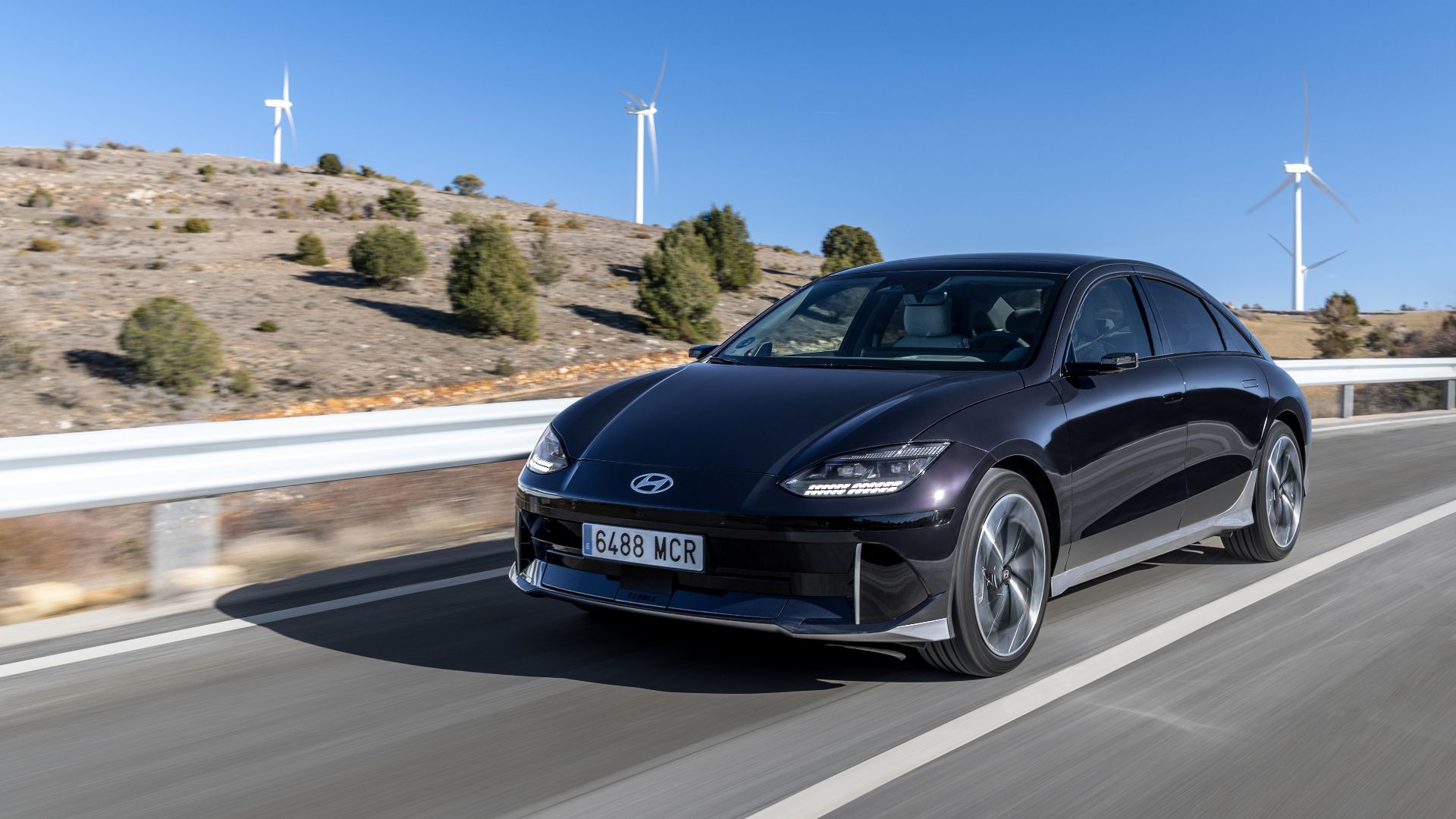 Front three-quarters action shot of a black Hyundai Ioniq 6
It's clear that the Santa Cruz would benefit from electrification, using Hyundai's already existing technology in the Ioniq 5 and 6. Not offering a hybrid is one thing, which the Maverick does, but neither come as an EV. This would set the Santa Cruz apart, adding to its unique look. There would be no other vehicle of its type with such style and capability within the market. Additionally, it would gain even more power and torque, increasing its advantage over the Maverick as far as towing. The lack of an engine would increase cargo space, in the form of a frunk, letting it surpass the capacity of the Maverick as well. The range would still be sufficient if not top scale, as the Santa Cruz is compact. Lastly, the price point would be acceptable, even if it was between 40 and 60 thousand.
Related: Why The Ford Maverick Tremor Is A Fantastic Alternative To A Crossover
The Maverick Holds All The Cards Currently
The compact truck segment is making a comeback, and the Ford Maverick is leading the charge, having outsold its availability! People want to be able to tow, haul, carry five passengers, and be nimble in the city all at the same time. They want it cheap too. The Maverick starts at under $25,000 and the top trim maxes out at just over $35,000 to start, well less than the Santa Cruz all around. It outpaces the Santa Cruz by offering more in a hybrid, while having a bigger bed, all for less. Towing is rated at up to 4,000 pounds, which is not much less than the Hyundai.
However, it must be said that the upgraded turbocharged 2.0 liter non-hybrid option is required to unlock this attribute, along with AWD, and Ford's off-road centric Tremor package. Therefore, the Maverick's capability is limited at base price despite being a hybrid standard. Still, if the Santa Cruz offered a hybrid it may be able to close the gap. Now if it was a full-on EV, it could overtake the Ford, especially since people can't even get a Maverick. What's more, is an EV Santa Cruz will help it stay afloat once the aforementioned competition shows up. In addition to those, a compact EV truck may soon arrive from yet another manufacturer, and Hyundai should throw the knockout flurry beforehand!
Google Ads