Back in 2013, BMW introduced its first mass-produced zero-emissions vehicle, the BMW i3. The RWD i3 featured an electric powertrain and an underfloor lithium-ion battery pack. Options included a range-extending gas engine, meant to quell fears about the lack of adequate charging stations. It ranked third in sales of electric cars worldwide from 2014 to 2016. In 2022, BMW announced the i3 was being discontinued. Fast-forward 10 years since its launch, and once again BMW is making headlines with the announcement that the all-electric 2024 BMW i5 eDrive40 and M60 xDrive sedan models will be released in October 2023. Both models include a flexible and portable fast charger for charging from any 120V or 240V outlet. BMW is also offering two years of free 30-minute charging stations for your new i5 at any Electrify America charging station.
Google Ads
Both, the eDrive40 and the M60 xDrive trims, draw power from a lithium-ion 84.4 kWh, 400V battery pack. The range for the eDrive40 is 295 miles, while the M60 xDrive model is slightly less, at 256 miles. Some rivals offer a better range on a single charge. For example, the Tesla Model 3 gets 325 miles on a single charge, and the 2023 Mercedes-Benz EQE350 offers an estimated 350 miles. These two models of the i5 are exciting additions to the electric vehicle landscape. Will one of them be your first (or next) electric vehicle? Here's what you need to know before you decide.
Related: 10 Best Electric Sports Cars Of 2023
The BMW i5 eDrive40 Is Smart And Efficient
BMW is rolling out the two models of the i5 later this fall in a bid to win over drivers looking for different all-electric vehicle experiences. One model is smart and efficient; the other is a thrill ride. For those drivers who value an efficient and smart electric vehicle with decent horsepower and a pretty good range per charge, there's the rear-motor model eDrive40. This RWD sedan has 335 horses and 295 pound-feet of torque. The Sport Boost mode can temporarily increase torque to 317 pound-feet, which can provide some fun and excitement to the driving experience. The eDrive40 can accelerate from zero to 62 mph in about six seconds and can reach a maximum speed of 120 mph. A full charge will get you about 295 miles, depending on driving conditions. With the max 205 kW on Level 3 DC fast charging, the BMW's battery can reach an 80 percent charge from 10 percent charged in about 30 minutes.
The eDrive40's interior is spacious and luxurious. The battery pack doesn't eat into the cabin space, and the set of glass interior controls adds a posh touch. Leather upholstery is available, but soon BMW will launch a faux-leather alternative upholstery called Veganza. The exterior is that of a sleek and classy mid-sized luxury sedan. The MSRP for the eDrive40 is a comparatively modest $68,800. Some competitors like the Lucid Air Pure cost more ($89,050), while others are a bit less, like the Tesla Long Range Model 3 ($51,220).
Related: How The BMW i5 M60 Just Made The BMW M5 Obsolete
Google Ads
The M60 xDrive Is Powerful, Fast, And Takes Things To The Next Level
Looking for a little more vroom? Take a gander at the powerhouse BMW i5 M60 xDrive. This AWD all-electric sedan is the eDrive40's brawny and exciting big brother. This model, which adds a second electric motor on the front axle for a dual-motor powertrain, harnesses the power of 590 horses and 549 pound-feet of total torque (the Sport Boost mode can bump total torque to 605 pound-feet). The M60 xDrive can accelerate from a standstill to 60 mph in under four seconds, and can reach a maximum speed of 143 mph.
2024 BMW i5 Specs
| | | |
| --- | --- | --- |
| | eDrive40 | M60 xDrive |
| Electric Motor | Single-motor, rear-wheel-drive | Dual-motor, all-wheel-drive |
| Power Output | 335 horses and 295 pound-feet of torque | 590 horses and 549 pound-feet of torque |
| 0-60 mph | 5.7 seconds | 3.7 seconds |
| Electric Range | 295 miles | 256 miles |
| Price | $68,800 | $85,750 |
The M60 xDrive features anti-roll bars, wider tires, and rear-wheel steering, all designed to enhance the sheer pleasure of driving. The trip is made even more pleasant by a roomy cabin and leather upholstery. Oh, and those heated and ventilated front seats with massage function that are optional on the eDrive40? They're standard on the M60 xDrive. The range of a full charge is approximately 256 miles, depending on driving conditions. Yes, this is a little less than the eDrive40 model, but driving enthusiasts likely will accept fewer miles per charge in exchange for more horsepower. The MSRP for the M60 xDrive is $85,750. This is a bargain compared to the MSRPs of the 2023 Porsche Taycan 4S sedan ($106,500), the 2023 Audi E-Tron GT ($104,900), and the 2023 Mercedes-Benz EQS 450+ sedan ($104,400).
Related: 10 Reasons To Love The New 2024 BMW i5
A Tech Lover's Dream Car
Interior shot of in-car gaming console with driver and passenger using their smart phones as controls
Gone are the days when the most high-tech gadget in your car was an AM/FM radio with six preset buttons. Motor vehicles in the 21st century are basically powerful computers on wheels, designed to make every multitasking moment in the car safe, informative, and entertaining for drivers and passengers alike. Nowhere is this more apparent than in the BMW i5 sedan. The interplay between car and driver is taken to a new level of sophistication thanks to the use of touchscreens, smartphone displays, and natural language spoken commands. Swiping, tapping, and speaking have replaced the distractions of scrolling and multi-level displays and submenus of years past.
This tech wizardry is put to good safety use in the optional Highway Assistant. This feature allows hands-free driving at highway speeds and will engage a lane change when the driver looks in one of the door mirrors to confirm the safety of the change. The BMW 5-Series (including the i5) also includes a fully automated parking system.
State-of-the-art configurable graphics with zero-layer functionality means drivers can access functions and information without having to navigate through distracting submenus. The BMW's curved display makes activating functions and settings faster and easier. Now, drivers can access navigation assistance and entertainment features without undue distraction. The i5 even can help drivers find the most energy-efficient routes to take. Sometimes, however, distractions can be a good thing–for example, while drivers and their passengers are waiting at the charging station. BMW, in collaboration with gaming platform AirConsole, makes it possible for drivers and passengers to play games together while their i5 is charging. Not surprisingly, this feature can be enabled only when the car is stationary. The curved display makes a good gaming monitor, and gamers can use their smartphones as controllers.
Related: Here's Why The i5 Is Exactly The EV BMW Needed To Succeed
Are You Ready to Go All Electric?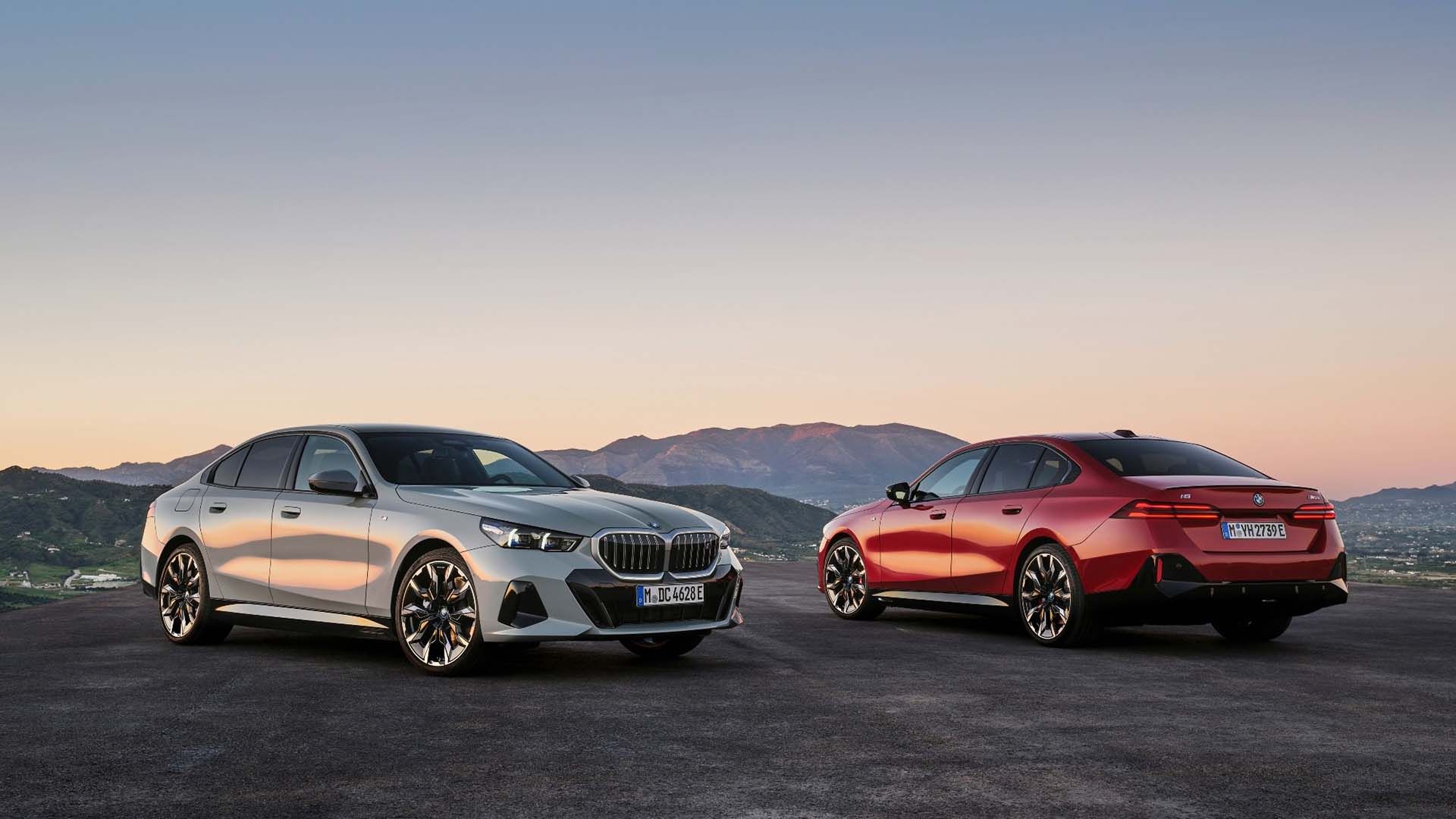 A rear-angled red BMW i5 M60 parked next to a front-angled silver BMW i5 eDrive40 
All-electric cars have been around for a few years now, but it seems like every day we are learning about another exciting and innovative electric vehicle coming to the market. No one has to sacrifice luxury, performance, or sheer thrills while speeding past the gas pumps. Is it time for you to start looking at EVs? Maybe it is. Carmakers in every category from top-of-the-line luxury vehicles to little two-seaters have been making electric vehicles for years. In the United States, there are benefits to going all-electric, such as tax incentives and free tolls. Charging stations, once rare, are starting to pop up in a number of convenient locations. The especially ubiquitous Tesla charging stations will soon be able to be adapted to charge electric cars by other carmakers, including Ford, GM, and Rivian.
Google Ads