Electric vehicles are expanding into new markets, and this latest advancement brings us two very different models: The Volvo EX30 and the Ford Mustang Mach-E. With both companies being well established in the automotive market and coming from a long history of producing some amazing cars, how do these two fare when they come up against each other? Volvo has taken a serious gamble with its all-new EX30 crossover, which has caught the attention of many tech-savvy drivers looking for something unique.
Google Ads
On the other hand, Ford also jumped into the scene with its great offering, the Mustang Mach-E SUV. Both cars are impressive in design, performance, technology, and price point. In a crowded electric SUV field, it takes more than just features and range to stand out. Ford and Volvo demonstrate how intense the industry is ripe with competition. But sometimes, having all the bells and whistles is not enough – buyers want something special that suits them well. In that regard, the Volvo EX30 might cause some serious problems for the Ford Mustang Mach-E.
Related: Comparison: Volvo EX30 vs Tesla Model Y
The Volvo EX30 Is Quicker Than The Ford Mustang Mach-E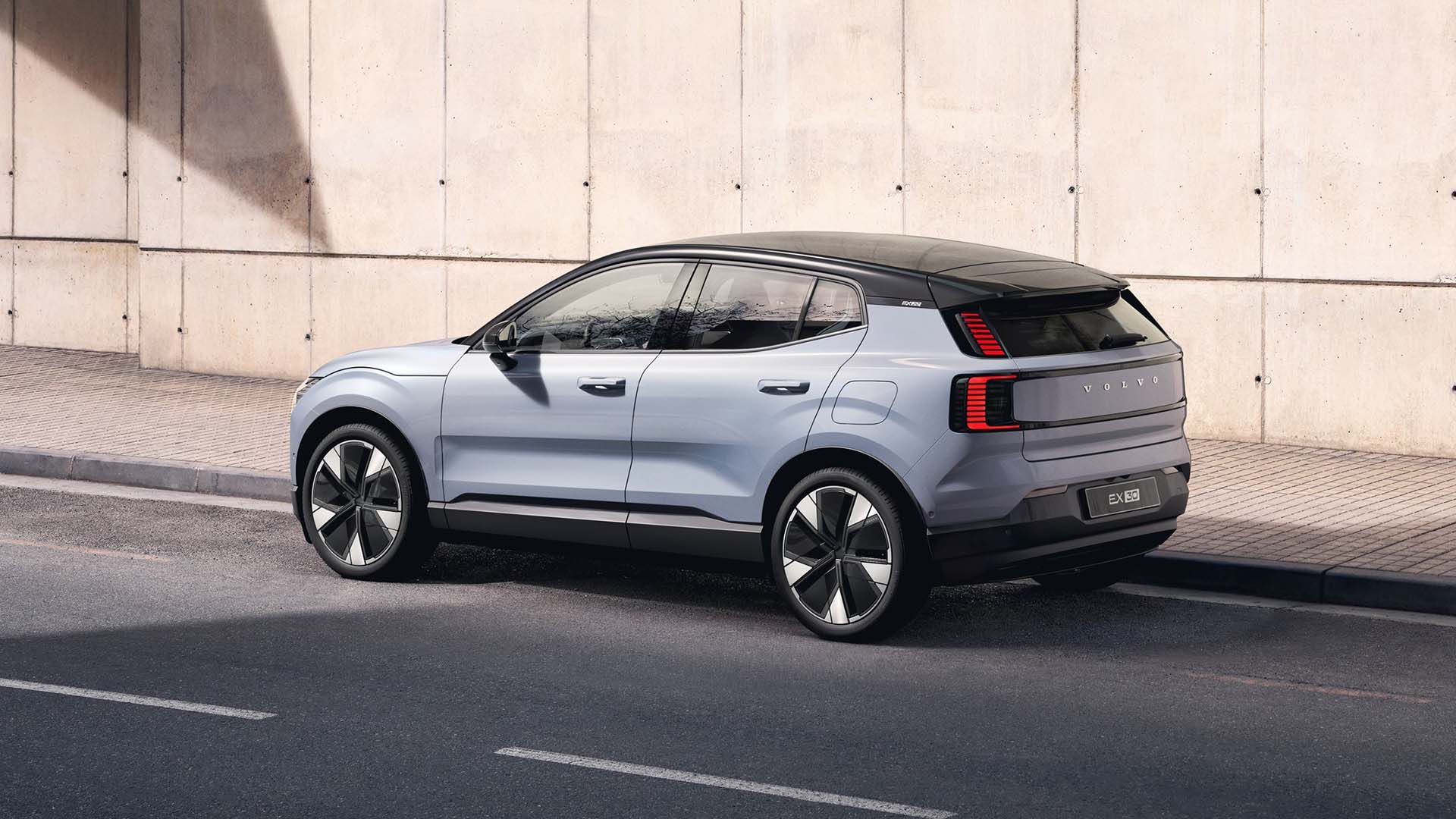 Rear three-quarter angle of the 2025 Volvo EX30
The Volvo EX30 is offered in a single or dual-motor setup, with 268 horsepower and 422 horsepower, respectively. The Dual Motor model accelerates faster than any Volvo fleet vehicle, going 0-60 mph in only 3.4 seconds!
Google Ads
Specs Comparison
| | | |
| --- | --- | --- |
| | Volvo EX30 Twin Motor | Ford Mustang Mach-E GT Performance |
| Drivetrain | Dual Motor, AWD | Dual Motor, AWD |
| Power Output | 422 Horsepower, 400 Pound-feet of torque | 480 Horsepower, 634 pound-feet of torque |
| Range | 265 Miles | 306 Miles |
| Charging Time | 27 Minutes @ 153 kW | 38 minutes @ 150 kW |
As for the Mach-E, you're looking at 265 horsepower for the Standard Range rear-wheel drive model, 290 horsepower for the Extended Range AWD, and a whopping 480 horsepower for the top-of-the-lineup GT variant. Despite the difference in power figures, both feature excellent acceleration performance, meaning they're capable of rapid getaways whenever you need them. With the top-of-the-range Ford Mustang Mach-E GT able to go 0-60 mph in 3.7 seconds, it seems disadvantaged compared to the Volvo EX30. Furthermore, after considering driving dynamics, the Volvo edges out the Ford due to its ideal weight distribution and better platform.
Related: 10 Alternatives To The Ford Mustang Mach-E
The Volvo EX30 Promises A Quicker Charging Time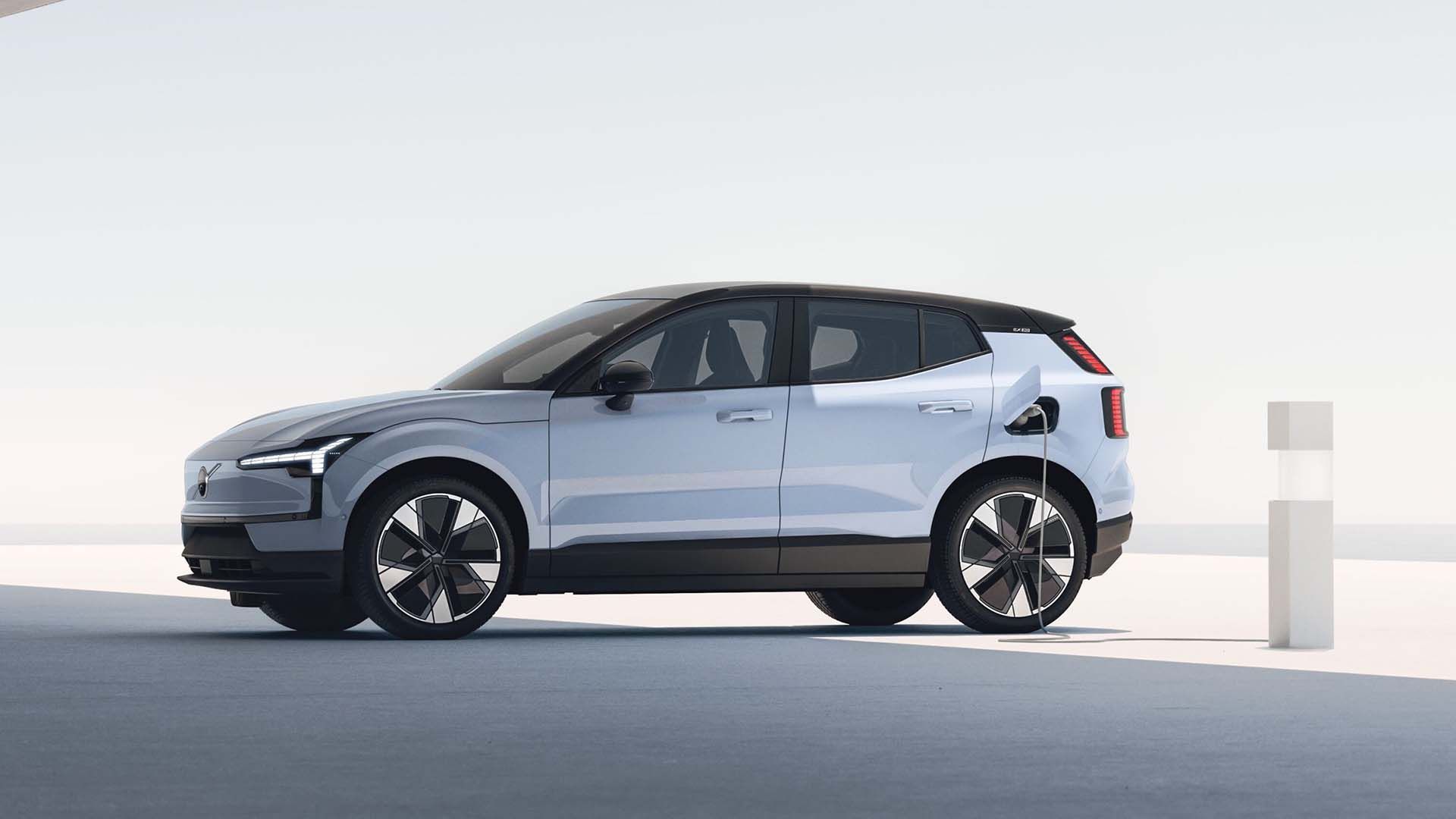 Side profile shot of a 2025 Volvo EX30 being charged
Whichever EV you go for, you'll enjoy reasonable battery capacity and good charge time. All Volvo EX30 models come equipped with a 64 kWh battery giving an estimated 275 miles per charge for RWD versions, while the AWD variants are expected to manage 265 miles per full charge. Meanwhile, the Ford Mustang Mach-E claims to offer batteries up to 91 kWh with a claimed range of up to 306 miles on its Extended Range version, making it even more reasonable for those longer journeys. However, the Standard Range reports much less than 273 miles claimed per charge range. It makes the Ford the obvious winner here due to its massive battery size, but bear in mind that it does come at a costly price, so the savings may not be significant enough to sway your opinion. Of course, Ford isn't content to settle for lagging behind the competition – they recently switched out the previously offered lithium-ion batteries on 70.0-kWh battery standard-range Ford Mustang Mach-E models, which raised the available EPA range to 250 and 226 miles on AWD 2023 models.
While this may seem like a negligible upgrade at first glance, it had large implications for other specs, including increasing the 2023 AWD standard range output to 311 horsepower. Even so, Volvo does come out on top here. So whereas the Ford Mustang Mach E requires 32 miles per hour of charging rate, the Volvo EX30's DC charging allows a 153 kW boost, thus taking approximately 27 minutes to recharge its batteries from 10 to 80-percent. That alone would provide more than enough juice to get through the day for most city commuters.
Related: 10 Reasons Why The 2025 Volvo EX30 Is A Gamechanger!
The EX30's Modern Amenities Galore Outshine The Mach-E
When it comes to interior, you cannot pick any faults with either car. Ford has the Mustang name working in its favor, embedded deep in performance culture. However, Volvo has its surroundings-focused style mixed with a Scandinavian design to make every ride feel like home. The interior mixes recycled materials like denim, flax, wool, and PET bottles for standout visuals that the buyer won't soon forget. The EX30 boasts some interesting features, such as a glove box relocated to the dashboard's center and flip-up cupholders. Other highlights include comfortable bucket seats and LED lighting elements. Plenty of tech-savviness is also going on with wireless Android Auto and Apple CarPlay integration. Instead of relying on drivers diddling their thumbs during those long charges, they've incorporated apps like Spotify, Audible, and YouTube to keep entertained.
With a Harman Kardon soundbar that spans the entire dashboard, cupholders cleverly tucked away in the center console, 13 times/second driver attention monitoring, intersection auto brake detection, and door open alert technology – the Volvo EX30 doesn't lack in modern amenities category. It even offers 5G connectivity where available. As for the Ford Mustang Mach-E, despite running under the Sync infotainment system equipped with machine learning capabilities, most of the extra offerings, like a 15.5-inch touchscreen, mobile Wi-Fi hotspot, or Bang & Olufsen sound system, come alongside pricier packages.
Related: ​​​​​​​10 Reasons To Buy The Tesla Model Y Over The Ford Mustang Mach-E
Has Volvo's Affordable Pricing Blunted The Mustang Mach-E's Desirability?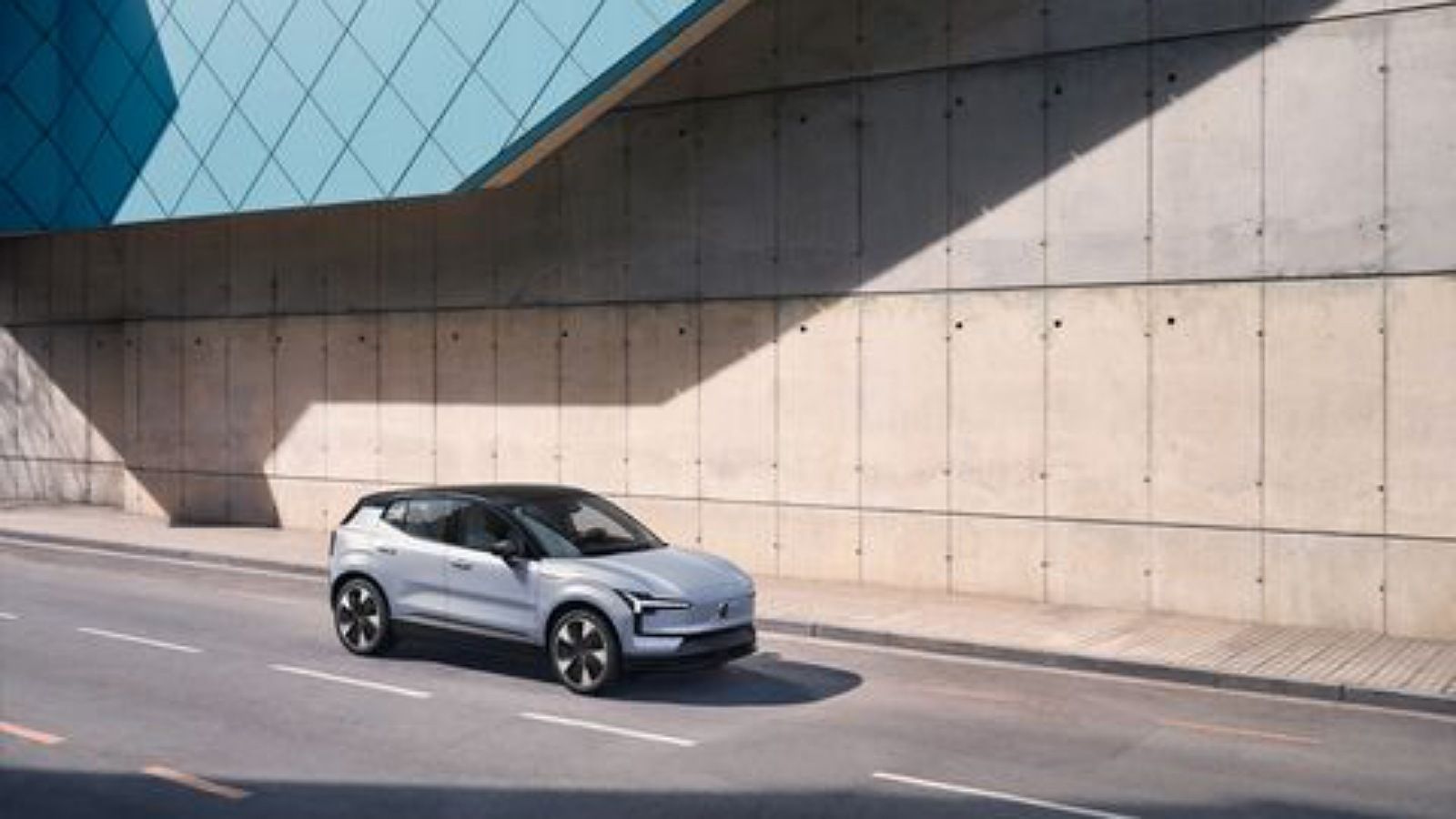 Front three-quarter shot of the 2025 Volvo EX30
The base model of the Volvo EX30 has been announced as priced at $34,950. After that, the additional trims that will be available are EX30 Plus costing an estimated $38,000, and EX30 Ultimate costing an estimated $42,000. The Mustang Mach-E starts at a Manufacturer's Suggested Retail Price (MSRP) of $42,995 for the Ford Mustang Mach-E Select and goes up to $64,995 for the top-of-the-range GT. It means it's over $20,000 pricier than the EX30's equivalent twin-motor configuration. Judging solely from their respective prices, the Volvo looks to be the better bargain. For those looking for bang for your buck, you'd be hard-pressed to pick anyone other than the Volvo EX30 as far as small crossover EVs go. It isn't meant to slight the Mach E; it still makes for a great option depending on various circumstances, such as performance enthusiast potential and extra safety features. However, the cost will inevitably factor into the buyer's decision-making process, making them lean towards Volvo for economic reasons alone.
Volvo EX30 and Ford Mustang Mach-E Price Comparison
| | |
| --- | --- |
| Volvo EX30 Core | $34,950 |
| Volvo EX30 Plus | $38,000 (est.) |
| Volvo EX30 Ultimate | $42,000 (est.) |
| Ford Mustang Mach-E Select (RWD/eAWD) | $42,995 / $45,995 |
| Ford Mustang Mach-E (RWD/eAWD) | $46,995 / $49,995 |
| Ford Mustang Mach-E California Route 1 | $56,995 |
| Ford Mustang Mach-E GT / GT Performance Edition | $59,995 / $64,995 |
Likewise, due to this recent update giving a hefty boost to the output power of 2023 Mach E Standard Range AWD models, the difference might not feel so pronounced between the two vehicles anymore – requiring both buyers and automotive enthusiasts alike to think deeper about more than mere specifications when evaluating overall value between these two EVs. However, as things stand, the EX30 looks poised to become a major player in electric cars. Well, essentially, Volvo has managed to break past that 'rat race' of everyday standout SUVs cluttering the market today. Not only does it include all the modern upgrades expected, but it was designed with the average consumer in mind. With an estimated lower retail price, increased range capabilities, and a handful of uniquely attractive feature options in Volvo's EX30 – it's time for the Ford Mustang Mach-E to start watching its back.
Google Ads